Jefferson Vineyards Wine Blog
---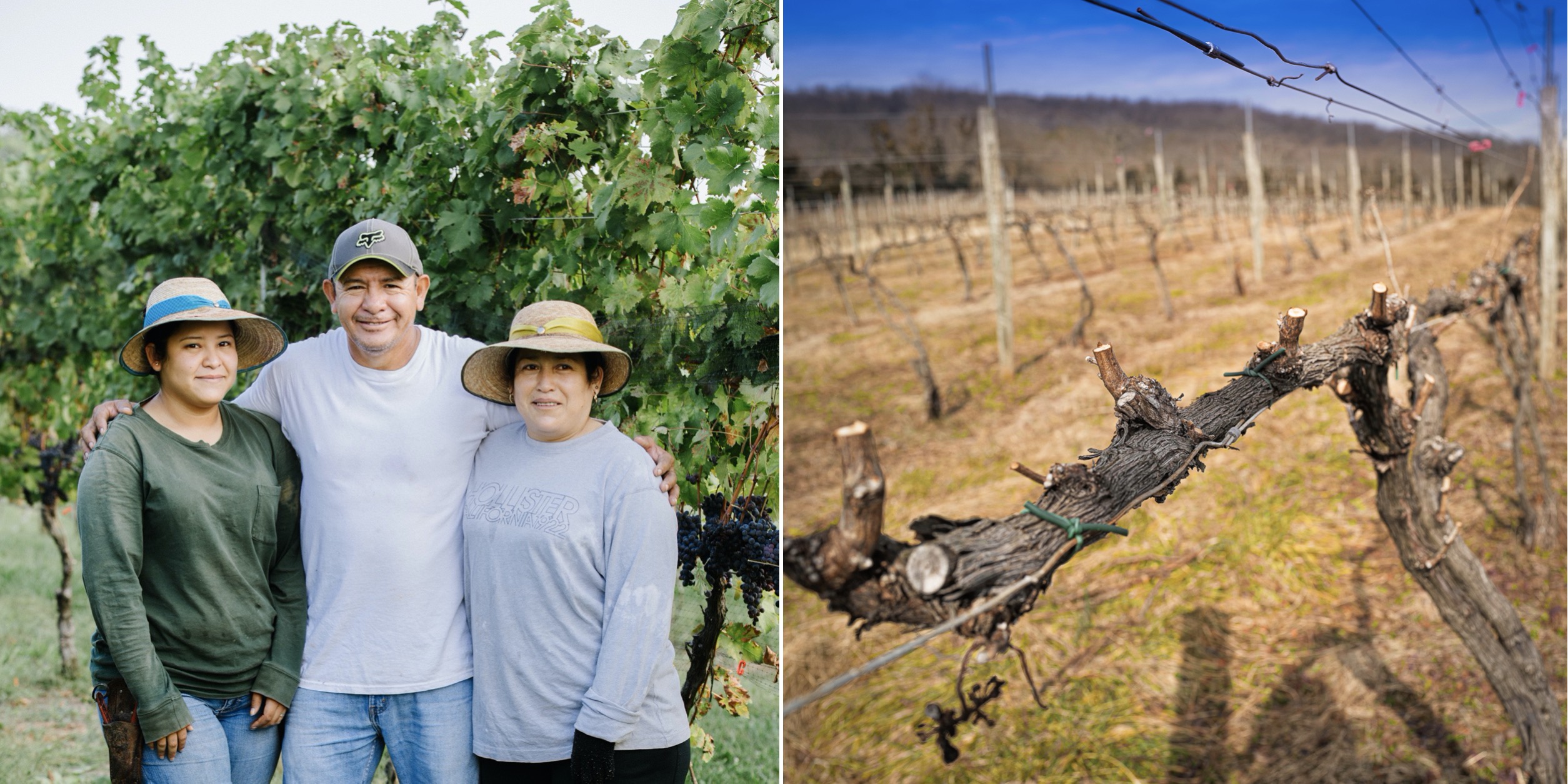 Hector Guzman and his family meticulously care for our vines each season. The Guzmans returned from Mexico earlier in February. Immediately, they began the final pruning in our Cabernet Franc vines. In this process, our team cuts back the canes from years prior, leaving only two or three buds closest to the cordon (the horizontal 'arms of the vines) that will best grow shoots. Our team typically prunes Cabernet Franc and other varietals before beginning work on early budding varietals, like Chardonnay. Such varietals are at greater risk of bud damage from late frosts. By pruning these vines last we delay bud break, better protecting them from early spring frosts.
Once the threat of frost has passed, the team will again return to the vines and remove all but the healthiest shoots from a single spur to improve air circulation in the vineyards.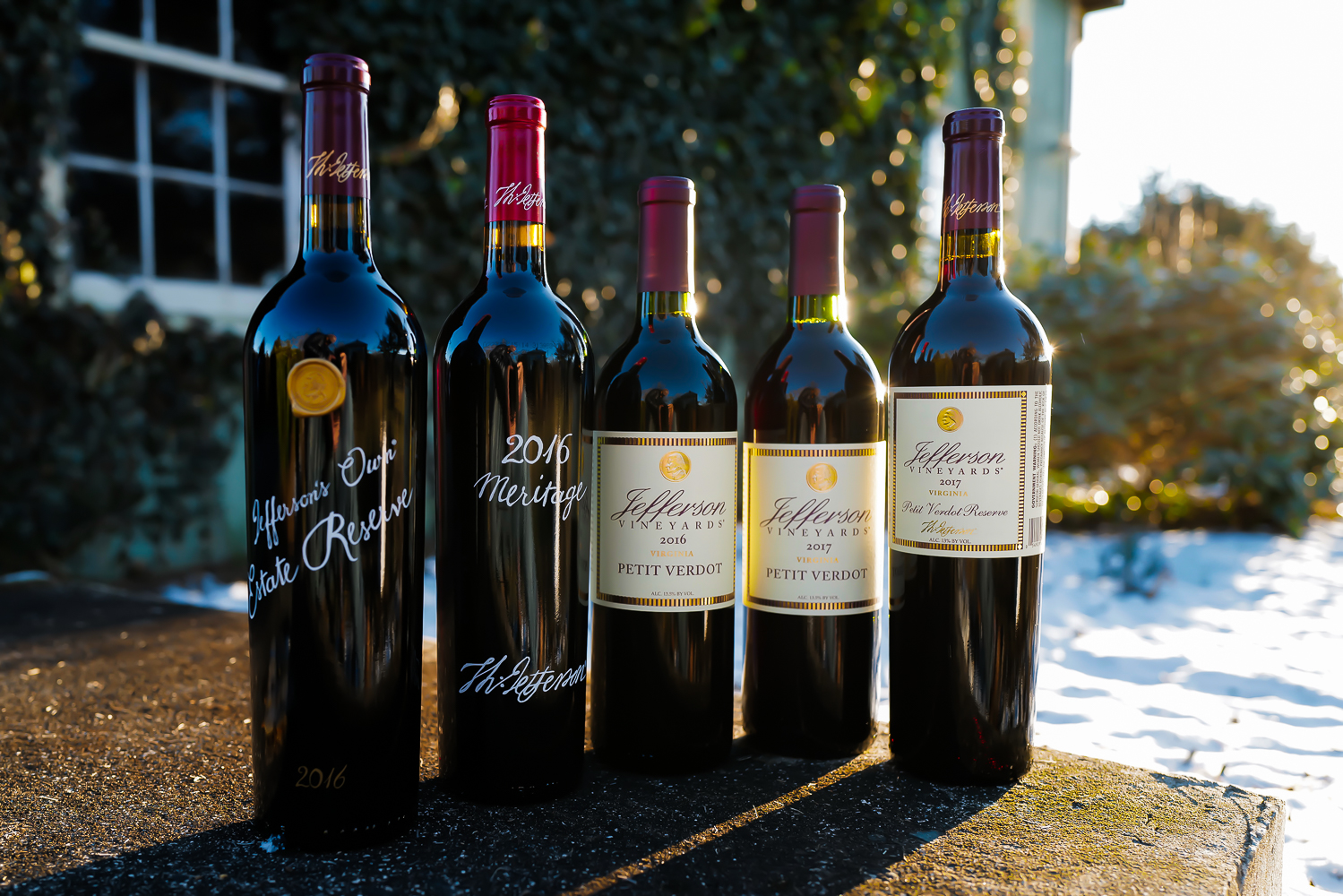 February, the last full month of winter. We face a mere handful of weeks until we can at last trust that the sun will shine. As we at Jefferson Vineyards approach our anniversary in the spring, there seems a no better time to move slowly, honey slow, and delight in the joys of these past forty years.
Valentine's Day in particular seems the day to celebrate all that we love. We of course will be celebrating our wines. Though there have been trials and tribulations over the years, none could undermine the beauty of watching our wines develop, the richness of each nuance unfolding in the glass. To savor this special time, we're filling our glasses with a bold and intricate red - Petit Verdot.
Now a darling of Virginia, Petit Verdot was known first as a blending grape from Bordeaux. We've loved this varietal from our beginning, grafting it as early as 1984 and bottling it in 2001 - making us one of the first in Virginia to do so.
If Viognier is the star of our white wines, Petit Verdot is our headlining red. To this day, you'll recognize Petit Verdot as a principal part of our portfolio. With it, we produce three wines: an Estate Reserve, a single varietal, and a reserve single varietal. Our Estate Reserve is not always made singularly from Petit Verdot, but when our estate's Petit Verdot fruit is undeniably perfect we cannot help but make an Estate Reserve to treasure this complex red. Our Meritage wines too manifest our adoration. Petit Verdot plays a uniquely prominent role in our Meritage program, frequently comprising the largest percentage of the blend, a blend distinct to Jefferson Vineyards.
Petit Verdot bursts with red fruit and offers a bright, balanced palate. Each iteration gives way to unique delicacies, the gems of which we've curated in our February Limited Release. Our 2017 vintage opens with caramel aromas that lead to blackberry and coffee flavors. The 2017 Petit Verdot Reserve is vibrant and oak-driven, offering plum and raisin flavors before finishing with tart cherry notes. Even our 2016 Estate Reserve (100% Petit Verdot), is distinct in its powerful spice and fig bouquet, plum on the palate, and notes of cedar in the finish.
Bold and tannic, Petit Verdot pairs equally well with red meats as it does with chocolate sweets. Should you find yourself searching for something more to savor in this final winter push, explore an iteration of Petit Verdot in our February Limited Release and delight in its details. Or perhaps you wish instead to relish in the process of taking your sweet time. For you, we've collected a decadent chocolate recipe from our beloved associate, Grandma Bond.
This February, we suggest you move slowly, make something, celebrating something, and savor something special.
Grandma Bond's Frosted Petit Verdot Brownies
For the Brownies
1 cup flour

2/3 cup unsweetened high-grade organic cocoa powder

1/2 tsp baking powder

1/2 tsp salt

3/4 cup unsalted butter melted

1/4 cup Jefferson Vineyards Petit Verdot

1 1/2 cup sugar

3 eggs at room temperature
For the Frosting (Optional)
1 cup unsalted butter, softened

3 1/2 - 4 cups powdered sugar

1/2 cup dry red wine

2 Tbs granulated sugar
Instructions for the Brownies
Preheat the oven to 350°F. Spray a 9-inch baking pan with nonstick cooking spray.

In a medium bowl, which together flour, cocoa powder, baking powder, and salt.

Melt the butter in a medium bowl in the microwave for 30-second increments until the butter is fully melted. Whisk in sugar and Petit Verdot. Whisk in the eggs, one at a time.

Fold the dry ingredients into the wet ingredients until fully mixed. Pour batter into the previously prepared pan. Bake for 25 - 30 minutes or until a toothpick can be inserted in the center of the brownies and come out dry with only a few crumbs.

Allow brownies to cool completely.
Instructions for the Frosting
Add the dry red wine and sugar to a small saucepan, stirring until the sugar is completely dissolved.

Bring the mixture to a simmer, stirring occasionally. Continue simmering until reduced and is a syrup, thick enough to coat the back of a spoon. (You'll know its ready when stirring starts to form fleeting lines in the mixture, showing the bottom of the pan)

Remove the skillet from heat; it should yield several tablespoons of syrup.

With a standing mixer, cream together the powdered sugar and butter until whipped and fluffy. Set to a lower mixing speed and slowly pour in the red wine syrup, mixing until evenly combined.

Fit your desired tip onto a piping bag and scoop the frosting in. You can also use a plastic baggy with one of the corners cut off.

Generously frost each of the brownies. Serve and enjoy!
Throughout the year, our team works tirelessly to maintain and manage the vineyards in an effort to produce the best possible fruit. With each season, the focus of this care changes.
Were you to take a close look at our vines, you would see the trunk of each vine splits into two horizontal arms that grow along the trellis. Each of these arms is called a 'cordon' and on these cordons are 'spurs', small stubs containing 1-3 buds, that grow upwards and will eventually bear fruit. Since the beginning of December, our team has been rough pruning in the vineyard. Rough pruning is the process of trimming back the shoots of spur-pruned vines to about 12 to 15 inches above the cordon. This serves to expedite the final pruning process, by detangling and 'tidying' the vines our team can delay the final pruning and bud break, better protecting the vines from winter damage and spring frost.
Next week, we being the final pruning process!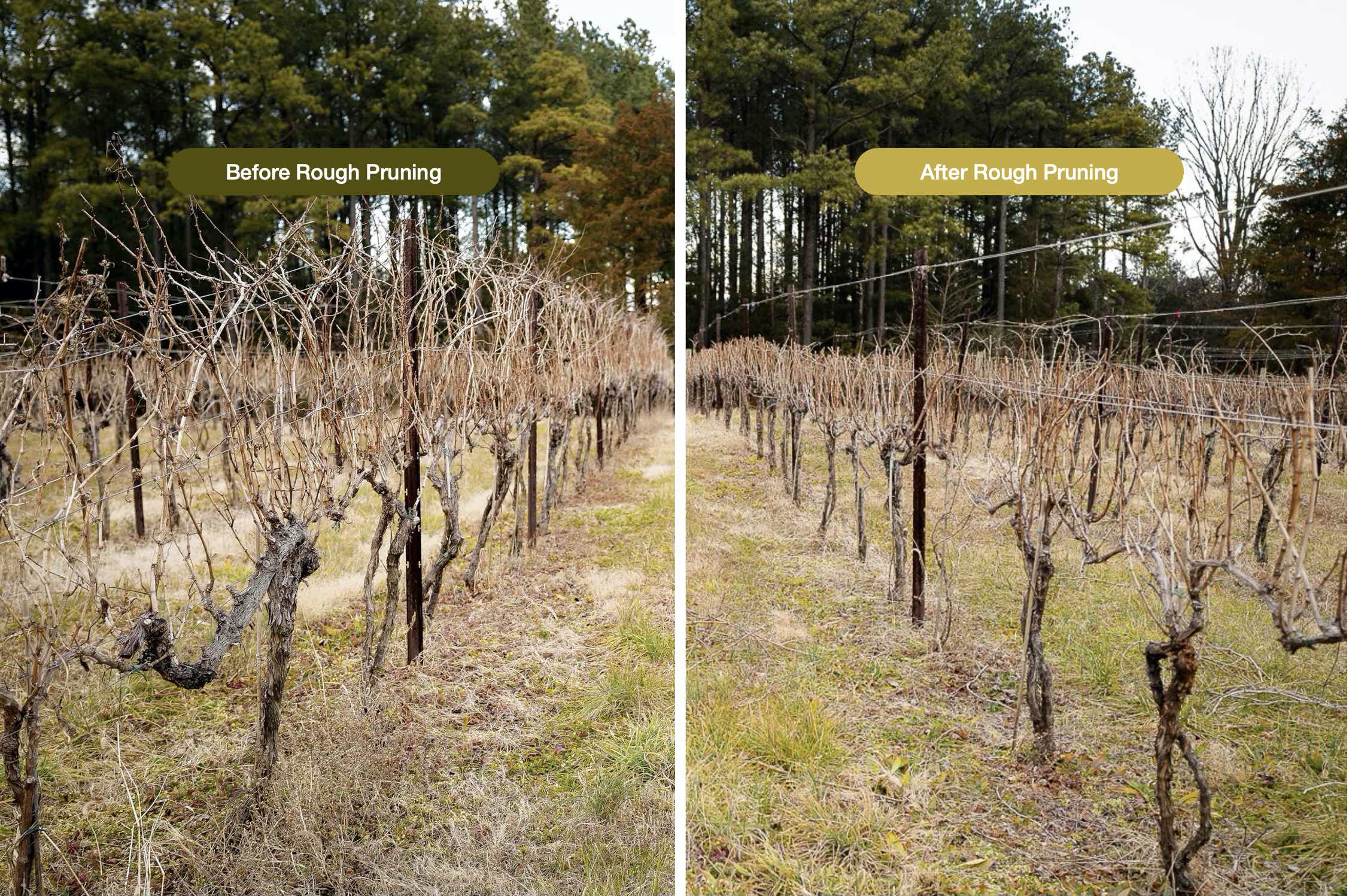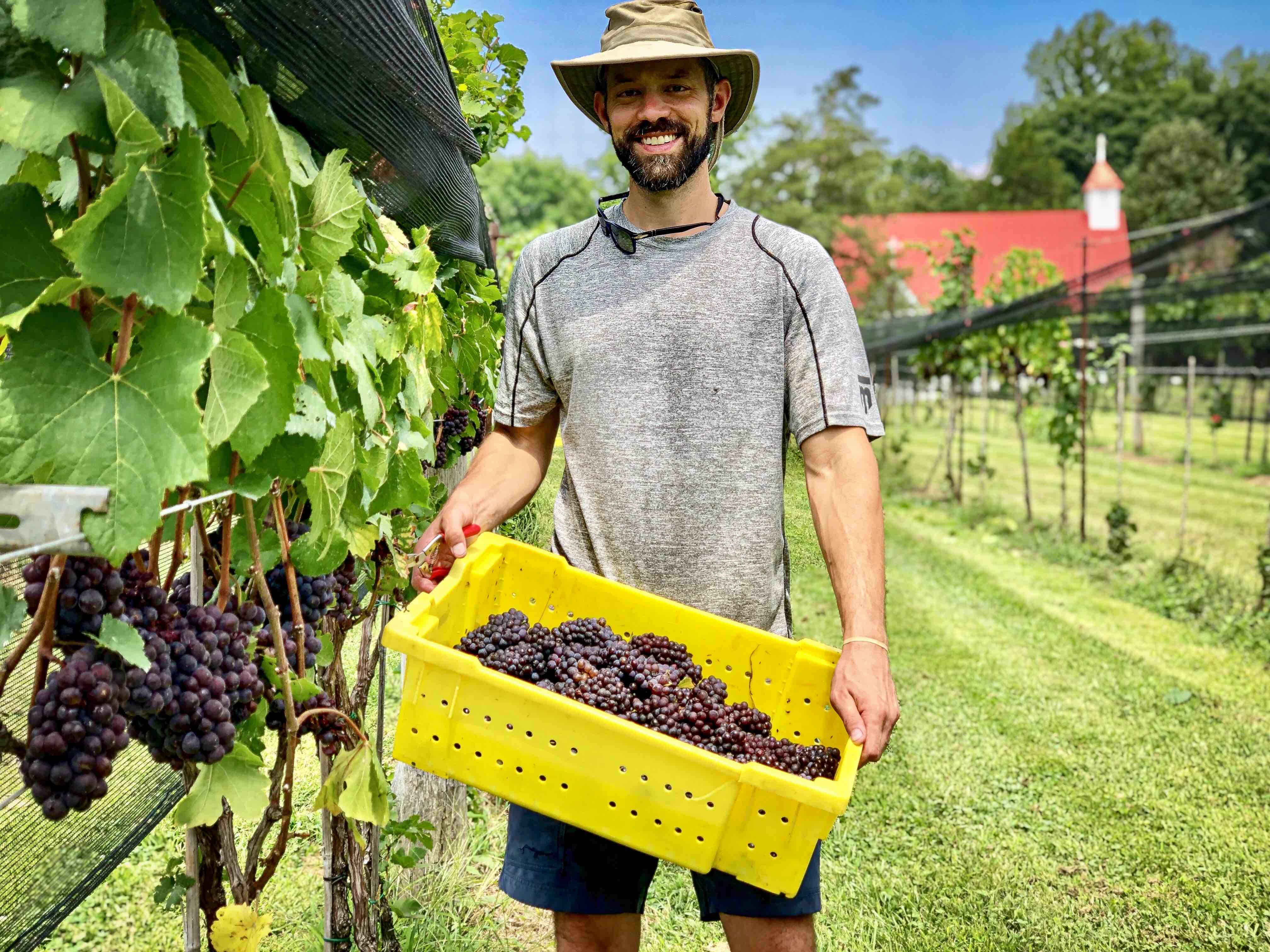 "I started working at Jefferson Vineyards in 2007. I was 24 and had just graduated from UVA the year prior. I stumbled across the Assistant Winemaker job on Craigslist and thought it would be a great experience before heading off to grad school. At the time, my wine knowledge consisted of little more than watching my Dad make wine in the garage, literally destemming individual clusters by hand, and then proudly sharing these bottles with my friends. After a year at JV, where I was able to take part in the full cycle of the winemaking/growing process, I left for architecture school. The endless days sitting through class, working in the studio, made me realize how much I missed and loved the winemaking process and the special connection it has with the land. Pruning in the freezing old, continually taming the wild growth of vines all summer, picking fruit in the fall, and then guiding its transformation into wine, these are all gifts of place... After school, I returned to the vineyard and have dedicated the last decade to the art of winemaking. I find the Estate Reserve wines that much more gratifying knowing the full effort that went into the process, from vine to bottle, and that the story unfolding in your glass will be unlike any other."
- Christopher Ritzcovan, Our Winemaker
To celebrate our 40th Anniversary and enjoy our Limited Releases, click here.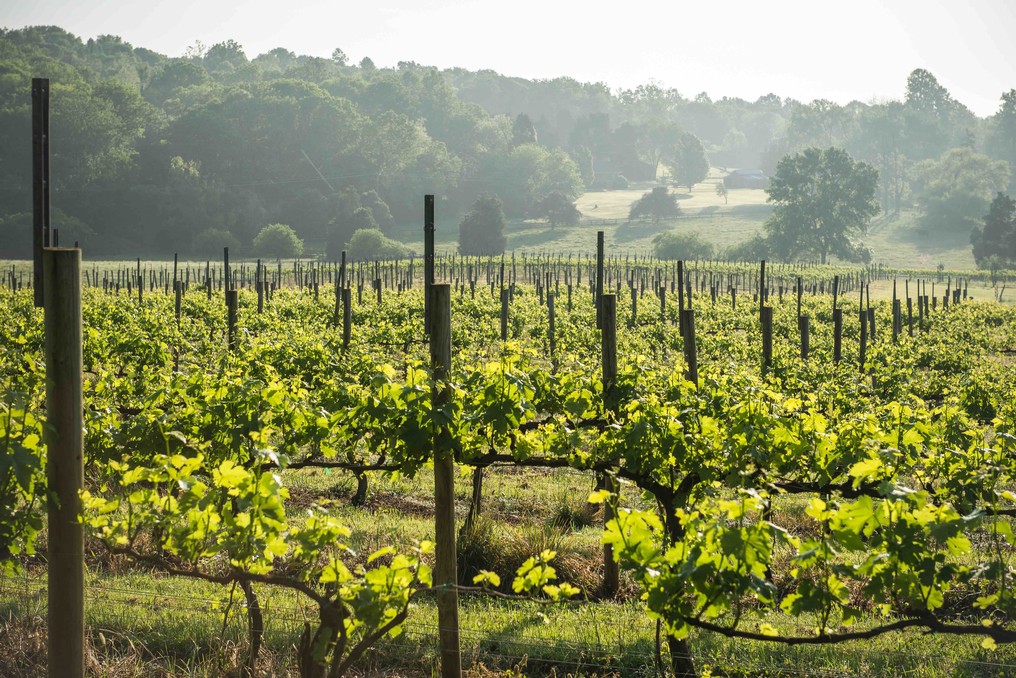 "Terroir". You'll hear this word as our tasting room ambassadors detail the characteristics of the wine in your glass. Attila, our owner, may mention it while hosting a tour or private tasting. In truth, you'll hear it referenced at nearly every vineyard, or in every wine guide, book, or tasting.
Pronounced, "tare-WAHr", this French term refers to the imprint a place leaves on a crop. For our purposes, it is the inextricable traits given to grapes by the area in which they are grown. With this term, one references the entirety of variables defined by a location and the consequential traits on the fruit. It is the nutrients a soil holds, the climate, the weather, at what elevation grapes are planted, what else grows beside the grapes, and how the land is cared for. Each will have an influence on the grapes, and ultimately, the wine.
The significance of this influence brands the location of a vineyard as - well, significant. Each grape variety has distinctly defined ideal conditions, and the uniqueness of every planted block within a vineyard will bear its mark. For this reason, we have carefully selected four separate plots of land on which to plant our vines, each chosen for its precise characteristics and each planted with particular grapes.
Our Upper Vineyard, for instance, was planted in 1981 on a rolling slope 608 feet above sea level. The slope of the land dictates how cold air will run off the vines, working to prevent frost. Rainwater too will rush down the angled land. The Viognier planted in the lower block grows on even steeper land. This results in drier soil, prompting the vines to stop their growth early, and though counterintuitive, produce high-quality Viognier fruit. While the Viognier planted in the upper left blocks tends to have more water in the soil, their proximity to the woods has kept them better protected from detrimental frost.
Even in the 1770s, as Tuscan viticulturist, Philip Mazzei, worked to establish the Virginia Wine Company on our present-day property, he took note of the land and climate as he monitored the vines' growth. In a 1778 letter addressed from Colle, he described the growth of early vine cuttings and wrote that their success "prove in my humble opinion the superiority of this, either soil or climate, perhaps of both". Though in its infancy relative to the centuries-old growing regions of Europe, the booming Virginian wine region and countless modern-day accolades stand as a testament to Mazzei's early, glowing assessment.
Tasting food from another place is to step momentarily into a culture, a tradition, or simply a place other than that which you describe as 'home'. The relationship of place to the final product is magnified in a glass of wine. From color, to aroma, to finish, wine too catalogs a place. What rolling hills, what sun the seasons drank, what flora too grows - all can be sensed.
In celebration of our forty-year anniversary and our varied terroir, our winemaker has curated a special selection of wines that best reflect the distinct differences of our land and climates. So, as you enjoy a glass of our beautifully aged Estate Reserve wines, or savor a sip of Riesling, or Malbec, what you taste is an expression of origin, a connection to a place. To celebrate this connection with us, please visit our Monthly Limited Release page.