March 10, 2021 | 40th Anniversary, Monthly Specials, Our People | Anabelle Nuelle
The Secret to Our Viognier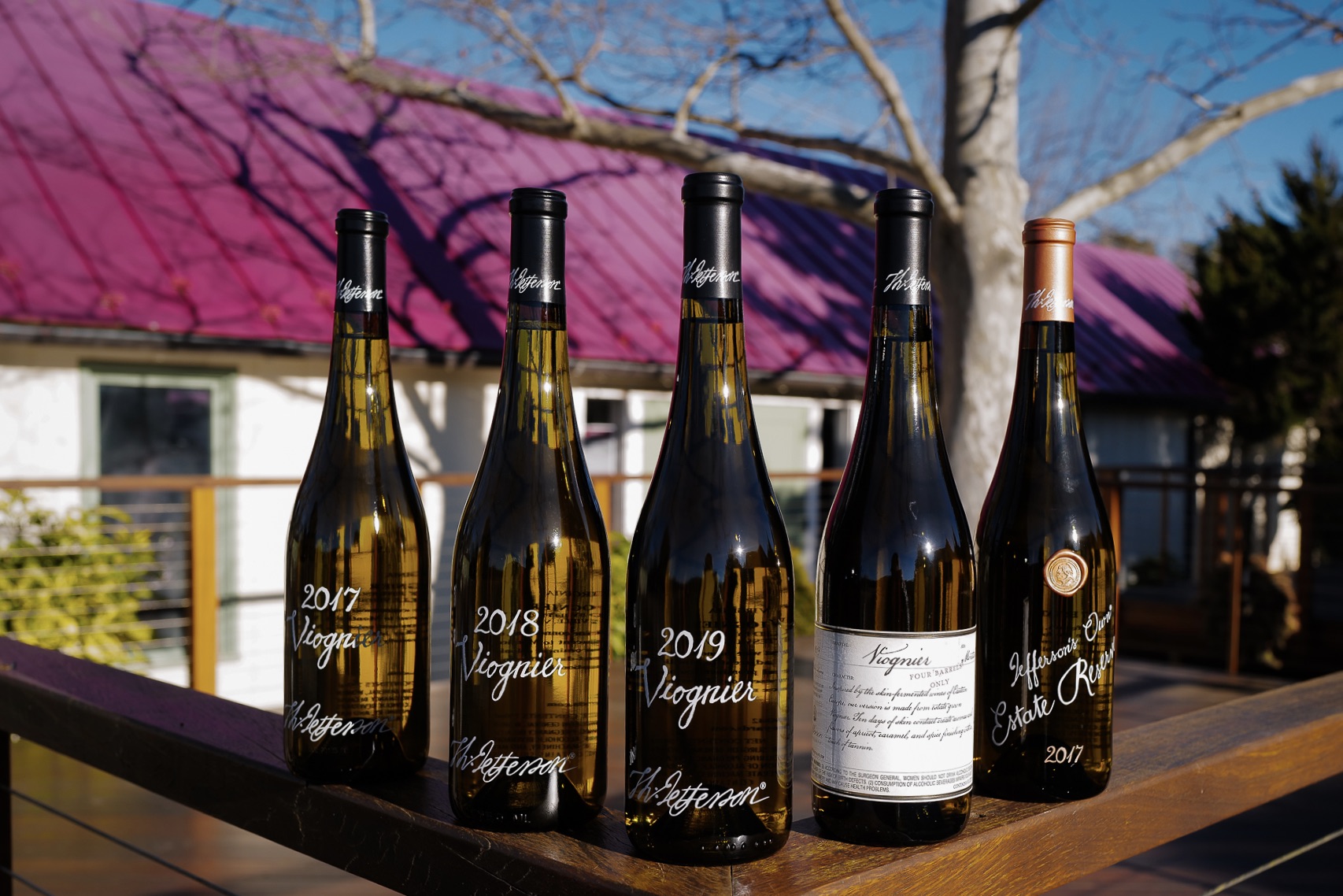 Peach, apricot, and lychee on the nose, a delicately balanced palate precede a round and lengthy finish. This is our golden-toned Viognier. Pronounced "vee-ON-yay", this French grape has found a home as the state grape of Virginia. Crafted from vines cared for by hand, aged for months, and created with the artisan expertise of our winemaking team, it is Jefferson Vineyard's flagship white, our most consistently awarded wine.
With decades of Viognier production and accolades, we're ready to share the secret behind this delicious white wine. Curious to learn more? Read on.
In the Vineyards
We designate nearly a quarter of our twenty-two planted acres to Viognier grapes. These fickle grapes are challenging to grow, but for us, the risk is well worth the reward. These bright green grapes flourish with strong sun and heat and more water than other varietals; a perfect complement to Virginia rains and summers. For over a decade, Hector and Nora Guzman, with the help of their family, have cared for these vines.
Though labor-intensive, the Guzmans prune, hedge, and pick the fruit by hand, ensuring each bud, shoot and grape receive personal attention. Viognier in particular cannot compete with other growth - be it grass or weeds - and must be tended to accordingly. Shoots that grow laterally instead of horizontally (known as 'lateral shoots') are corrected. Hector and his family keep watch for the early signs of pests or disease, meticulously maintaining our vineyards' health. And when the end of August rolls around, they harvest only the healthiest and most robust of fruit.
In the Winery
Great wine cannot be made without great fruit and of course, great winemakers. Chris Ritzcovan, our winemaker, and David Woodside, our assistant winemaker, have been working together in our winery for nine years. Throughout their tenure, the two have approached production with a steady commitment to both quality and creativity.
Before our Viognier is harvested, our team tests the fruit for particular sugar levels that will bring forth the apricot or peach flavors and floral aromas that epitomize the viognier varietal. Once in the winery, they begin the stylistic processes that distinguish our viognier. They inoculate the wine with commercial yeast, ferment it in oak barrels and stir the barrels on their lees to build the body and weight you sense in a sip of our final product.
To age the Viognier, again consideration is given to the precise barrel type. On the wine, their selection gives way to a toasted influence, carefully curated to complement the fruit and structure of Viognier.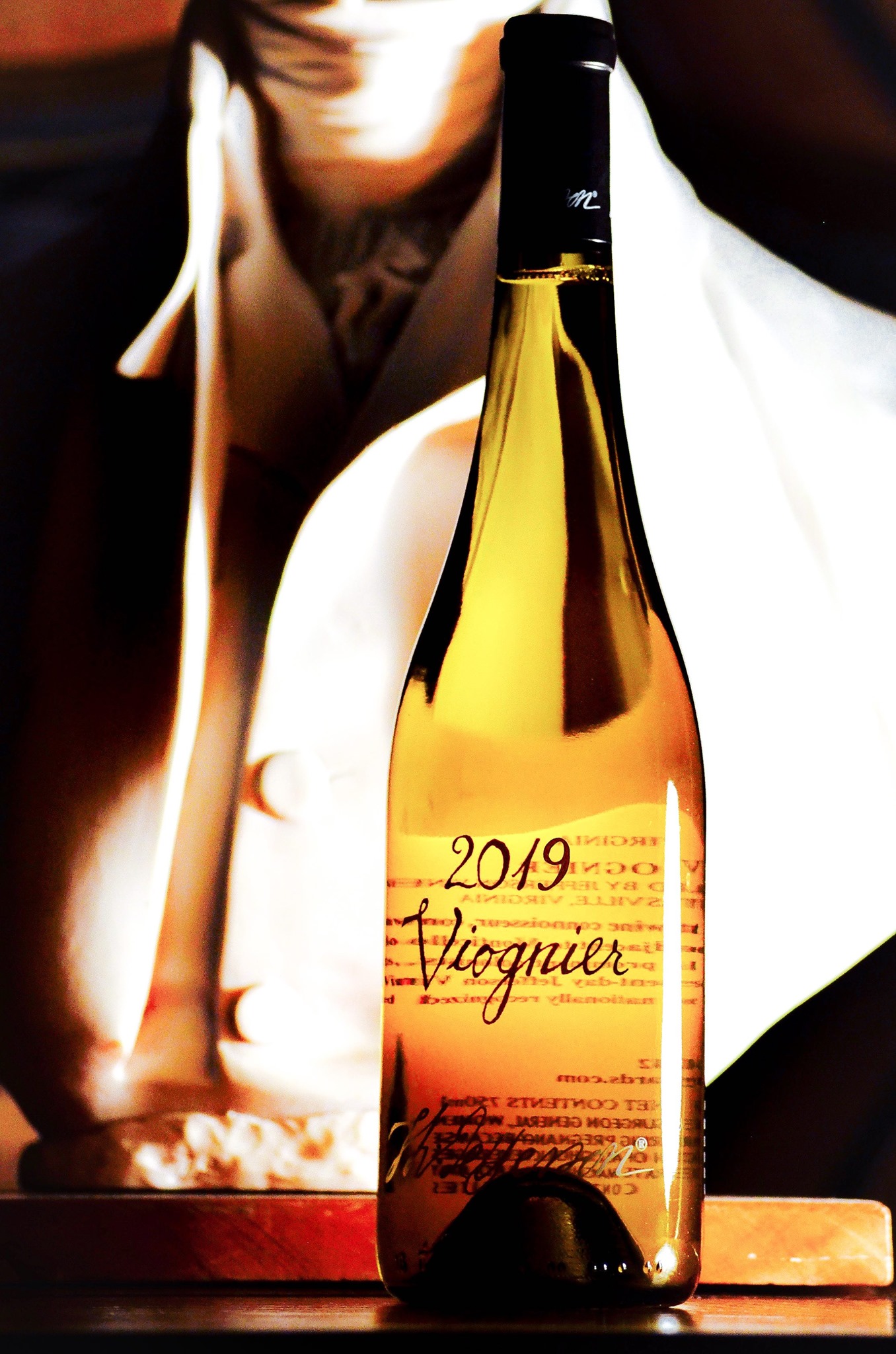 In the Glass
Nearly eight months after the fruit is picked, our Viognier is bottled and shared through our tasting room. It is championed by people like Heather Lavelle, our Retail Operations Manager, who will tell you our Viognier, though different from those of other regions, is consistent. Attila Woodward, our owner, will tell you he fell in love with Viognier because it is so beautifully balanced and pairs wonderfully with the South East Asian cuisine he spent over a decade enjoying while living in Vietnam. Both work to share their passion for this wine, submitting it to competitions across the country and encouraging those who visit us to try it for themselves.
In the 2020 San Francisco International Wine Competition, our Viognier 2019 received a Double Gold award, judged amongst thousands of other wines. Vinepair dubbed this same vintage one of the 28 Best White Wines for 2021. Savor Virginia Magazine Reader's Choice 2021 honored it with a Gold. Most recently, our Viognier was awarded a Gold by the 2020 Virginia Governor's Cup.
So, what is the secret to our Viognier?
It is the passion and dedication of the people who care for the vineyards, who craft the wine, and who advocate for its place among the top wines in the world. With every award, we are proud to advance the reputation of Virginian wine, with Virginia's own state grape.
Comments
Commenting has been turned off.