Jefferson Vineyards Wine Blog
---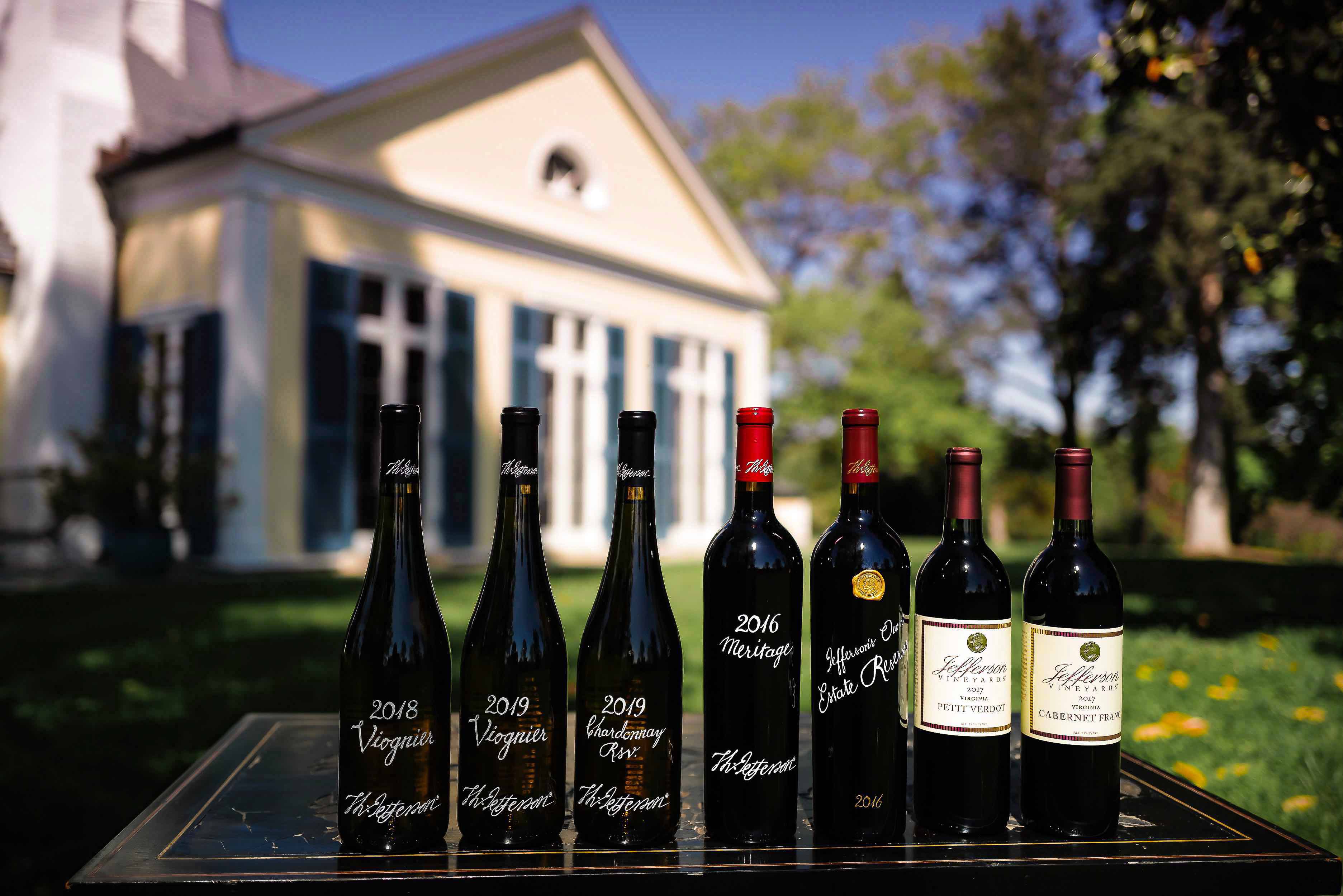 To Thomas Jefferson, wine was a "necessity of life." [1]. In a glass, he seemed to see a benefit to health, to culture, and to society. In his founding vision of our young country, he perceived a place for wine and carved a place for our first commercial viticultural endeavor in Albemarle County. It is on that same land that our forty-year legacy continuing Jefferson's vision began.
The Founding Vision
In 1773, convinced by Benjamin Franklin and sponsored by Thomas Adams, a friend of Jefferson's, prominent Italian viticulturalist, Philip Mazzei, arrived in Virginia.[2] Mazzei shared Jefferson's vision of planting vines and bringing to the new world the centuries old viticultural tradition. On his way to land promised to him, he and Thomas Adams paid a visit to Monticello. Without hesitation, Jefferson persuaded Mazzei to conduct his agricultural endeavors not on the separate tracts of land promised to him, but as his neighbor. Jefferson offered Mazzei land adjacent to his own, land that is a part of our present-day property, just south of Monticello.[3]
One year later, Mazzei established a commercial agricultural company for "the purpose of raising and making wine, oil, agruminous plants and silk" with the support of 38 shareholders including George Washington and Thomas Jefferson himself.[4] Mazzei was taken with his land, later exclaiming "In my opinion, when the country is populated in proportion to its extent, the best wine in the world will be made here…I do not believe that nature is so favorable to growing vines in any country as this."[5] Mazzei was deeply moved by American politics, he declared himself a patriot and first suggested the famous words "All men are created equal".[6] Though his precious vines were later trampled by the horses of a Hessian General, Mazzei anticipated the success of Virginia wine and supported Jefferson's own viticultural vision for the new world.[7]
Pioneers in Virginia Wine
Centuries later, Shirley and Stanley Woodward Sr. saw the same viticultural potential in the land. The Woodwards purchased the Colle property on the advice of their close friends, Major General "Pa" Watson and Mrs. Watson, whose own nearby Kenwood home was frequently visited by President F.D. Roosevelt. The Woodwards commissioned Franklin Delano Roosevelt's distant cousin to construct their house atop of the foundation of Mazzei's original home. There, the couple entertained a range of friends, family, and dignitaries. On numerous occasions, they hosted President Harry S. Truman, the first of which coincided with the Roswell UFO incident.
Having lived in Paris, Stanley Woodward was passionate about European wines, like Jefferson. At each of the Woodward's gatherings, a bottle of wine stood at the center of the table, a centerpiece around which colorful conversations took place. To share wines crafted from their historic land with their guests, Stanley and Shirley Woodward Sr. hired Gabriele Rausse. Like Mazzei, Rausse came to Virginia from Italy and brought with him rich viticultural expertise, and revived Jefferson's viticultural vision.
Having previously played a critical role in instituting Barboursville Vineyards, Rausse became our first winemaker. In 1981, he planted European grapes such as Chardonnay and Cabernet Sauvignon. Rausse himself came to be regarded as the Father of Virginian wine. Virginia was in its infancy as a growing region; there existed no expertise to reference as Rausse experimented with varietals and the Woodwards continued to invest in the vineyards. Only a handful of other wineries existed in the region at the time and success followed after a tedious process of trial, error, resilience, and impassioned perseverance. Yet, the Woodwards and Rausse saw in the land the same potential Mazzei recognized. As pioneers in Virginian wine, the Woodwards strove to provide a home for Virginia's early wine talent.
Incubators of Talent
In 1993, the second generation of Woodwards, Marie Jose and Stanely Jr., took the reins and committed themselves to elevate the characteristics of our wine. Following Rausse, the Woodwards recruited Michael Shaps to Virginia. Shaps greatly advanced the quality of our wine and is now a renowned figure in the present-day Virginia wine industry. The French Frantz Ventre followed Shaps, and created intricate nonfiltered wines that aged beautifully. In their last decade at the vineyards, they hired Andy Reagan. Reagan furthered the quality of our red wines and garnered much acclaim.
In 2013, the third generation of Woodwards came to the helm of Jefferson Vineyards, and with them came a new winemaker. Chris Ritzcovan continued the legacy of merit set by the talents before him. With his expertise, our Viognier program in particular shines as an emblem of consistency and excellence. With each winemaker and every vintage came an opportunity to advance our craftsmanship, to continue in Jefferson's viticultural vision, and to propel forward the reputation of Virginia as a wine destination.
Our Place
Tucked between Jefferson's Monticello and Monroe's Highland, our land first defined our story. Here, Mazzei began his early attempt to realize Jefferson's viticultural dream. It is this same land that attracted Shirley and Stanley Woodward and inspired them to create European wines like those which so enamored Jefferson. It is to this land that we today welcome our patrons and on which we strive to produce high-quality wine.
Though our visitors see only a small fraction of our property, our estate span 700 acres nestled between Carter Mountain and two presidential homes. The Woodwards began caring for this historic land before we made our first wine, placing nearly 700 acres of land under conservation easement in perpetuity to protect it from development for generations to come. We have invested in the health of our land and its inhabitants, from caring for our orchards and vineyards by hand, to the eight acres of wildflowers planted to support pollinators, and to the 12,500 tulip poplar trees planted to improve the health of our ecosystem.
Just as we have cared for the land, we are investing the care for our community. In celebration of our 40th Anniversary, Jefferson Vineyards has partnered with the Blue Ridge Area Food Bank and committed to a donation capable of funding approximately 48,000 meals across the Thomas Jefferson service area.
A Toast to Forty Years
We have faced trials and tribulations over our forty-year heritage, but none have been so great as to deter us from pursuing Thomas Jefferson's viticultural dream on the land it was first attempted. Here, we drew inspiration from the efforts of Philip Mazzei and Thomas Jefferson to create a legacy establishing and advancing the reputation of Virginian wine. Our Viognier and Petit Verdot programs continue in this pursuit.
Over the course of these four decades, we have expanded and experimented with a range of wines in a ceaseless effort to share with our patrons the best expressions of our craft. We have created a broad range of traditional wines and experimented with unique grape varieties and production techniques. In every glass we have tasted and every bottle we have shared, we continue in our founding legacy and find endless reason to continue forward.
To celebrate our 40th Anniversary and all we have accomplished together, we are revealing the rich details of our history and craftsmanship by opening our cellars to offer monthly limited vintage releases. Additionally, we will share the details of our story and the wines that have defined us over the decades through our blog.
We thank our patrons and the Virginia wine industry for their ceaseless support. Please join us as we raise a glass to the years to come - the bright future ahead for Virginia, its wine, and us all.
[1] Thomas Jefferson memorial association of the United States, et al. The Writings of Thomas Jefferson. Definitive ed. / Washington, D.C.: Issued under the auspices of the Thomas Jefferson memorial association of the United States, 1905
[2] Marchione, Life and Wanderings, 184-87, 202, 203
[3] From Thomas Jefferson to James Strange, 18 September 1806," Founders Online, National Archives, https://founders.archives.gov/documents/Jefferson/99-01-02-4291.
[4]"Plan of Philip Mazzei's Agricultural Company, 1774," Founders Online, National Archives, https://founders.archives.gov/documents/Jefferson/01-01-02-0096.
[5] Sacalia, S. Eugene. "Chapter 16: Albemarle County – 1773 – 1779, Wild Grapes." Philip Mazzei: My Life & Wanderings, edited by Margherita Marchione, by Philip Mazzei, American Institute of Italian Studies, 1980 pp 212.
[6] United States, Congress, Cong. House – Post Office and Civil Service. Designating October 1993 and October 1994 as "Italian-American Heritage and Culture Mont, 1994. 103rd Congress, 2nd Session, Bill H.J.Res.175, 1994.
[7] Jefferson to Albert Gallatin, January 25, 1793, in PTJ, 25:92. Transcription available at Founders Online.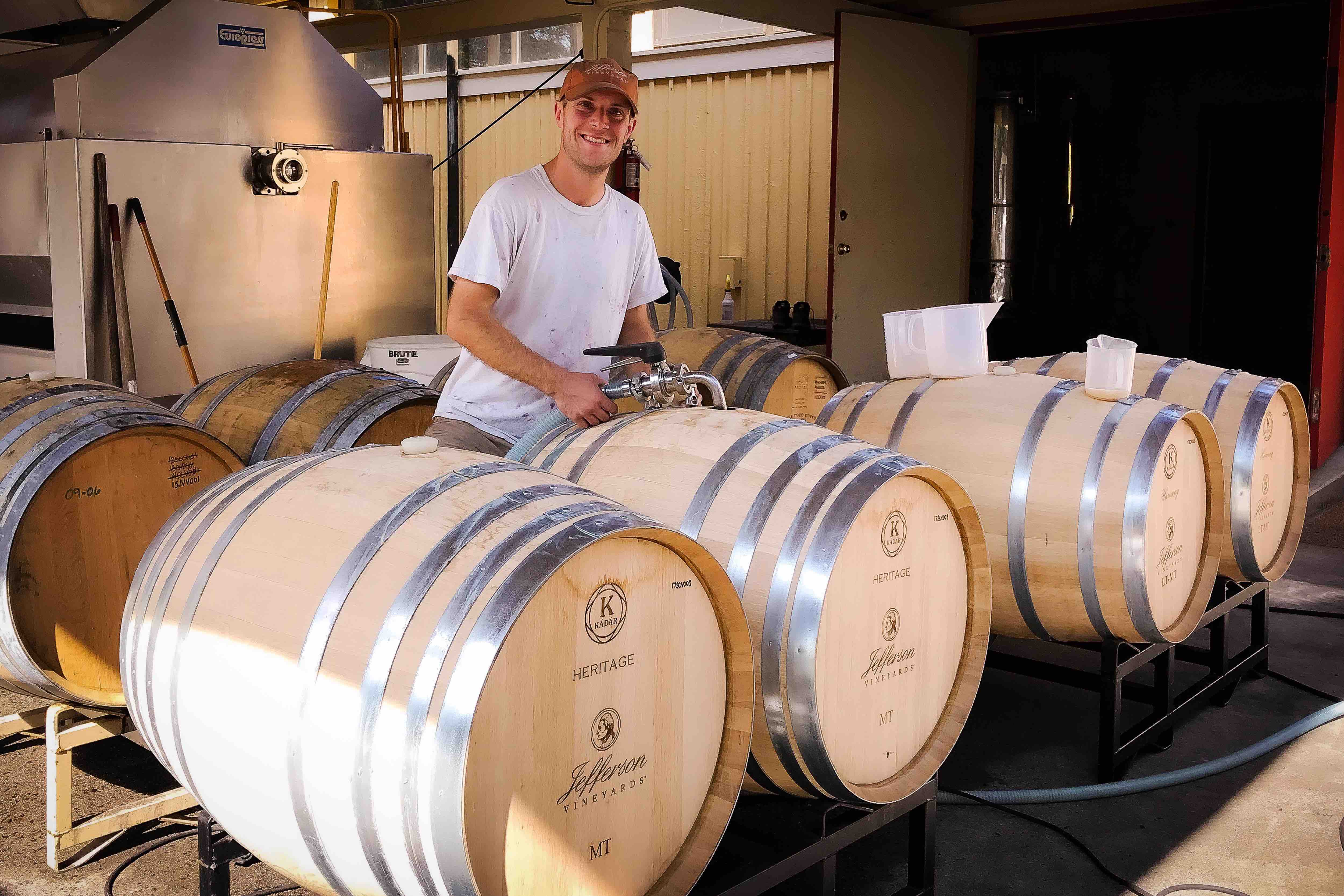 "Viognier is not only one of my favorite wines to drink, but it is one of the best varietals to work with. I love the versatility of Viognier. It can stand alone as a steel fermented or steel aged wine with all of its fruit characteristics, or as a light barrel-fermented wine for added complexity. One of my favorite wines we do is our skin-contact Viognier where we ferment the whole barrels on their skins before pressing. This allows for all the phenols to be extracted and creates a truly unique experience in the glass. Our 2019 Skin Fermented Viognier is delicious. I love enjoying this golden varietal out in the field after a long day of work with our "golden" vineyard assistant, Malcolm!"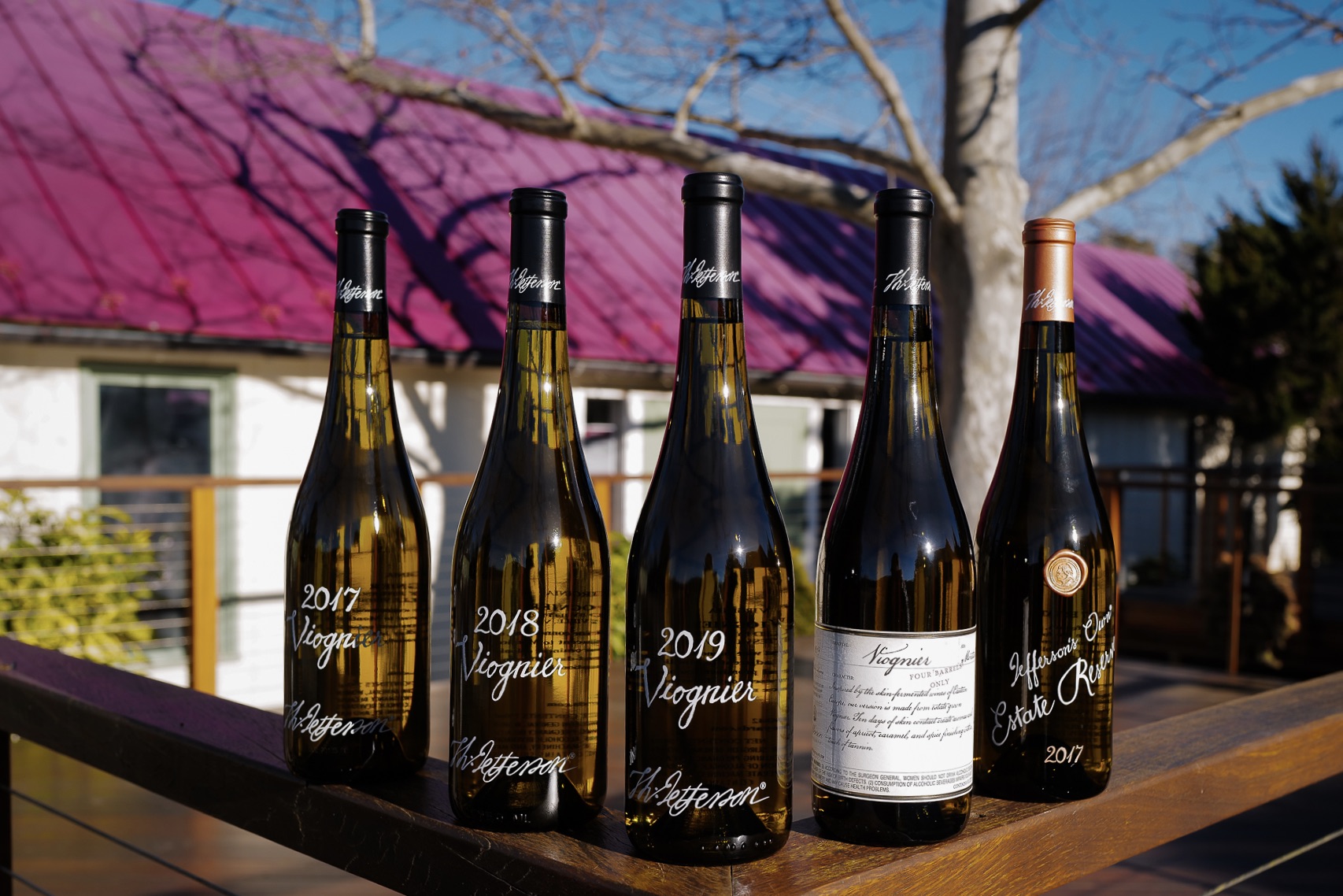 Peach, apricot, and lychee on the nose, a delicately balanced palate precede a round and lengthy finish. This is our golden-toned Viognier. Pronounced "vee-ON-yay", this French grape has found a home as the state grape of Virginia. Crafted from vines cared for by hand, aged for months, and created with the artisan expertise of our winemaking team, it is Jefferson Vineyard's flagship white, our most consistently awarded wine.
With decades of Viognier production and accolades, we're ready to share the secret behind this delicious white wine. Curious to learn more? Read on.
In the Vineyards
We designate nearly a quarter of our twenty-two planted acres to Viognier grapes. These fickle grapes are challenging to grow, but for us, the risk is well worth the reward. These bright green grapes flourish with strong sun and heat and more water than other varietals; a perfect complement to Virginia rains and summers. For over a decade, Hector and Nora Guzman, with the help of their family, have cared for these vines.
Though labor-intensive, the Guzmans prune, hedge, and pick the fruit by hand, ensuring each bud, shoot and grape receive personal attention. Viognier in particular cannot compete with other growth - be it grass or weeds - and must be tended to accordingly. Shoots that grow laterally instead of horizontally (known as 'lateral shoots') are corrected. Hector and his family keep watch for the early signs of pests or disease, meticulously maintaining our vineyards' health. And when the end of August rolls around, they harvest only the healthiest and most robust of fruit.
In the Winery
Great wine cannot be made without great fruit and of course, great winemakers. Chris Ritzcovan, our winemaker, and David Woodside, our assistant winemaker, have been working together in our winery for nine years. Throughout their tenure, the two have approached production with a steady commitment to both quality and creativity.
Before our Viognier is harvested, our team tests the fruit for particular sugar levels that will bring forth the apricot or peach flavors and floral aromas that epitomize the viognier varietal. Once in the winery, they begin the stylistic processes that distinguish our viognier. They inoculate the wine with commercial yeast, ferment it in oak barrels and stir the barrels on their lees to build the body and weight you sense in a sip of our final product.
To age the Viognier, again consideration is given to the precise barrel type. On the wine, their selection gives way to a toasted influence, carefully curated to complement the fruit and structure of Viognier.
In the Glass
Nearly eight months after the fruit is picked, our Viognier is bottled and shared through our tasting room. It is championed by people like Heather Lavelle, our Retail Operations Manager, who will tell you our Viognier, though different from those of other regions, is consistent. Attila Woodward, our owner, will tell you he fell in love with Viognier because it is so beautifully balanced and pairs wonderfully with the South East Asian cuisine he spent over a decade enjoying while living in Vietnam. Both work to share their passion for this wine, submitting it to competitions across the country and encouraging those who visit us to try it for themselves.
In the 2020 San Francisco International Wine Competition, our Viognier 2019 received a Double Gold award, judged amongst thousands of other wines. Vinepair dubbed this same vintage one of the 28 Best White Wines for 2021. Savor Virginia Magazine Reader's Choice 2021 honored it with a Gold. Most recently, our Viognier was awarded a Gold by the 2020 Virginia Governor's Cup.
So, what is the secret to our Viognier?
It is the passion and dedication of the people who care for the vineyards, who craft the wine, and who advocate for its place among the top wines in the world. With every award, we are proud to advance the reputation of Virginian wine, with Virginia's own state grape.
We will now be open 11 am - 6 pm, Thursday through Sunday. With the cold behind us and the sun in the sky, we are so excited to welcome you back to our property in view of Monticello. When you arrive at our gate, you'll notice a few exciting changes including a large tent to offer you shelter from the rain or shade from the sun. In our menu, you'll find our semi-sweet Vin Blanc wine now included in our Mixed Flight and a Malbec (our only vintage) offered by the glass and in our Red Flight.
To kick off the season, we hope you'll enjoy our Limited Release Vintages and Wine Shop. Our Viognier 2019, Cabernet Franc 2019, and Petit Verdot-based Jefferson's Own Estate Reserve 2016 were each awarded Gold Medals in the 2021 Virginia Governor's Cup. We are honored to receive recognition for varietals that define Virginia as a wine-growing region.
Please note, we are now accepting groups of 8 including children. Masks are required and though we have more space available, we will close our gates once parking capacity is reached. Please visit our Visitation Policies page for additional detail.
We cannot wait to welcome you back to celebrate our 40th Anniversary together. Cheers!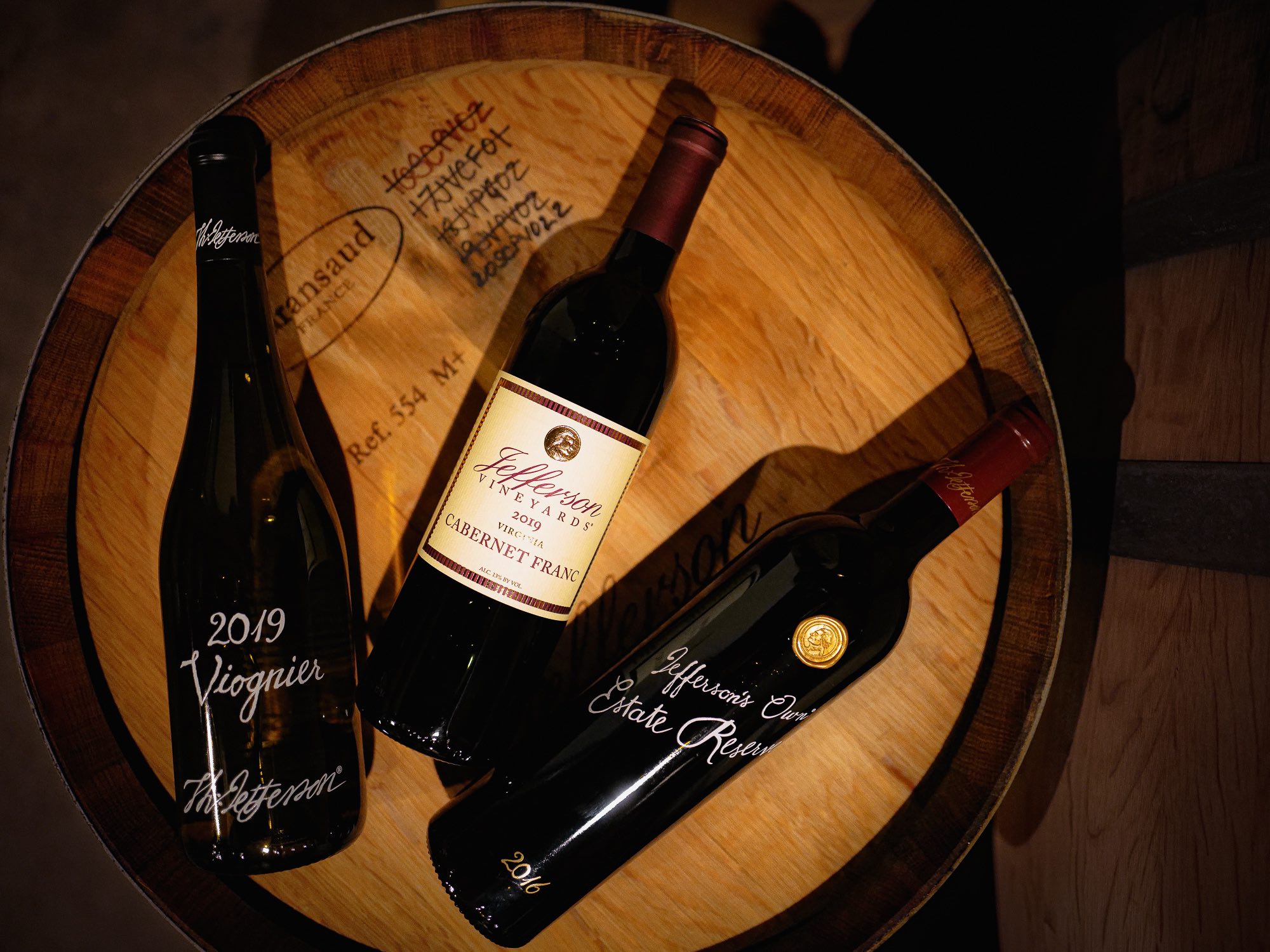 Jefferson Vineyards is thrilled to be awarded three gold medals in the 2021 Virginia Governor's Cup. Our 2019 Viognier, 2019 Cabernet Franc, and our Petit Verdot based 2016 Jefferson's Own Estate Reserve each was awarded gold medals, highlighting the quality of fruit and craftsmanship across Jefferson Vineyards' wines.
The accolades awarded by the Virginia Governor's Cup celebrate the craftsmanship of our winemaking team, Chris Ritzcovan and David Woodside, as well as the hard work of our vineyard team. Their combined efforts and ceaseless commitment continue our 40-year tradition of crafting high-quality wine.
Jefferson Vineyards is honored by the recognition our Viognier, Cabernet Franc and Petit Verdot based Estate Reserve have received. Each of these varietals defines Virginia as a growing region. To have received recognition within Virginia's top varietals such as Viognier, the state grape, and Petit Verdot, is thus especially humbling, reaffirming both our investment and dedication to these programs.
Jefferson's Own Estate Reserve 2016 was crafted solely from the estate's finest Petit Verdot fruit. This oak-driven red boasts a powerful spice and fig bouquet with a balanced acidity and plum on the palate. The already highly awarded Viognier 2019 opens with intricate floral notes, white peach and nectarine on the nose, the palate is delicate and balanced, before a round and floral finish with a lingering acidity. The Cabernet Franc 2019 vintage is marked by aromas of dark cherry and vanilla, with a palate of piercing cherry, blackberry, and black pepper. In the finish, one tastes candied cherry and vanilla with a balanced acidity, medium tannins and hints of oak.
Jefferson Vineyards congratulates all of our fellow wineries, as well as the organizers of this year's Virginia Governor's Cup event. Together, we expand and advance the reputation of Virginia's exceptional wines and wineries.
We will be reopening our doors to visitors on March 11, and warmly invite visitors to enjoy our award-winning red and white wines this Spring. In the meantime, you will find our Triple Gold Bundle available in our online store for a limited time. Committed to memorable wine, experiences and education, we continue in Jefferson's own viticultural dream.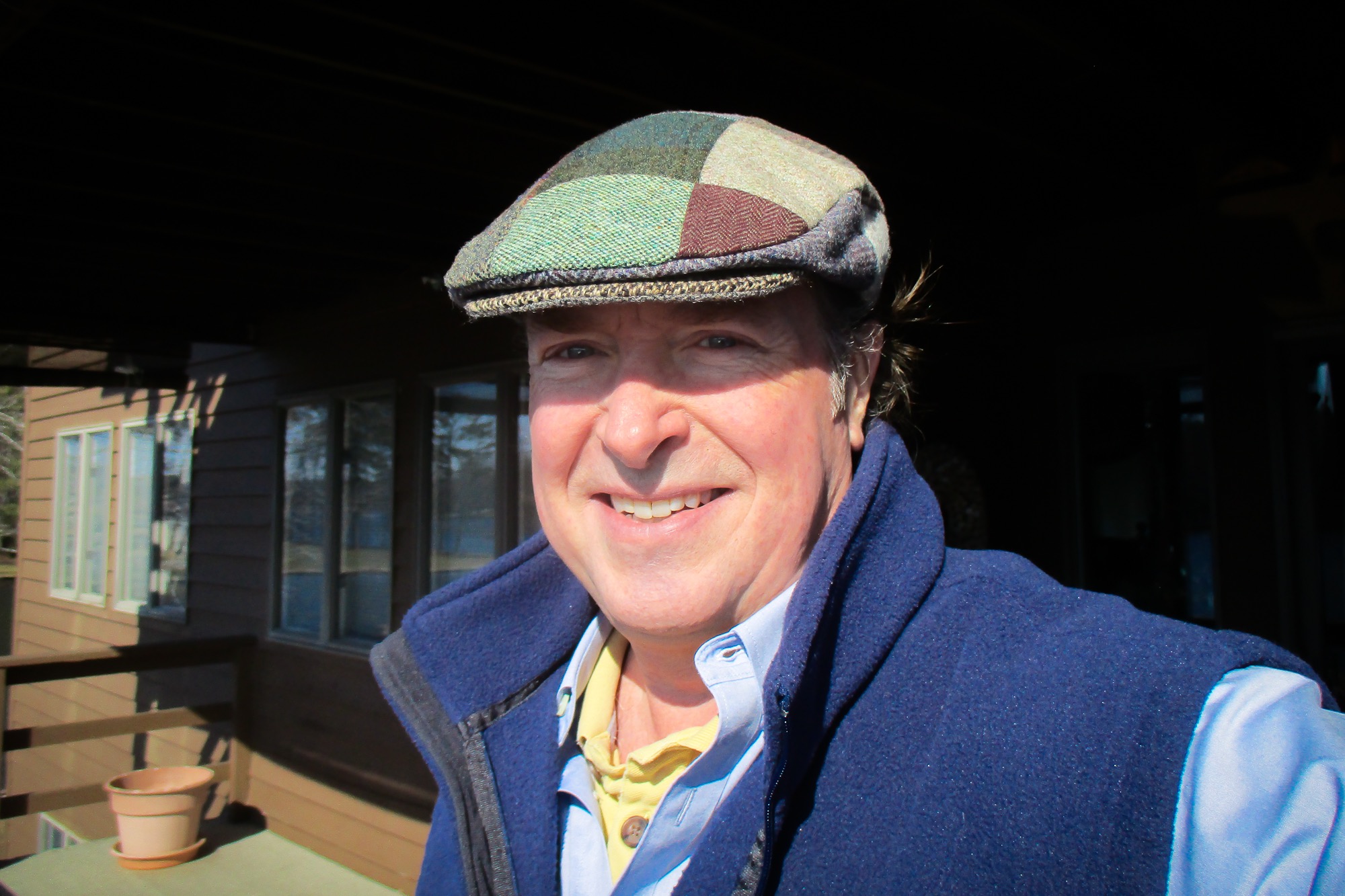 "Jefferson Vineyards has been a big part of my life for over 20 years. I have seen many changes and enjoy seeing how each wine changes from vintage to vintage. One of my favorite Virginia reds has been Petit Verdot, which Jefferson Vineyards has been producing for many years now. It is a red that I like to sip on alone or with some hearty foods. After opening Petit Verdot for a while, it softens and the rich dark fruit flavors are revealed. Recently, I opened a 2017 vintage and had it with some full-flavored cheese, it was a great pairing."
- Rodger Patzig, Tasting Room Ambassador
To celebrate our 40th Anniversary and enjoy our Limited February Release, click here.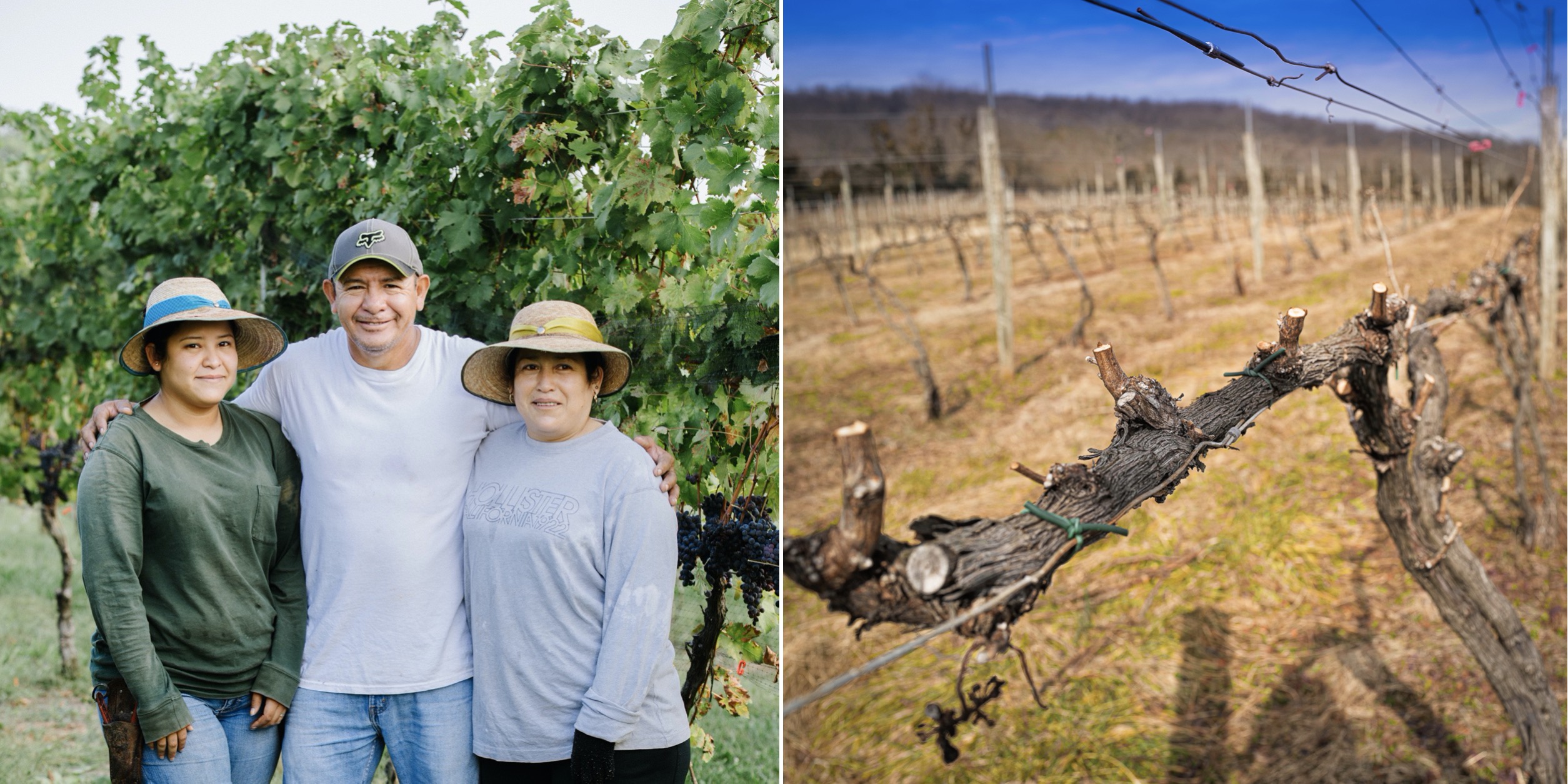 Hector Guzman and his family meticulously care for our vines each season. The Guzmans returned from Mexico earlier in February. Immediately, they began the final pruning in our Cabernet Franc vines. In this process, our team cuts back the canes from years prior, leaving only two or three buds closest to the cordon (the horizontal 'arms of the vines) that will best grow shoots. Our team typically prunes Cabernet Franc and other varietals before beginning work on early budding varietals, like Chardonnay. Such varietals are at greater risk of bud damage from late frosts. By pruning these vines last we delay bud break, better protecting them from early spring frosts.
Once the threat of frost has passed, the team will again return to the vines and remove all but the healthiest shoots from a single spur to improve air circulation in the vineyards.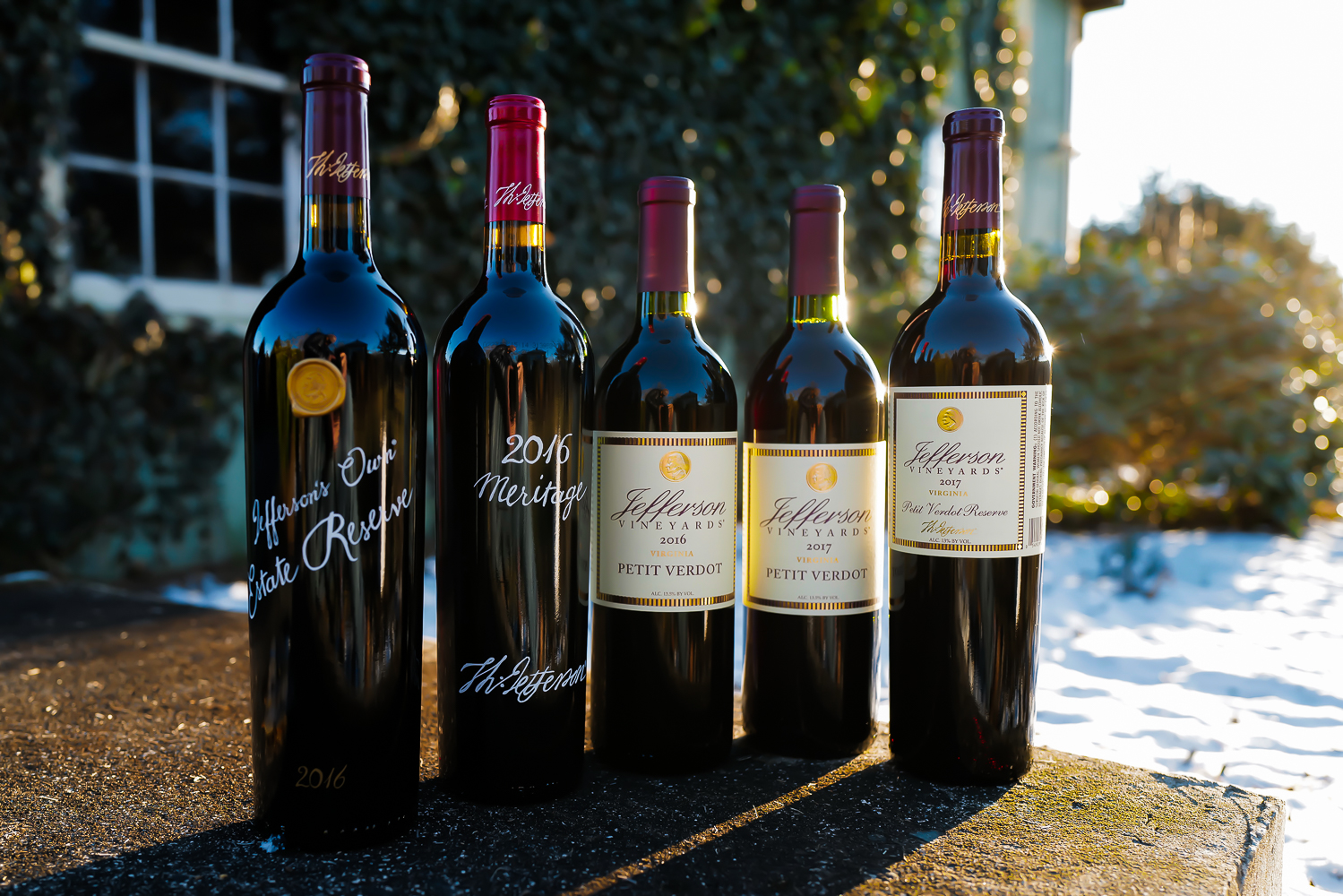 February, the last full month of winter. We face a mere handful of weeks until we can at last trust that the sun will shine. As we at Jefferson Vineyards approach our anniversary in the spring, there seems a no better time to move slowly, honey slow, and delight in the joys of these past forty years.
Valentine's Day in particular seems the day to celebrate all that we love. We of course will be celebrating our wines. Though there have been trials and tribulations over the years, none could undermine the beauty of watching our wines develop, the richness of each nuance unfolding in the glass. To savor this special time, we're filling our glasses with a bold and intricate red - Petit Verdot.
Now a darling of Virginia, Petit Verdot was known first as a blending grape from Bordeaux. We've loved this varietal from our beginning, grafting it as early as 1984 and bottling it in 2001 - making us one of the first in Virginia to do so.
If Viognier is the star of our white wines, Petit Verdot is our headlining red. To this day, you'll recognize Petit Verdot as a principal part of our portfolio. With it, we produce three wines: an Estate Reserve, a single varietal, and a reserve single varietal. Our Estate Reserve is not always made singularly from Petit Verdot, but when our estate's Petit Verdot fruit is undeniably perfect we cannot help but make an Estate Reserve to treasure this complex red. Our Meritage wines too manifest our adoration. Petit Verdot plays a uniquely prominent role in our Meritage program, frequently comprising the largest percentage of the blend, a blend distinct to Jefferson Vineyards.
Petit Verdot bursts with red fruit and offers a bright, balanced palate. Each iteration gives way to unique delicacies, the gems of which we've curated in our February Limited Release. Our 2017 vintage opens with caramel aromas that lead to blackberry and coffee flavors. The 2017 Petit Verdot Reserve is vibrant and oak-driven, offering plum and raisin flavors before finishing with tart cherry notes. Even our 2016 Estate Reserve (100% Petit Verdot), is distinct in its powerful spice and fig bouquet, plum on the palate, and notes of cedar in the finish.
Bold and tannic, Petit Verdot pairs equally well with red meats as it does with chocolate sweets. Should you find yourself searching for something more to savor in this final winter push, explore an iteration of Petit Verdot in our February Limited Release and delight in its details. Or perhaps you wish instead to relish in the process of taking your sweet time. For you, we've collected a decadent chocolate recipe from our beloved associate, Grandma Bond.
This February, we suggest you move slowly, make something, celebrating something, and savor something special.
Grandma Bond's Frosted Petit Verdot Brownies
For the Brownies
1 cup flour

2/3 cup unsweetened high-grade organic cocoa powder

1/2 tsp baking powder

1/2 tsp salt

3/4 cup unsalted butter melted

1/4 cup Jefferson Vineyards Petit Verdot

1 1/2 cup sugar

3 eggs at room temperature
For the Frosting (Optional)
1 cup unsalted butter, softened

3 1/2 - 4 cups powdered sugar

1/2 cup dry red wine

2 Tbs granulated sugar
Instructions for the Brownies
Preheat the oven to 350°F. Spray a 9-inch baking pan with nonstick cooking spray.

In a medium bowl, which together flour, cocoa powder, baking powder, and salt.

Melt the butter in a medium bowl in the microwave for 30-second increments until the butter is fully melted. Whisk in sugar and Petit Verdot. Whisk in the eggs, one at a time.

Fold the dry ingredients into the wet ingredients until fully mixed. Pour batter into the previously prepared pan. Bake for 25 - 30 minutes or until a toothpick can be inserted in the center of the brownies and come out dry with only a few crumbs.

Allow brownies to cool completely.
Instructions for the Frosting
Add the dry red wine and sugar to a small saucepan, stirring until the sugar is completely dissolved.

Bring the mixture to a simmer, stirring occasionally. Continue simmering until reduced and is a syrup, thick enough to coat the back of a spoon. (You'll know its ready when stirring starts to form fleeting lines in the mixture, showing the bottom of the pan)

Remove the skillet from heat; it should yield several tablespoons of syrup.

With a standing mixer, cream together the powdered sugar and butter until whipped and fluffy. Set to a lower mixing speed and slowly pour in the red wine syrup, mixing until evenly combined.

Fit your desired tip onto a piping bag and scoop the frosting in. You can also use a plastic baggy with one of the corners cut off.

Generously frost each of the brownies. Serve and enjoy!
Throughout the year, our team works tirelessly to maintain and manage the vineyards in an effort to produce the best possible fruit. With each season, the focus of this care changes.
Were you to take a close look at our vines, you would see the trunk of each vine splits into two horizontal arms that grow along the trellis. Each of these arms is called a 'cordon' and on these cordons are 'spurs', small stubs containing 1-3 buds, that grow upwards and will eventually bear fruit. Since the beginning of December, our team has been rough pruning in the vineyard. Rough pruning is the process of trimming back the shoots of spur-pruned vines to about 12 to 15 inches above the cordon. This serves to expedite the final pruning process, by detangling and 'tidying' the vines our team can delay the final pruning and bud break, better protecting the vines from winter damage and spring frost.
Next week, we being the final pruning process!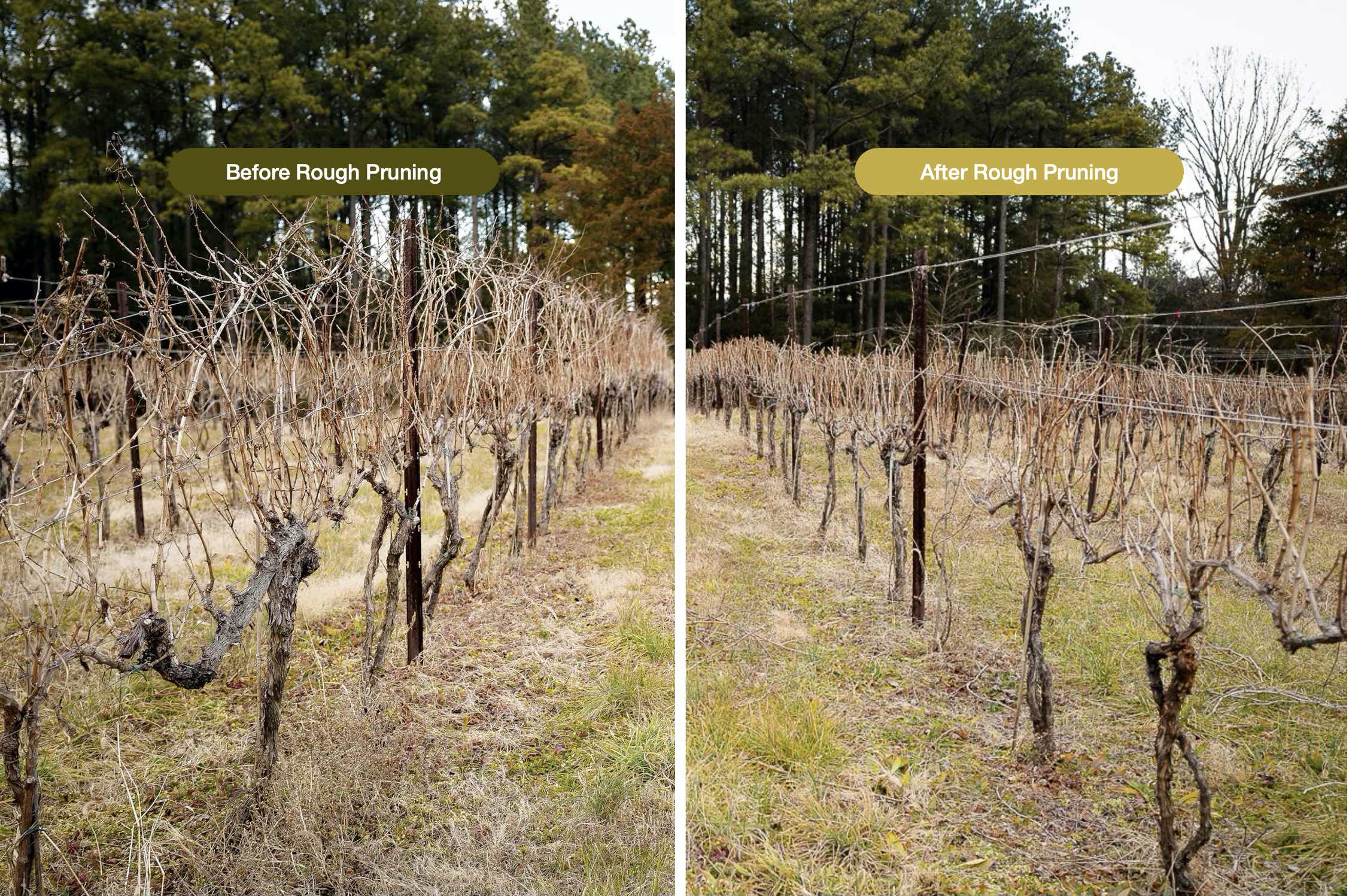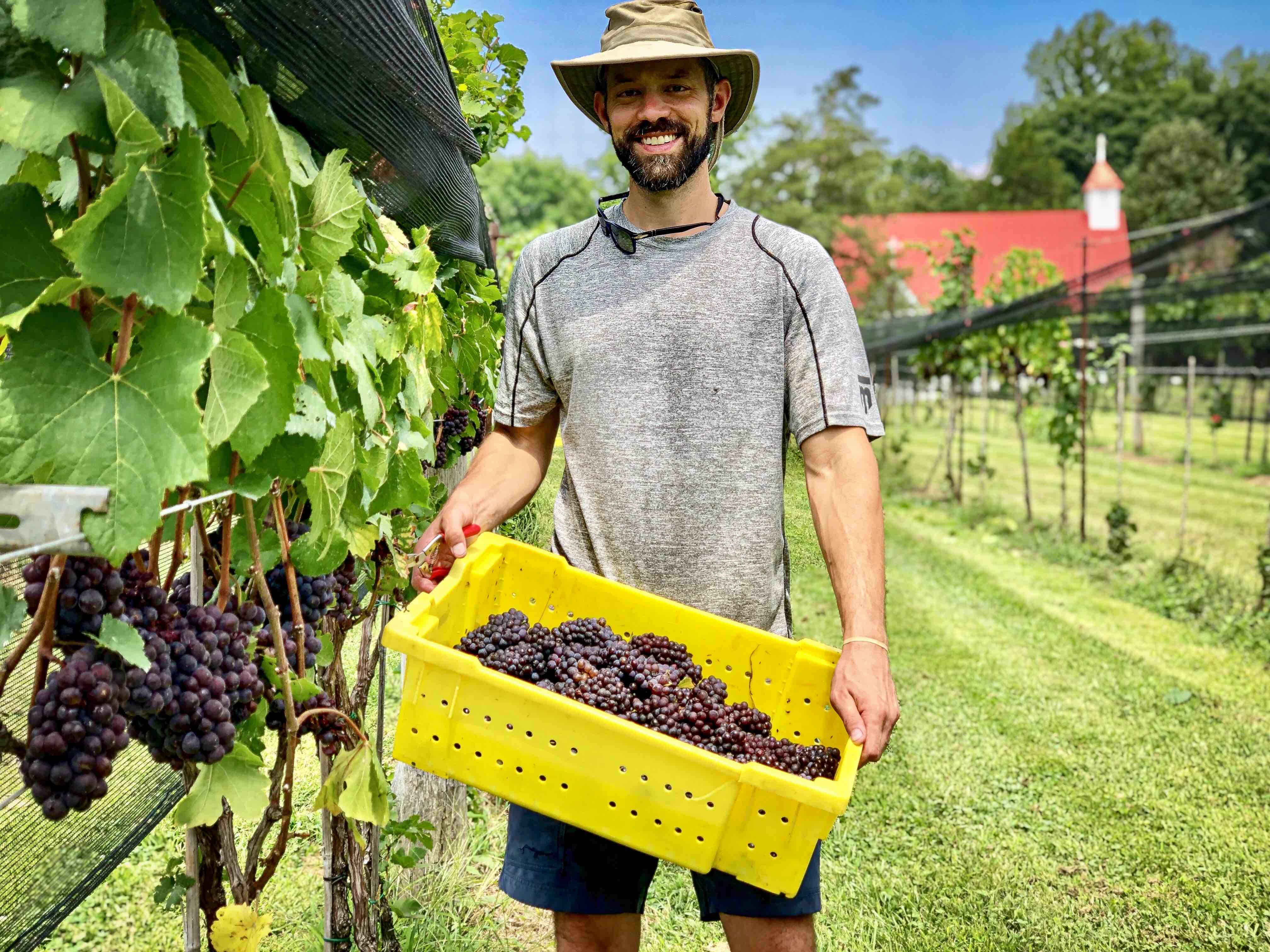 "I started working at Jefferson Vineyards in 2007. I was 24 and had just graduated from UVA the year prior. I stumbled across the Assistant Winemaker job on Craigslist and thought it would be a great experience before heading off to grad school. At the time, my wine knowledge consisted of little more than watching my Dad make wine in the garage, literally destemming individual clusters by hand, and then proudly sharing these bottles with my friends. After a year at JV, where I was able to take part in the full cycle of the winemaking/growing process, I left for architecture school. The endless days sitting through class, working in the studio, made me realize how much I missed and loved the winemaking process and the special connection it has with the land. Pruning in the freezing old, continually taming the wild growth of vines all summer, picking fruit in the fall, and then guiding its transformation into wine, these are all gifts of place... After school, I returned to the vineyard and have dedicated the last decade to the art of winemaking. I find the Estate Reserve wines that much more gratifying knowing the full effort that went into the process, from vine to bottle, and that the story unfolding in your glass will be unlike any other."
- Christopher Ritzcovan, Our Winemaker
To celebrate our 40th Anniversary and enjoy our Limited Releases, click here.