April 20, 2021 | 40th Anniversary, News & Awards | Anabelle Nuelle
A Toast to Forty Years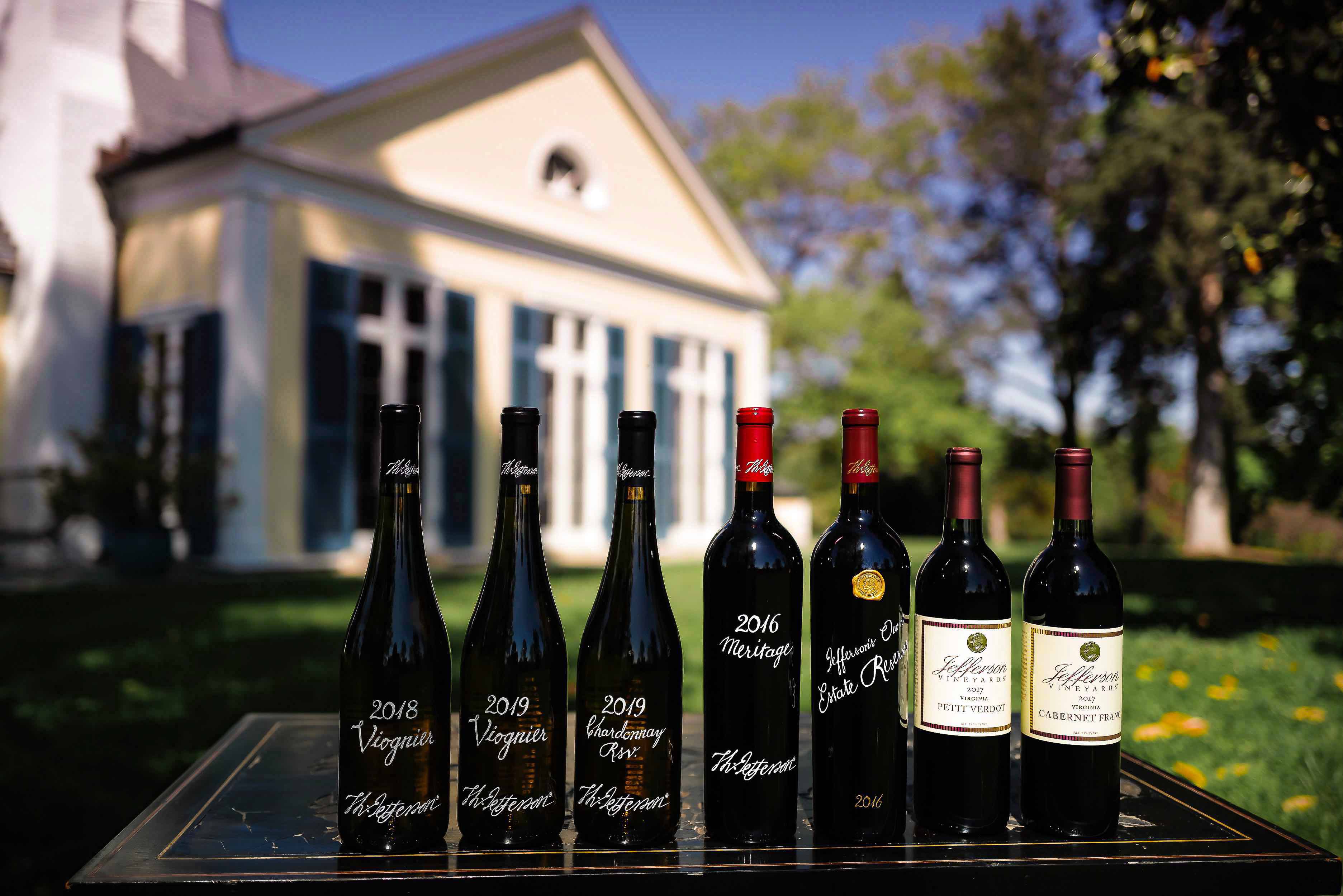 To Thomas Jefferson, wine was a "necessity of life." [1]. In a glass, he seemed to see a benefit to health, to culture, and to society. In his founding vision of our young country, he perceived a place for wine and carved a place for our first commercial viticultural endeavor in Albemarle County. It is on that same land that our forty-year legacy continuing Jefferson's vision began.
The Founding Vision
In 1773, convinced by Benjamin Franklin and sponsored by Thomas Adams, a friend of Jefferson's, prominent Italian viticulturalist, Philip Mazzei, arrived in Virginia.[2] Mazzei shared Jefferson's vision of planting vines and bringing to the new world the centuries old viticultural tradition. On his way to land promised to him, he and Thomas Adams paid a visit to Monticello. Without hesitation, Jefferson persuaded Mazzei to conduct his agricultural endeavors not on the separate tracts of land promised to him, but as his neighbor. Jefferson offered Mazzei land adjacent to his own, land that is a part of our present-day property, just south of Monticello.[3]
One year later, Mazzei established a commercial agricultural company for "the purpose of raising and making wine, oil, agruminous plants and silk" with the support of 38 shareholders including George Washington and Thomas Jefferson himself.[4] Mazzei was taken with his land, later exclaiming "In my opinion, when the country is populated in proportion to its extent, the best wine in the world will be made here…I do not believe that nature is so favorable to growing vines in any country as this."[5] Mazzei was deeply moved by American politics, he declared himself a patriot and first suggested the famous words "All men are created equal".[6] Though his precious vines were later trampled by the horses of a Hessian General, Mazzei anticipated the success of Virginia wine and supported Jefferson's own viticultural vision for the new world.[7]
Pioneers in Virginia Wine
Centuries later, Shirley and Stanley Woodward Sr. saw the same viticultural potential in the land. The Woodwards purchased the Colle property on the advice of their close friends, Major General "Pa" Watson and Mrs. Watson, whose own nearby Kenwood home was frequently visited by President F.D. Roosevelt. The Woodwards commissioned Franklin Delano Roosevelt's distant cousin to construct their house atop of the foundation of Mazzei's original home. There, the couple entertained a range of friends, family, and dignitaries. On numerous occasions, they hosted President Harry S. Truman, the first of which coincided with the Roswell UFO incident.
Having lived in Paris, Stanley Woodward was passionate about European wines, like Jefferson. At each of the Woodward's gatherings, a bottle of wine stood at the center of the table, a centerpiece around which colorful conversations took place. To share wines crafted from their historic land with their guests, Stanley and Shirley Woodward Sr. hired Gabriele Rausse. Like Mazzei, Rausse came to Virginia from Italy and brought with him rich viticultural expertise, and revived Jefferson's viticultural vision.
Having previously played a critical role in instituting Barboursville Vineyards, Rausse became our first winemaker. In 1981, he planted European grapes such as Chardonnay and Cabernet Sauvignon. Rausse himself came to be regarded as the Father of Virginian wine. Virginia was in its infancy as a growing region; there existed no expertise to reference as Rausse experimented with varietals and the Woodwards continued to invest in the vineyards. Only a handful of other wineries existed in the region at the time and success followed after a tedious process of trial, error, resilience, and impassioned perseverance. Yet, the Woodwards and Rausse saw in the land the same potential Mazzei recognized. As pioneers in Virginian wine, the Woodwards strove to provide a home for Virginia's early wine talent.
Incubators of Talent
In 1993, the second generation of Woodwards, Marie Jose and Stanely Jr., took the reins and committed themselves to elevate the characteristics of our wine. Following Rausse, the Woodwards recruited Michael Shaps to Virginia. Shaps greatly advanced the quality of our wine and is now a renowned figure in the present-day Virginia wine industry. The French Frantz Ventre followed Shaps, and created intricate nonfiltered wines that aged beautifully. In their last decade at the vineyards, they hired Andy Reagan. Reagan furthered the quality of our red wines and garnered much acclaim.
In 2013, the third generation of Woodwards came to the helm of Jefferson Vineyards, and with them came a new winemaker. Chris Ritzcovan continued the legacy of merit set by the talents before him. With his expertise, our Viognier program in particular shines as an emblem of consistency and excellence. With each winemaker and every vintage came an opportunity to advance our craftsmanship, to continue in Jefferson's viticultural vision, and to propel forward the reputation of Virginia as a wine destination.
Our Place
Tucked between Jefferson's Monticello and Monroe's Highland, our land first defined our story. Here, Mazzei began his early attempt to realize Jefferson's viticultural dream. It is this same land that attracted Shirley and Stanley Woodward and inspired them to create European wines like those which so enamored Jefferson. It is to this land that we today welcome our patrons and on which we strive to produce high-quality wine.
Though our visitors see only a small fraction of our property, our estate span 700 acres nestled between Carter Mountain and two presidential homes. The Woodwards began caring for this historic land before we made our first wine, placing nearly 700 acres of land under conservation easement in perpetuity to protect it from development for generations to come. We have invested in the health of our land and its inhabitants, from caring for our orchards and vineyards by hand, to the eight acres of wildflowers planted to support pollinators, and to the 12,500 tulip poplar trees planted to improve the health of our ecosystem.
Just as we have cared for the land, we are investing the care for our community. In celebration of our 40th Anniversary, Jefferson Vineyards has partnered with the Blue Ridge Area Food Bank and committed to a donation capable of funding approximately 48,000 meals across the Thomas Jefferson service area.
A Toast to Forty Years
We have faced trials and tribulations over our forty-year heritage, but none have been so great as to deter us from pursuing Thomas Jefferson's viticultural dream on the land it was first attempted. Here, we drew inspiration from the efforts of Philip Mazzei and Thomas Jefferson to create a legacy establishing and advancing the reputation of Virginian wine. Our Viognier and Petit Verdot programs continue in this pursuit.
Over the course of these four decades, we have expanded and experimented with a range of wines in a ceaseless effort to share with our patrons the best expressions of our craft. We have created a broad range of traditional wines and experimented with unique grape varieties and production techniques. In every glass we have tasted and every bottle we have shared, we continue in our founding legacy and find endless reason to continue forward.
To celebrate our 40th Anniversary and all we have accomplished together, we are revealing the rich details of our history and craftsmanship by opening our cellars to offer monthly limited vintage releases. Additionally, we will share the details of our story and the wines that have defined us over the decades through our blog.
We thank our patrons and the Virginia wine industry for their ceaseless support. Please join us as we raise a glass to the years to come - the bright future ahead for Virginia, its wine, and us all.
[1] Thomas Jefferson memorial association of the United States, et al. The Writings of Thomas Jefferson. Definitive ed. / Washington, D.C.: Issued under the auspices of the Thomas Jefferson memorial association of the United States, 1905
[2] Marchione, Life and Wanderings, 184-87, 202, 203
[3] From Thomas Jefferson to James Strange, 18 September 1806," Founders Online, National Archives, https://founders.archives.gov/documents/Jefferson/99-01-02-4291.
[4]"Plan of Philip Mazzei's Agricultural Company, 1774," Founders Online, National Archives, https://founders.archives.gov/documents/Jefferson/01-01-02-0096.
[5] Sacalia, S. Eugene. "Chapter 16: Albemarle County – 1773 – 1779, Wild Grapes." Philip Mazzei: My Life & Wanderings, edited by Margherita Marchione, by Philip Mazzei, American Institute of Italian Studies, 1980 pp 212.
[6] United States, Congress, Cong. House – Post Office and Civil Service. Designating October 1993 and October 1994 as "Italian-American Heritage and Culture Mont, 1994. 103rd Congress, 2nd Session, Bill H.J.Res.175, 1994.
[7] Jefferson to Albert Gallatin, January 25, 1793, in PTJ, 25:92. Transcription available at Founders Online.
Comments
Commenting has been turned off.