Jefferson Vineyards Wine Blog
---

We are deeply honored to have been recognized with two of the six top best wines in this year's Monticello Cup Competition. Jefferson Vineyards won one of the top three best white wines for its 2019 Chardonnay Reserve. It also won one of the top three best red wines in the red wine category for its 2019 Merlot Reserve. We are humbled to have won a top place in both the red and white categories - the only winery to have received this distinction in the competition.
Every year the Monticello Wine Trail, a gathering of some thirty-three wineries in the Monticello American Viticultural Area, hosts the Monticello Cup Competition. The competition selects the top wines produced. Though a small competition, this region represents some of Virginia's most consistently and highly awarded wineries - making this win even more special.
About The Wines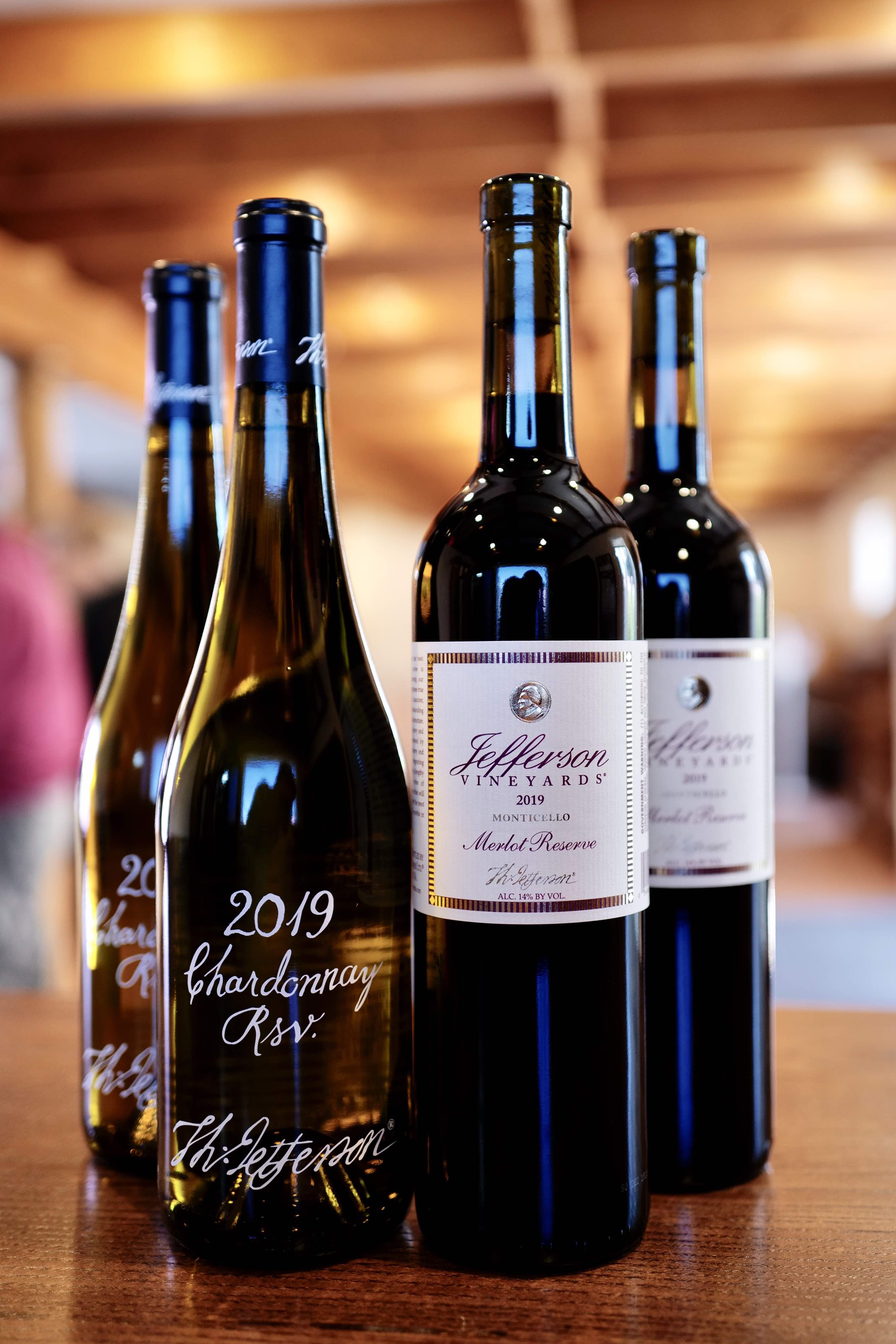 Our 2019 Chardonnay Reserve is an elegantly balanced wine and a winemaker's favorite white wine. Light toast and spice are greeted with flavors of pear and apple. This well-integrated wine finishes with citrus notes and great length. It was aged nine months in oak and drinks beautifully alone or paired with savory dishes of grilled shellfish and roasted white meats. We are delighted that this beautiful Chardonnay is receiving the attention it deserves.
Since releasing our 2019 Merlot Reserve two months ago, it has already garnered two gold medals. The first gold was awarded by the 2022 Virginia Governor's Cup Competition. This wine greets your nose with currant, vanilla, and toasted fig. The medium tannins and earthy qualities on the palate are balanced with black cherry and black tea notes. The finish is long with black fruit. Our 2019 Merlot Reserve pairs with soft cheeses like Brie or Camembert or lean meats like beef or pork tenderloin with butter sauce.
Blessed with a rich Jeffersonian wine history, we are overjoyed to be a part of this winemaking vision. To do so with Chardonnay and Merlot makes it more special as these varietals now join the highly awarded ranks of our Viognier, Meritage, Cabernet Franc, and Petit Verdot wine programs.
Many congratulations to our winemaking and vineyard team, who continue to experiment and learn from this land. A land where Thomas Jefferson and Philip Mazzei once cultivated Virginia's dream of a winemaking endeavor that has become a reality today.

For a limited time you can order a special bundle of these wines with free shipping and a 10% discount. Click here to order.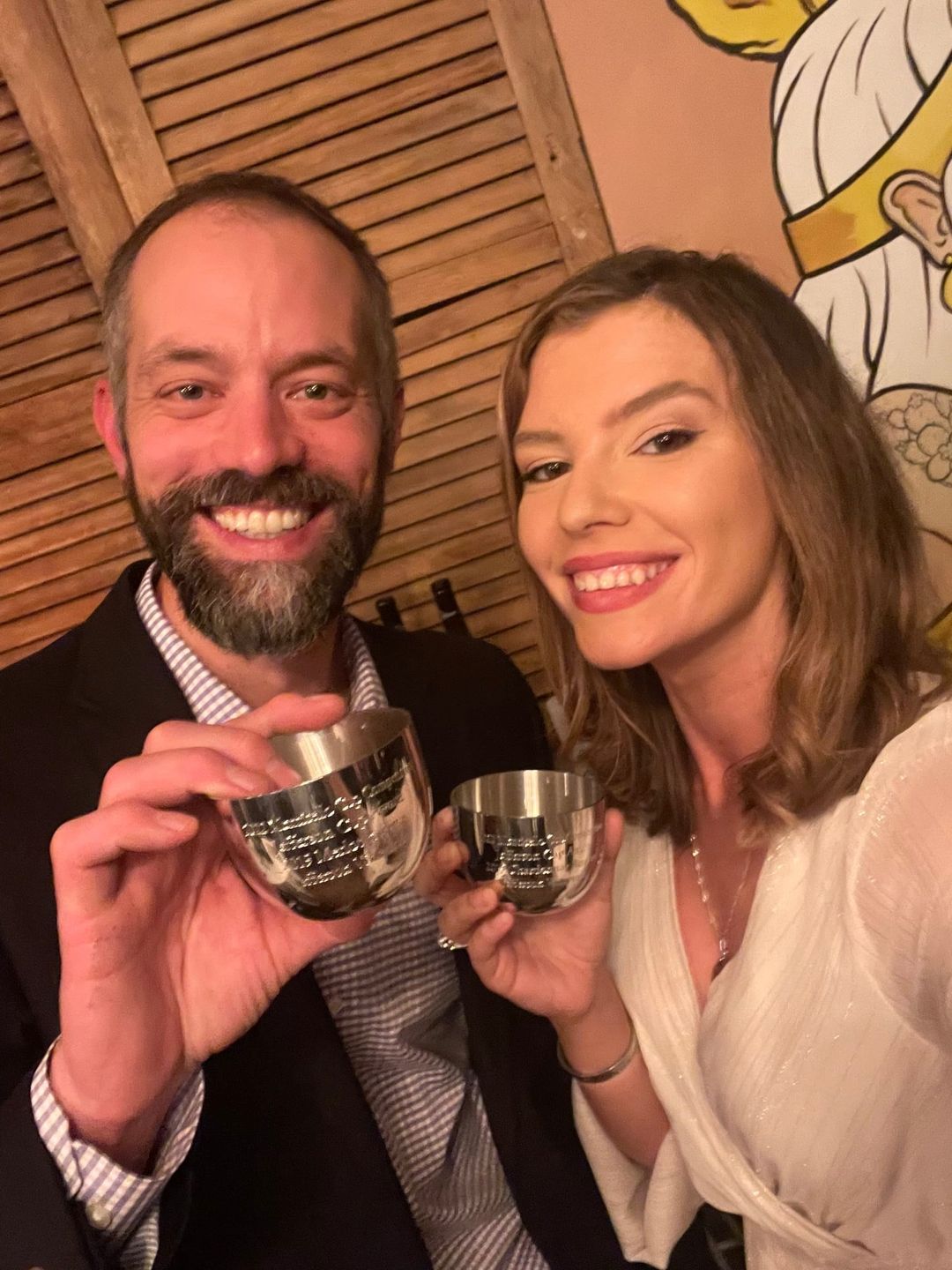 Our winemaker, Chris Ritzcovan (left) and Tasting Room Manager, Ashe Stone (right) share the cups honoring the best three reds and best three whites.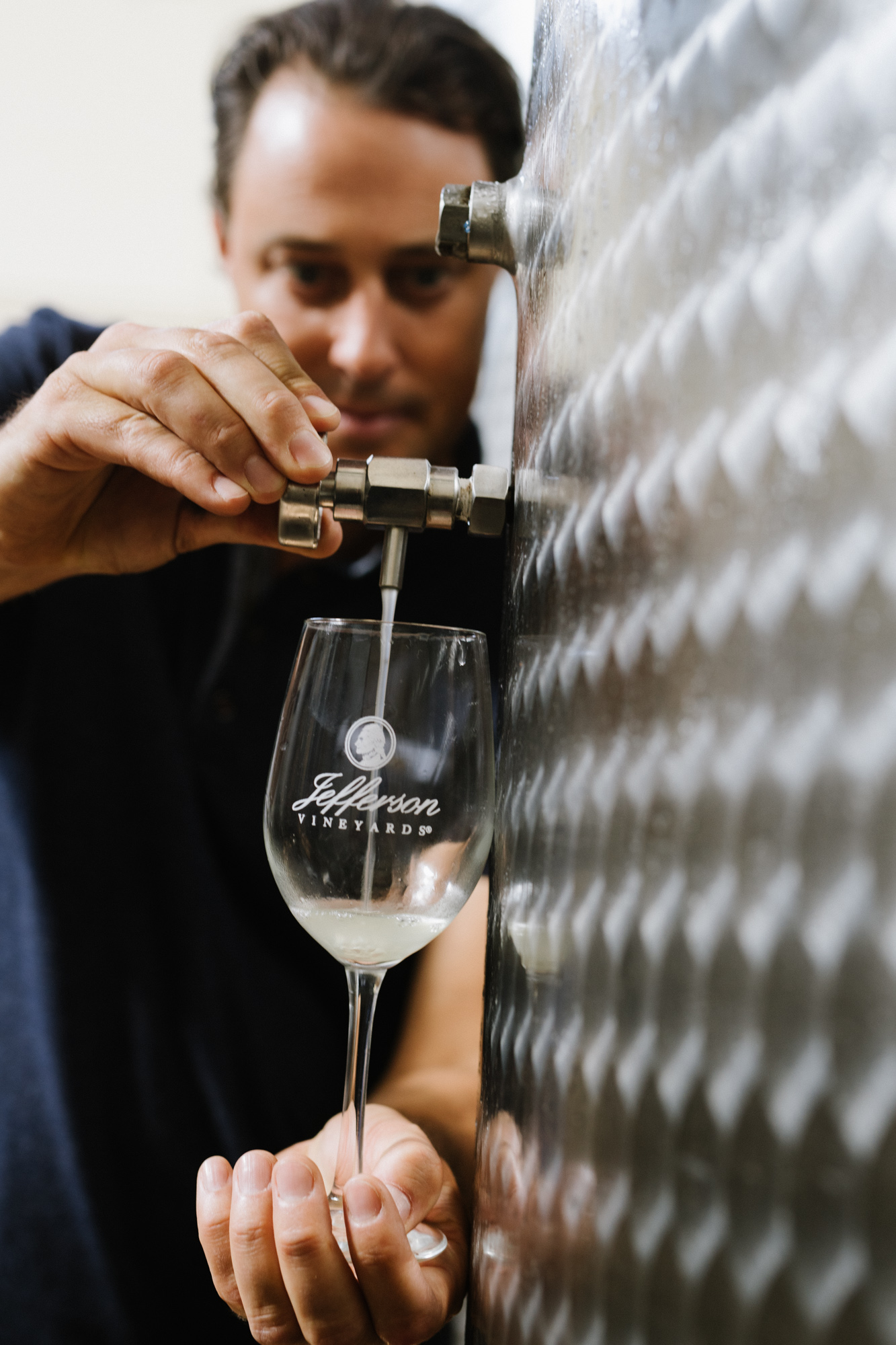 "If you've traveled or lived away from home, you have no doubt discovered the importance of "taste of place". In most cases, climate and culture dictate the ingredients that will be on your plate, or inside your glass. The textures, flavors, and colors of foods in each location are unique because each place is different. Flavors formed by a particular environment and culture. I learned that most acutely while living 14 years in Vietnam. Vietnamese food is beloved by many because of the sheer variety of ingredients and flavors. Culture furthered this delicious cuisine, a blend of Cambodian, French, Chinese, and Vietnamese all mixed into one delightful outcome. The concept of 'taste of place' is equally applicable to wine, but we call it a fancy name - "terroir". Virginia's terroir, and especially our very own terroir, influences the wines we produce. For example, I love how rich and complex our Viognier wines turn out - a true expression of the rich vibrant clay soils and the power of this land. Petit Verdot, with its tannic structure, is equally impressive. I have yet to taste a Viognier or Petit Verdot comparable to what we find here in Virginia. To me, this uniqueness in taste of place is something to be treasured. As we look back at our 40-year wine exploration at Jefferson Vineyards, we hope you will enjoy our 40 year anniversary bundle - an expression of the varietals (Viognier, Petit Verdot and Cabernet Franc) that reflect some of the best of our land. Salud! "
- Attila Woodward, Our Managing Partner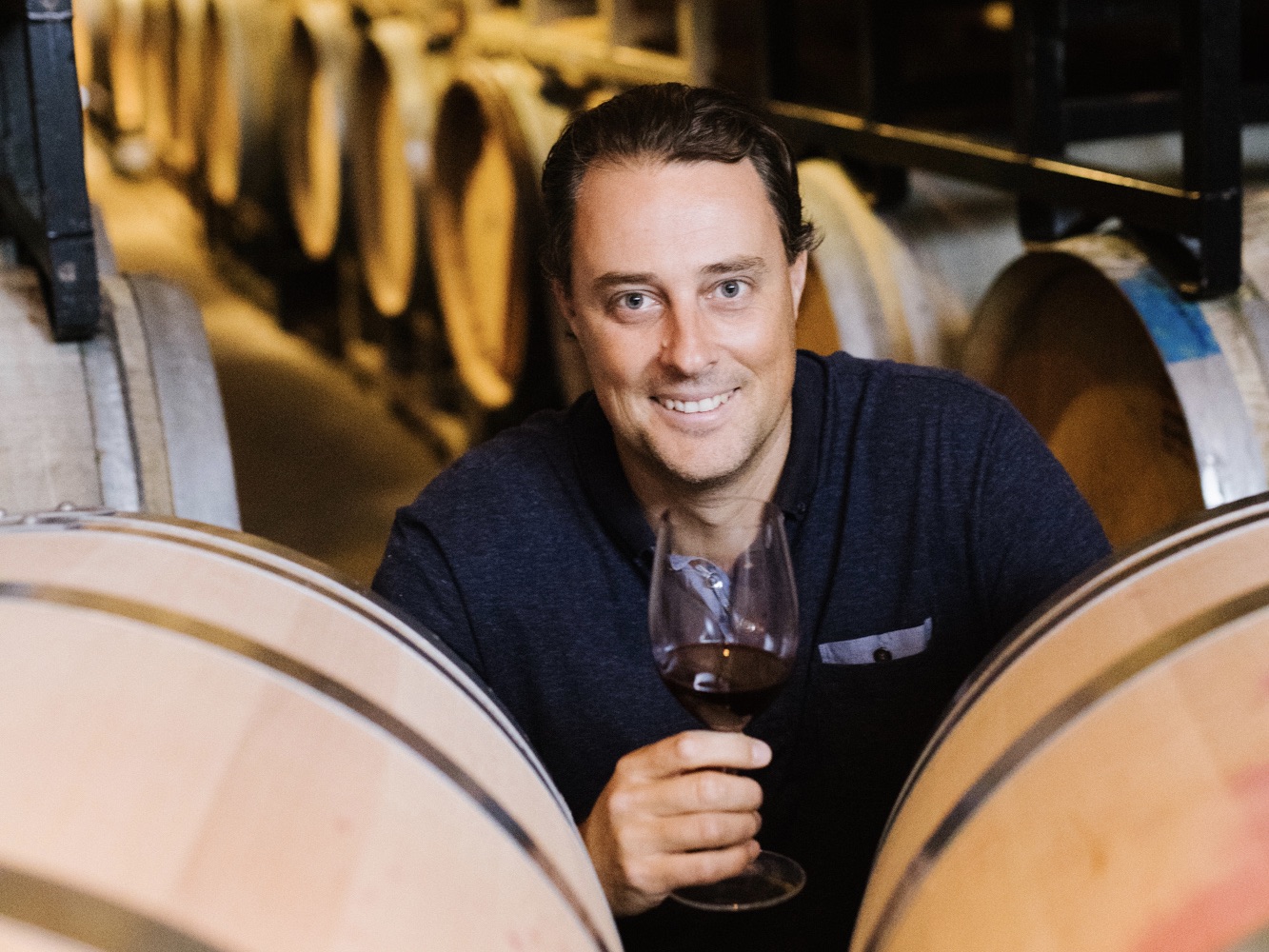 Dear Friends,
What a rollercoaster year we've had! Yet here we are, with an end in sight. We look forward to 2021 with hope and, of course, some delicious wines.
The year ahead represents a special milestone for us as 2021 marks our 40th Anniversary. The early days of Virginia wine were challenging. We learned through trial and error, we labored to determine which vine varietals would accept our land and which would not. Today's wineries are blessed with the knowledge of years past. Today, we can leverage satellites and soil samples to determine which grape varietals will flourish in one plot of land, versus another. Just like that! Incredible! No such luxuries existed in 1981. Those were the pioneering days of the Virginia wine movement, days we remember fondly.
My grandparents started this venture in 1981 with the goal of creating wine to share with family, friends, and guests. As diplomats setting into a new life, wine was central to the conversations they had around the dinner table. In establishing a vineyard, they sought to make a wine of their own, a wine to serve and enjoy with whoever joined them at the table. They knew and appreciated the viticultural history of this land, and with the talented Gabriele Rausse, our first winemaker, we planted our first acres of vines.
Like my grandfather, my father too was educated in France and deeply appreciative of old-world wines. In 1993, he and his French wife took the reins of Jefferson Vineyards. Over the course of their twenty-years here, they both focused on improving our wine's quality with the help of now renowned winemakers. First, they flew North to convince Michael Shaps to relocate to Virginia. Michael became our second winemaker and was succeeded by the French, Frantz Ventre. In my parents' last decade, they hired the talented Andy Reagan. Each winemaker, in his own style, improved our wines and left an indelible mark on our winery.
2013 ushered in yet another new chapter for Jefferson Vineyards. My siblings and I, the third generation of Woodward's, stood at the helm. We were incredibly lucky to join years after Jefferson Vineyards' reputation had been cast but there was much work to be done. We strove to improve and expand: a new tasting room, a new deck, new gardens, new patios, and an expanded parking space. Our current winemaker, Chis Ritzcovan, and Assistant Winemaker, David Woodside, worked tirelessly on our Viognier wine program. Years later, it now stands as one of Virginia's most highly awarded Viogniers, vintage after vintage. As it is the state grape of Virginia, we are deeply humbled by this honor.
In all of these endeavors, we were never alone. They say a rising tide lifts all boats, and so it is with other Virginia wineries. Together, we have vastly advanced Virginia's reputation as an extraordinary wine region. Together, we are making wines that rival any of the best in the world.
In reflecting on how far we have come in these near forty years, I am most proud of Jefferson Vineyard's unwavering commitment to producing quality wines, created to be shared together with friends, family, and guests.
In January, we will begin sharing a special blog each month to celebrate our rich history, wine programs, and our land. These stories will continue in our originating tradition, evoking the dinner table conversations of my grandparents and parents before me, each of whom believed wine is best enjoyed together.
As we look optimistically towards 2021, I express my immense gratitude to all of you who supported us this year. I am impressed by the talent of all our employees and our tasting room team who did their utmost to keep everyone safe with decorum and warmth. We could not have gotten through 2020 without your help.
Thank you, and merry holidays!
Sincerely,
Attila Woodward