Jefferson Vineyards Wine Blog
---
For fourteen years, Hector Guzman and his family have cared for our vines. He, his wife, and his children have each participated in caring for our precious vineyards.
"I love to work in agriculture," Hector told us, and it is his extensive agricultural experience that brought him to Jefferson Vineyards. "I like and appreciate this place," he continues, "Working in the countryside is also something very beautiful and it relaxes me." Every day, he looks after every vine – doing all work by hand to ensure the vines receive the utmost care. "Thinning the canopy and leaf pulling are my favorite part of taking care of the vines" he explains. These critical processes take place over the summer months – a careful hand-made adjustment of the vines' canopy to offer the grapes just the right degree of air and light to thrive.
Emily, Hector's daughter, joined her father in caring for our vines about three years ago. She takes after her father in his enthusiasm and skill: "I enjoy working with my family and at Jefferson Vineyards because it is a very calm and happy place where I can still enjoy time with my family and learn more about the care of the vines that my dad knows of. Like how to take care of the vines for them to grow healthy. This year has been a great grape picking season and it was great due to all the great work my dad and everyone who helped him out to take care of the vines throughout the whole year."
You'll find Hector and his family most happily caring for the Chardonnay vines in our spectacular Upper Vineyard with views stretching across our estate's rolling hills. Each task is completed by hand, each vine receives the ultimate care. It is to Hector and his family that we owe the vigor of our vines and the quality of our fruit. We are deeply grateful to have them as part of our team.
"Let's talk about aging and fermenting. No, I'm not talking about myself. Well, maybe. But let's start with one of my favorites, Chardonnay. No this isn't what you think. Chardonnay is probably the most versatile grape out there. Chardonnay has a style for everyone.
2019 was a spectacular year in Virginia wine. Here at JV, we are so excited about all of our 2019 vintage. As for me, I've completely fallen head over heels in love with our 2019 Chard Reserve. I must say it's my favorite wine Chris has ever made. Even better than the elusive 2016 Viognier. Why? It's a perfectly balanced wine. The nose is light citrus, brioche, and vanilla. The palate is apple, pear, yellow peach, butterscotch, almond, brioche, and a touch of spice. The finish is long with butterscotch, brioche, apple, and pear. I would pair this with a heavily aged sharp cheese. Think cheddar, gouda, gruyere. As for our stainless-steel Chardonnay, the 2019 doesn't disappoint. Need a little zip in your life? Our 2019 Chardonnay does the trick. Green apple, citrus, and licorice on the nose. On the palate, green apple, banana, and citrus. It finishes tropical, with bright acidity. It's zippy. This is the perfect hot weather wine."
- Heather Lavelle, Our Retail Operations Manager
To celebrate our 40th Anniversary and enjoy our Featured Wines, click here.
"Jefferson Vineyards' Vin Rouge is one of my favorite red wines, and July is my favorite month – surprisingly they pair really well together. The juicy red strawberry and rose-scented notes of this wine bring back memories of warm summer evenings. The fruity qualities are even more delightful when the wine is served slightly chilled. I love the surprising twist of slightly chilling a Boudreaux blend, and it's a nice break when everyone is white wined out. Pop it in the fridge for about 60-90 minutes before you want to serve, and it will be perfect! The Beaujolais qualities bring out the Francophile in me so I make a big plate filled with creamy semi-ripe cheese, chunky country pate, grilled bread – and call that dinner. Every July I look forward to my annual family reunion, and this year I plan to pour my friends and family chilled Vin Rouge!"
- Allison Scott, Our Office Manager
To celebrate our 40th Anniversary and enjoy our Limited Releases, click here.
Jefferson Vineyards isn't the only one turning 40 this year. November marks a big birthday for me also, and I intend to celebrate with one of my favorite bottles of Jefferson Vineyards wine, our beloved Meritage 2014. The jammy nose and long herbaceous finish bring back memories of chilly fall evenings. And is delightful when served alongside a Thanksgiving meal; I prefer it towards the end of the meal, post-turkey! Whether you are going for an all-out traditional feast or a vegan version for two this wine will elevate any celebratory meal. This November in particular, I look forward to seeing my friends and family on Thanksgiving, and marking significant milestones together!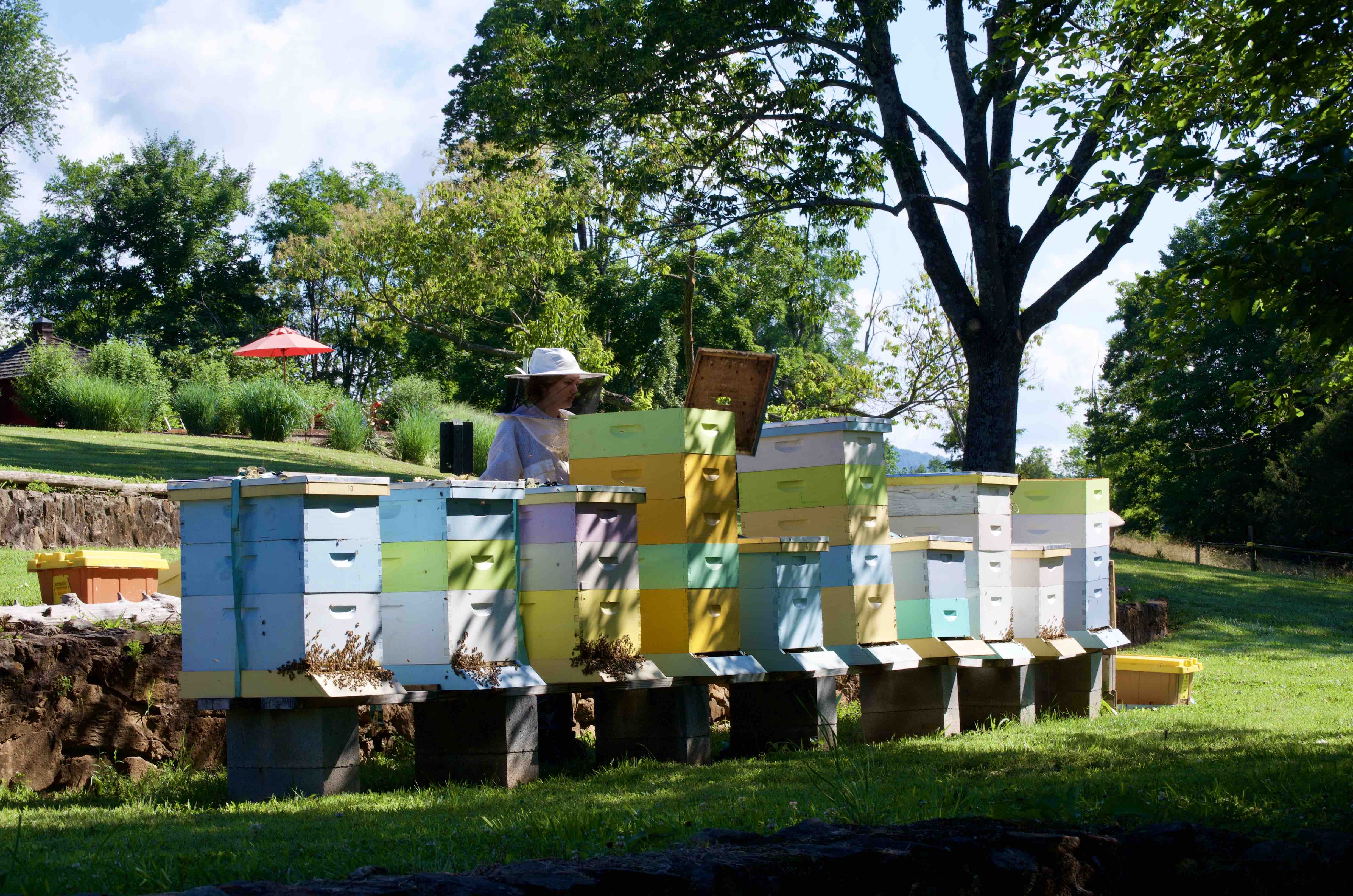 Brooke regularly visits our ten hives to check and care for the approximately four hundred thousand honey bees on our estate. A beekeeper for Elysium Honey Company, Brooke's primary concern is for the wellbeing of these honeybees. We rely on bees and like pollinators to support a significant portion of the world's plant life – our food included. She knows the bees' patterns, the subtle language between a queen and her hive, and can explain in detail all that's happening within the ten, stacked pastel-painted boxes the bees call home. She knows when there will be honey, when there is a threat of pest, and can read the bees well enough to hold a buzzing frame with her hands, unprotected. Attuned to the bees and to each passing season, she can tell you what blooms and blossoms the bees are enjoying each month, be it Apple Blossoms, or the white clovers speckling the fields, or the Tulip Poplars spread across our land.
This month, she harvested honey – only the excess of what the bees produced – and explained the process, step by step: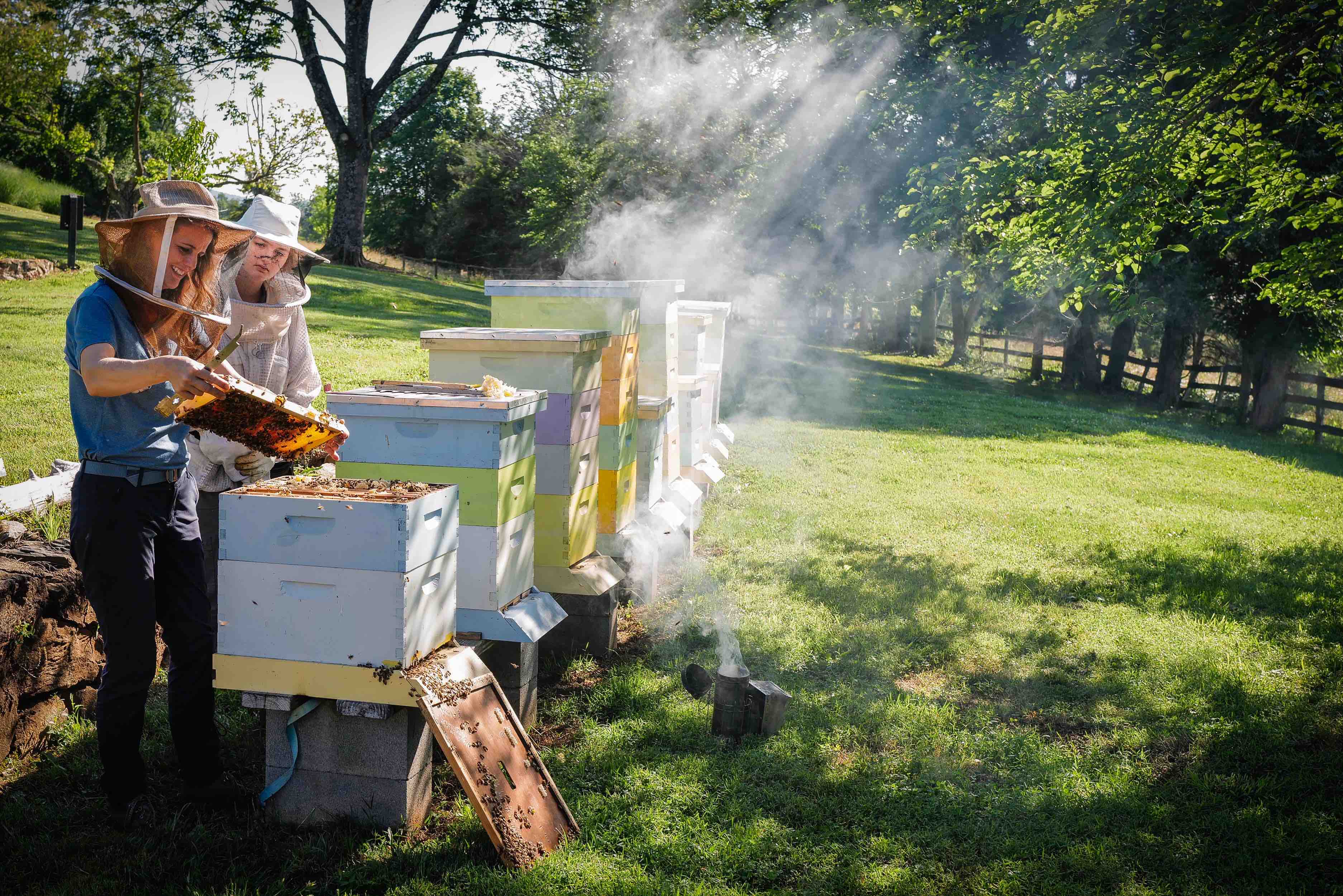 "The smoke is used to calm the bees and has the added benefit of masking a pheromone that alerts the bees to an intruder, the "alarm pheromone". A guard bee will bump us, dropping pheromone which serves as a guide for the reinforcements (Hive number eight would not be easily dissuaded by the smoke however). During the harvesting process we use it judiciously and sparingly, too much smoke irritates the bees and can flavor the honey. After such a long wait, we want the honey to taste exactly as the bees make it…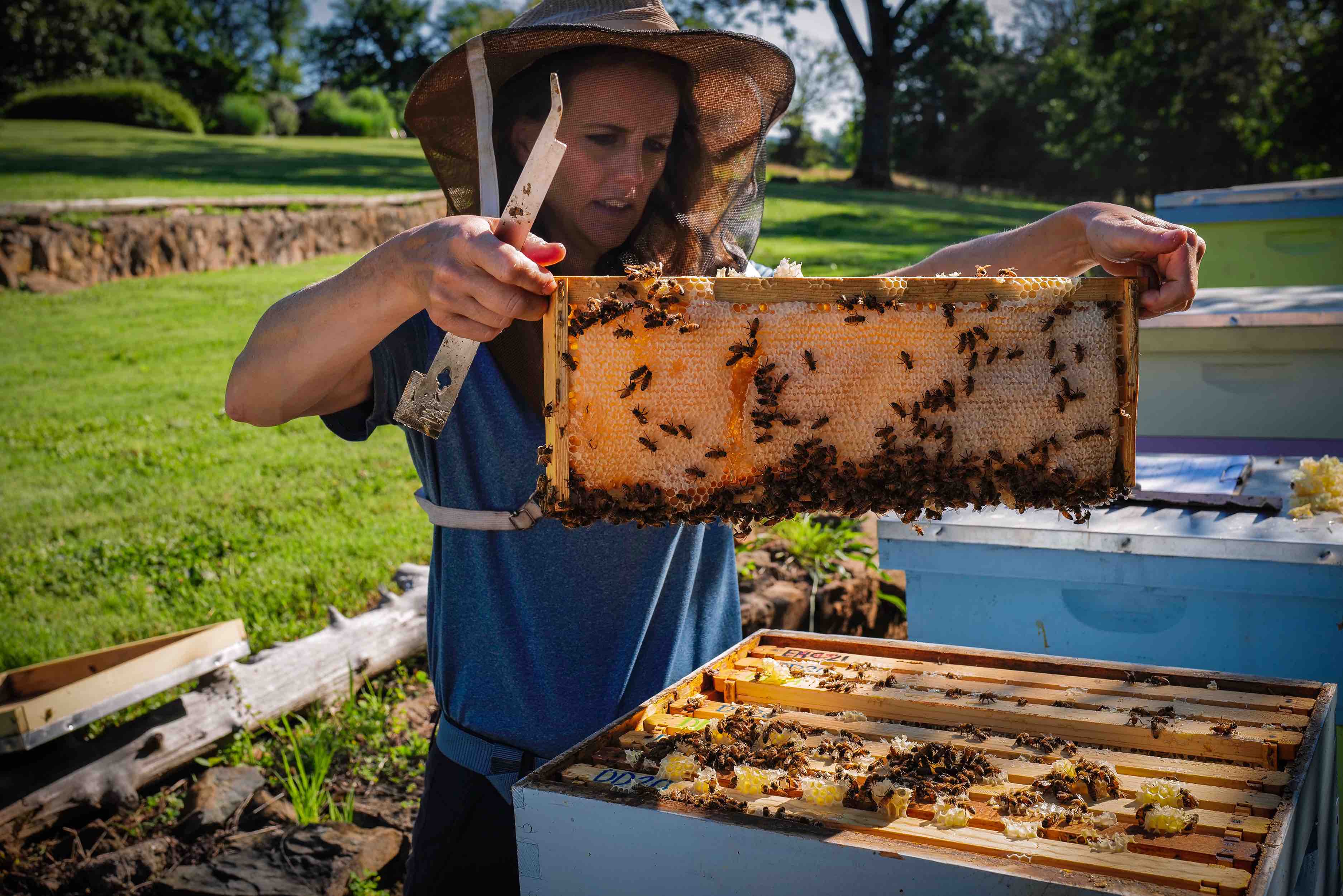 "To process, we first cut off the wax that caps the honey cells to release the flow. That is also the wax that makes lip balm and candles and then it is placed in a centrifuge - an extractor. A lot of the flavor resides in pollen cells as well, so we use a micron filter to allow as much of the natural honey flavors to be retained…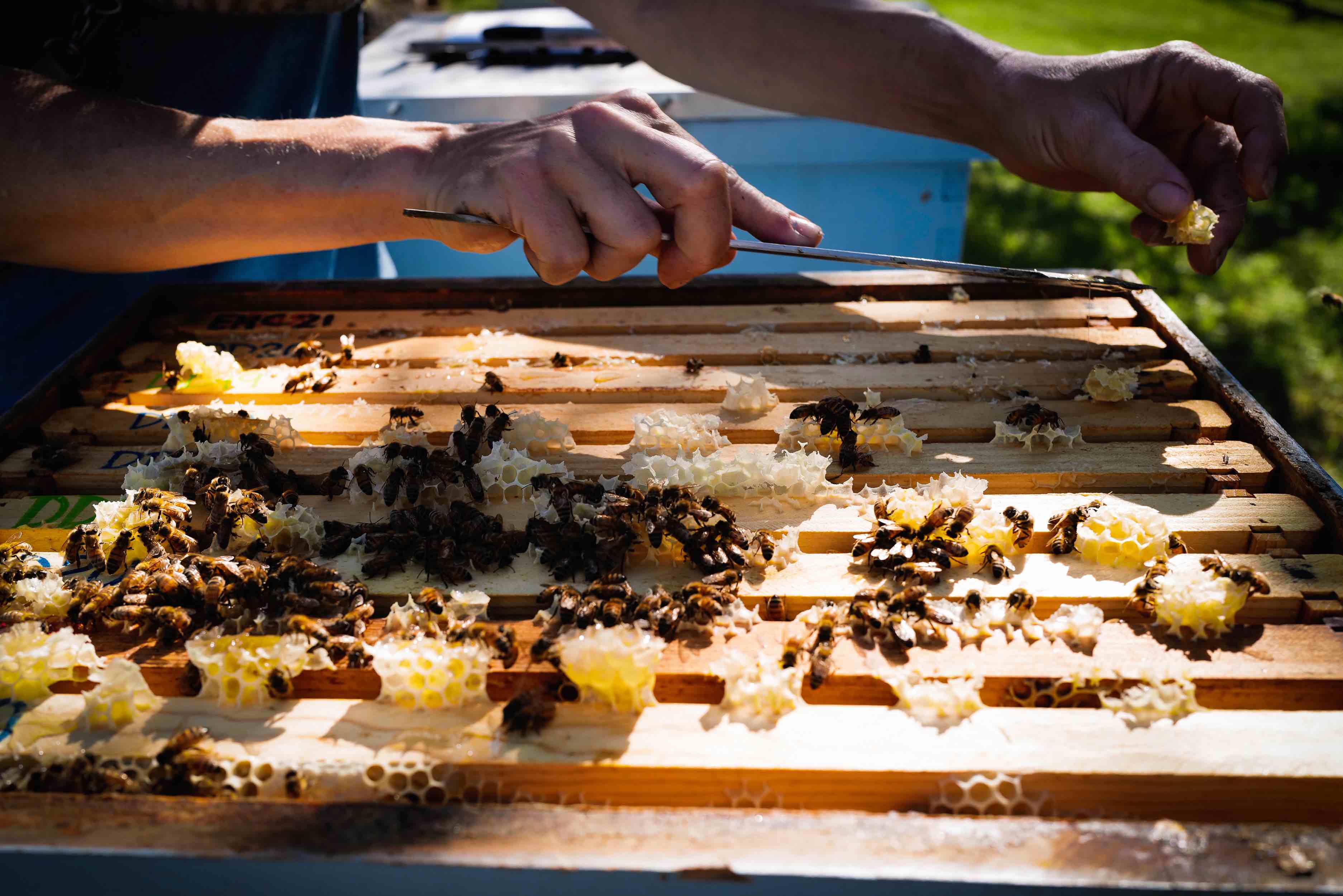 "Busy as a bee is well phrased. They are amazingly productive, and when the environment provides, they will collect as much as they can, far exceeding their needs… The upper boxes above the brood chambers are called "supers", short for superstructure. That means that anything they store there is surplus. We never harvest below the supers. Please also note that I am very conservative with the harvest too - I leave a minimum of 40lbs of honey on each hive to get them through the "dearth "in July and August, when most of the nectar sources have dried up, and the bees need a good supply of stores to get them through till the next nectar flow in the fall… Each colony at Jefferson Vineyards has at least 56lbs of honey to get through to late August, when the asters and goldenrod bloom and provide a nice nectar flow that the bees fill up on for the winter…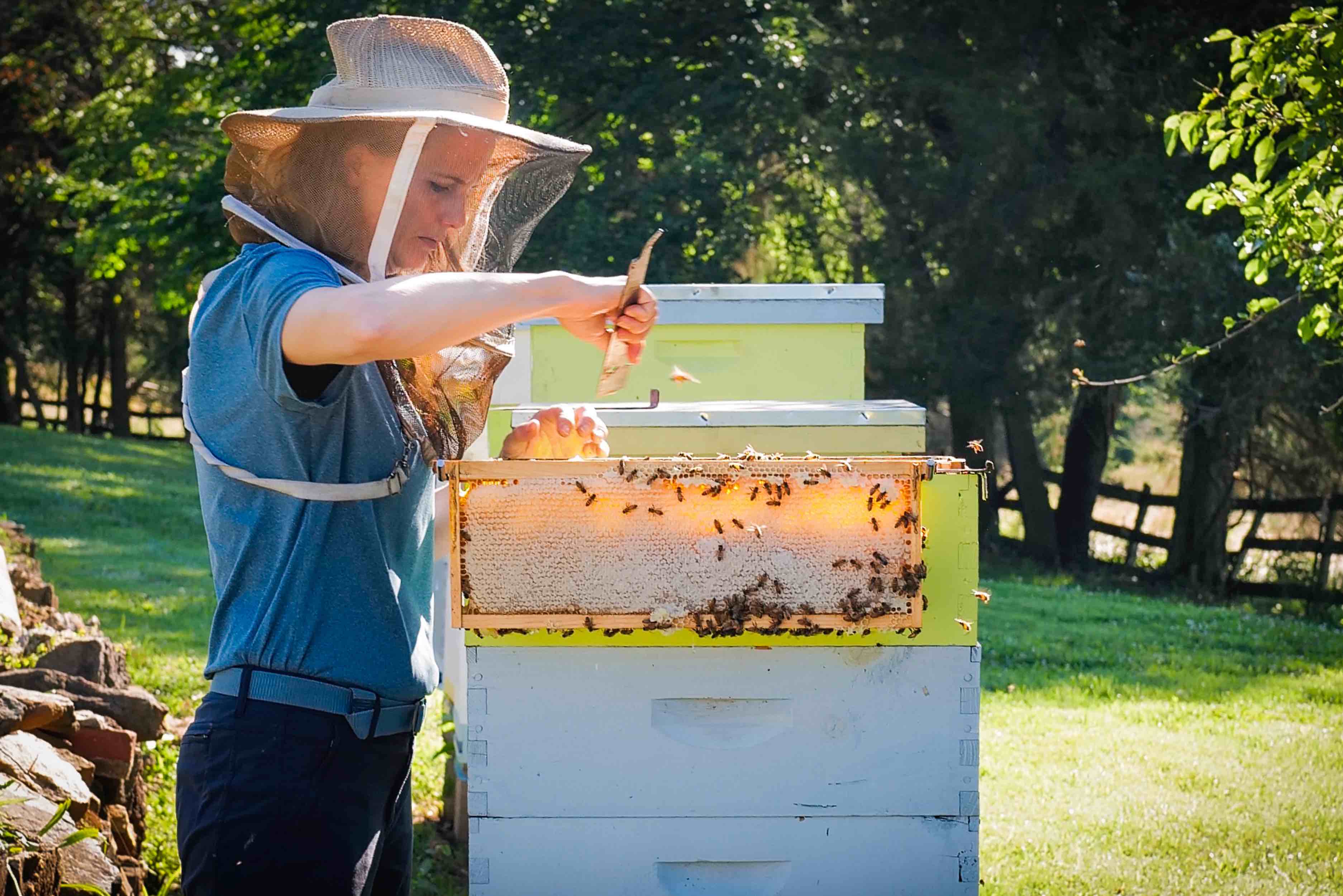 "It is wonderful when the weather, the forage and the honey bees collaborate to create an excess harvest like we had [at Jefferson Vineyards] this spring. The late summer delight of spending the afternoon with calm, healthy bees cannot be beat. They alight on your arm and the busy sound of their wings and vibrations is supremely delightful. The best feeling is knowing that they are doing just fine."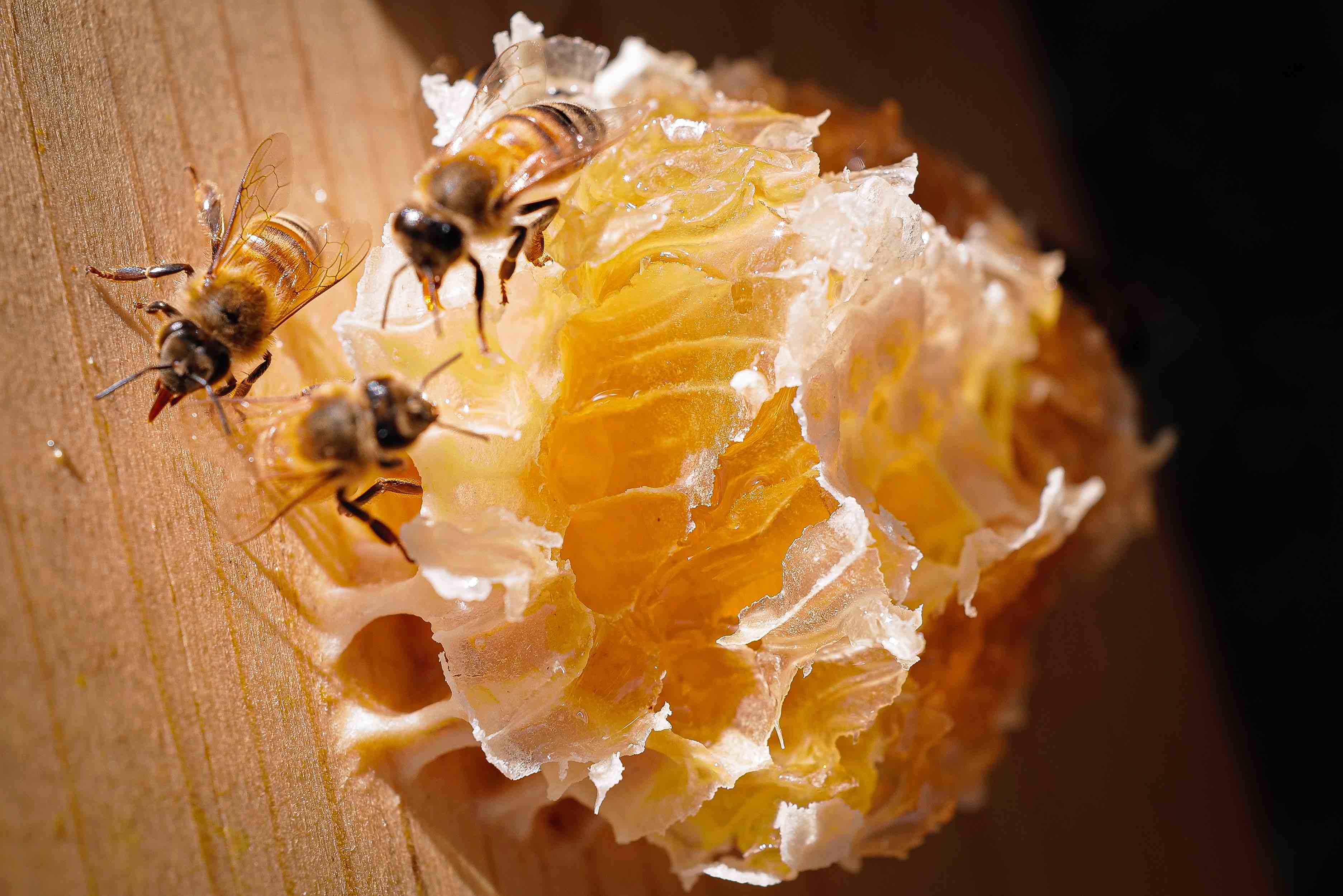 Jarred and delivered by the Elysium Honey Company, the honey from these hives will be our second 100% estate honey harvest since we established the apiaries in 2019 (available soon!). With Brooke's care and oversight, our bees are happy, healthy, and thriving.
As you notice bees this summer, note Brooke's parting reminder: "it is the absence of bees in an environment that is alarming, not their presence. When you see honey bees visiting you on the patio, please endeavor to enjoy them. They are defensive, not aggressive. Leave them be and they will go about their highly productive business."
Our estate honey will be available for purchase this late fall.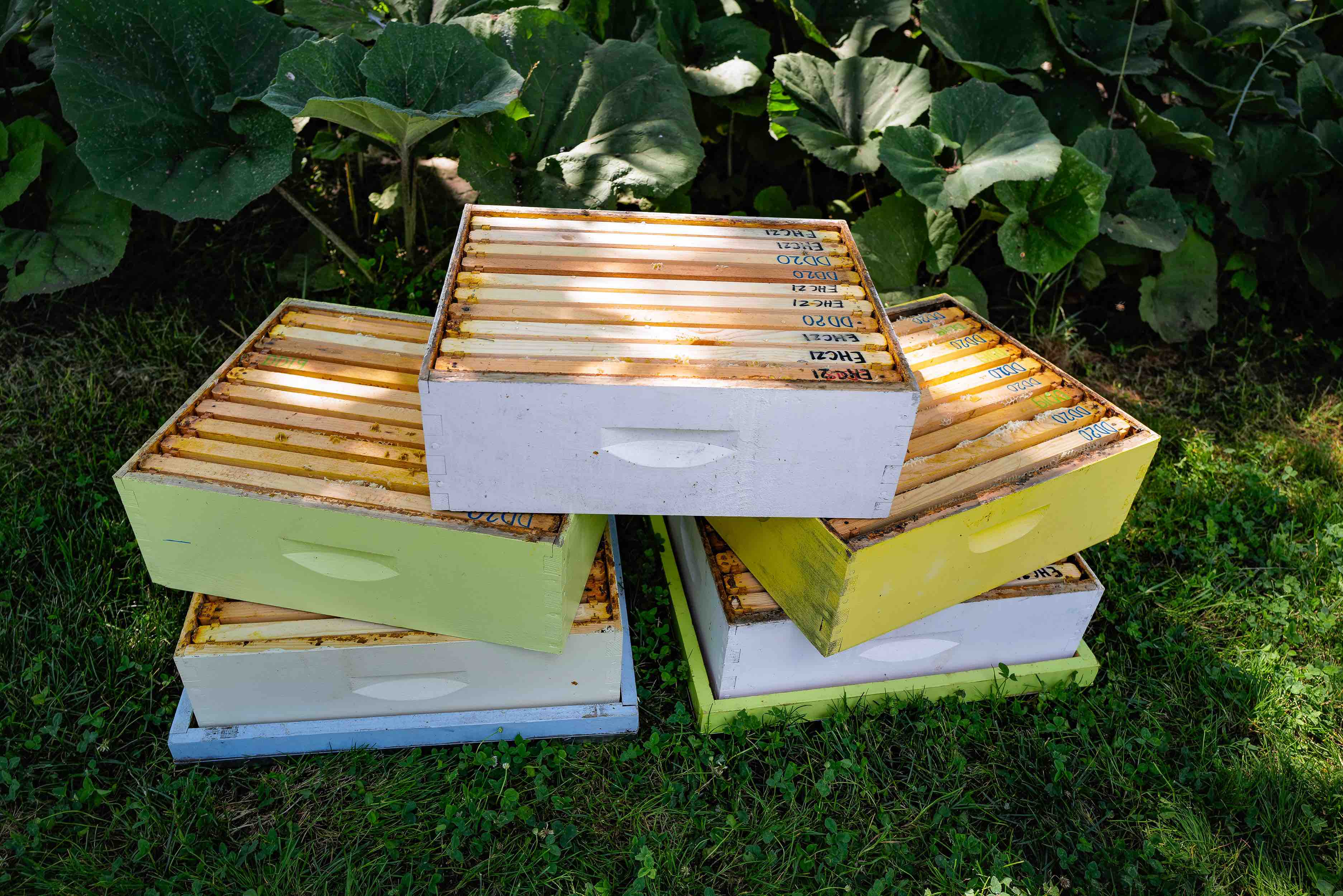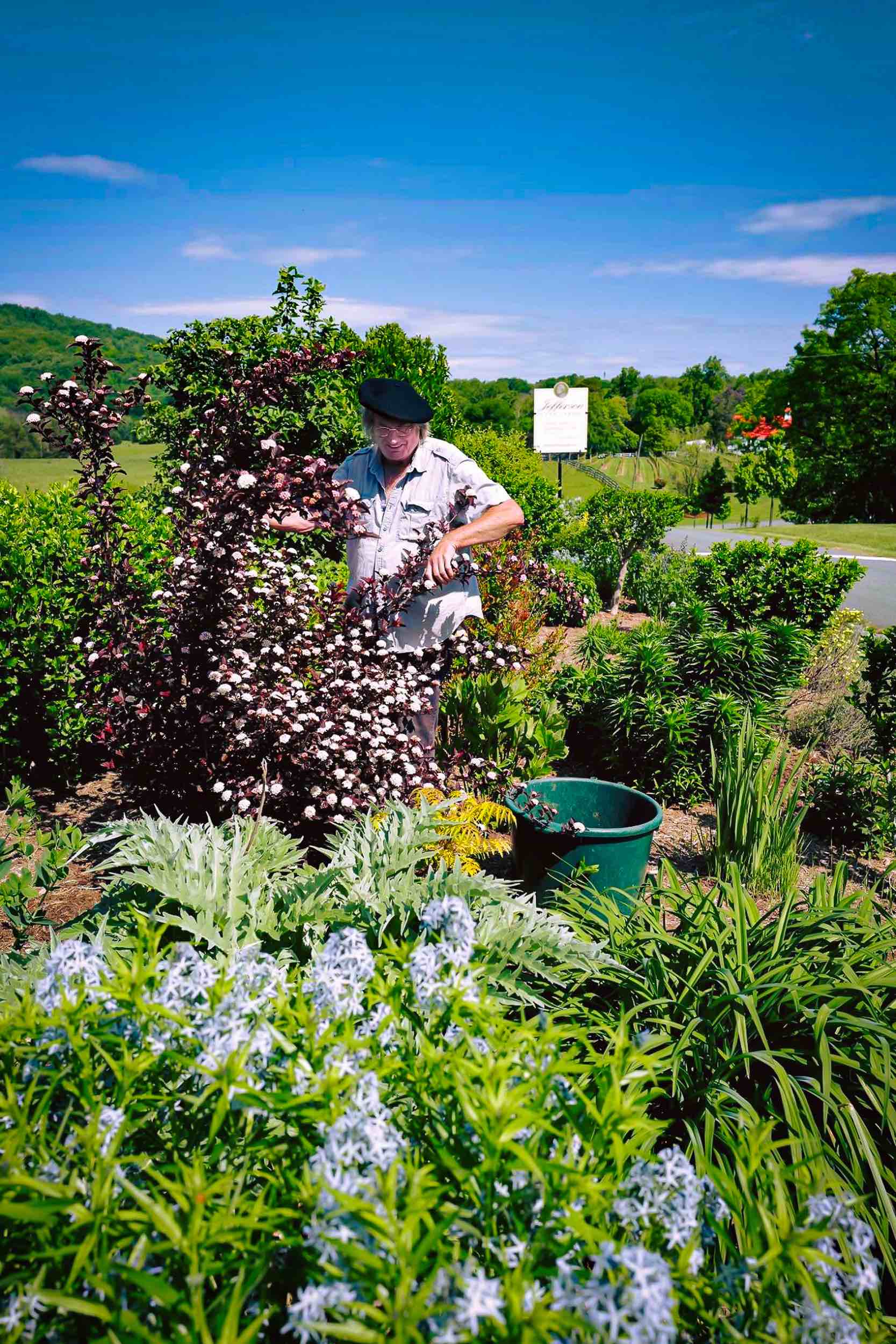 Twenty years ago, Robert joined Jefferson Vineyards and has been creating and caring for our gardens ever since. Born in England, Robert will tell you his life has centered around travel and horticulture. He specializes in the English Cottage Garden style, a style characterized by bright blooms, full garden beds, and bustling ecological life. Cottage gardens are not manicured or meticulously planned but curated and designed with spontaneous personal preference and available bed space. They celebrate natural beauty and connection, the simple wonder that springs forth when you collect beautiful things, teeming with life, and disregard 'ought to' and linear 'perfection'. In his gardens, Robert aims to surprise and delight the onlooker with an array of self-seeding plants. For eight months of the year, these gardens bloom providing habitat for pollinators, birds, and insects while organically controlling pests. Swallowtail butterflies lay eggs in the Bronze Fennel beside the patio. The bright green shoot barely reaching above the stoned wall most likely will have come from a parent plant across the parking lot. Each is allowed and encouraged to flourish. For us, the onlookers, the gardens burst forth in bright blooms – at once comfortable and strikingly beautiful.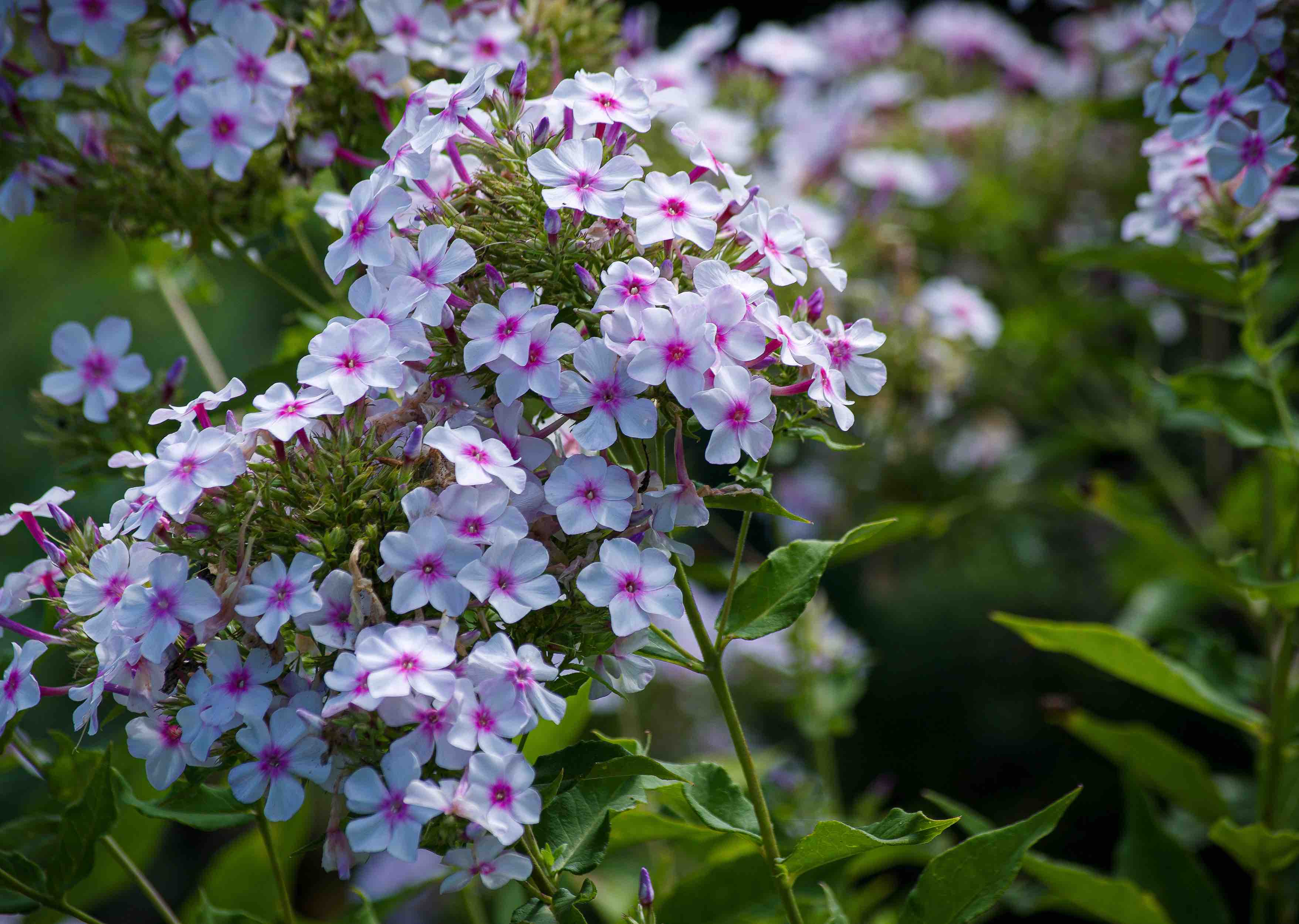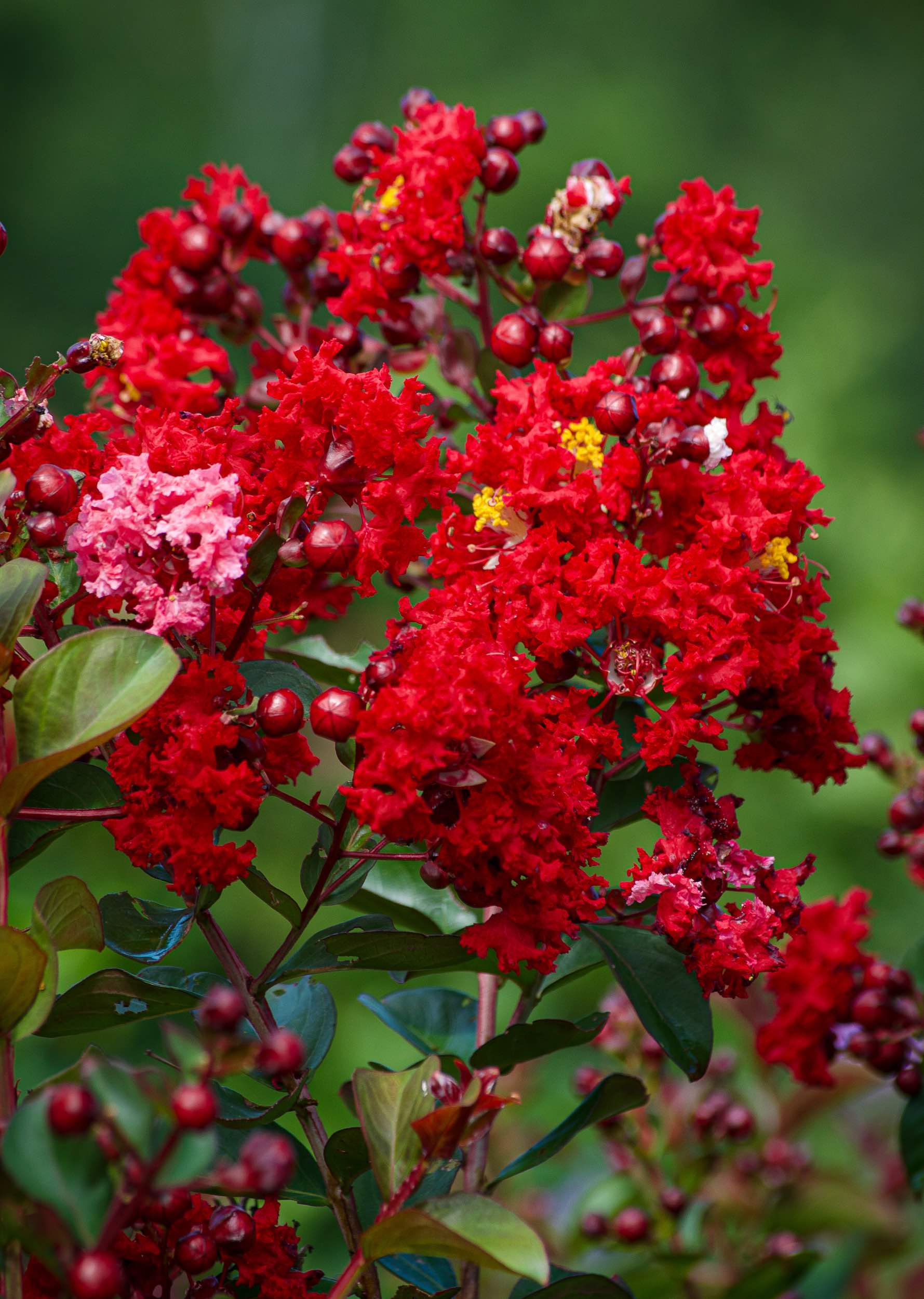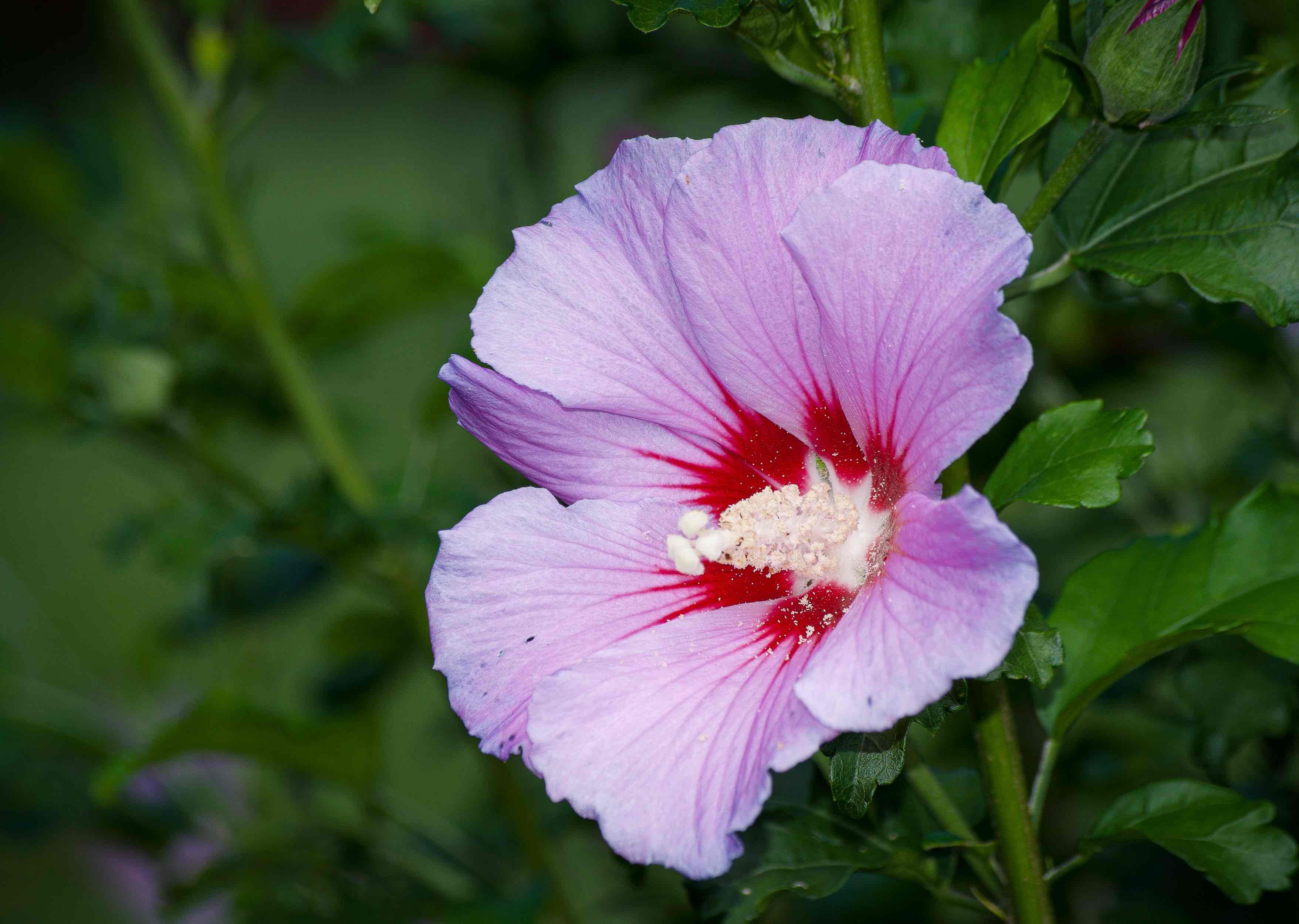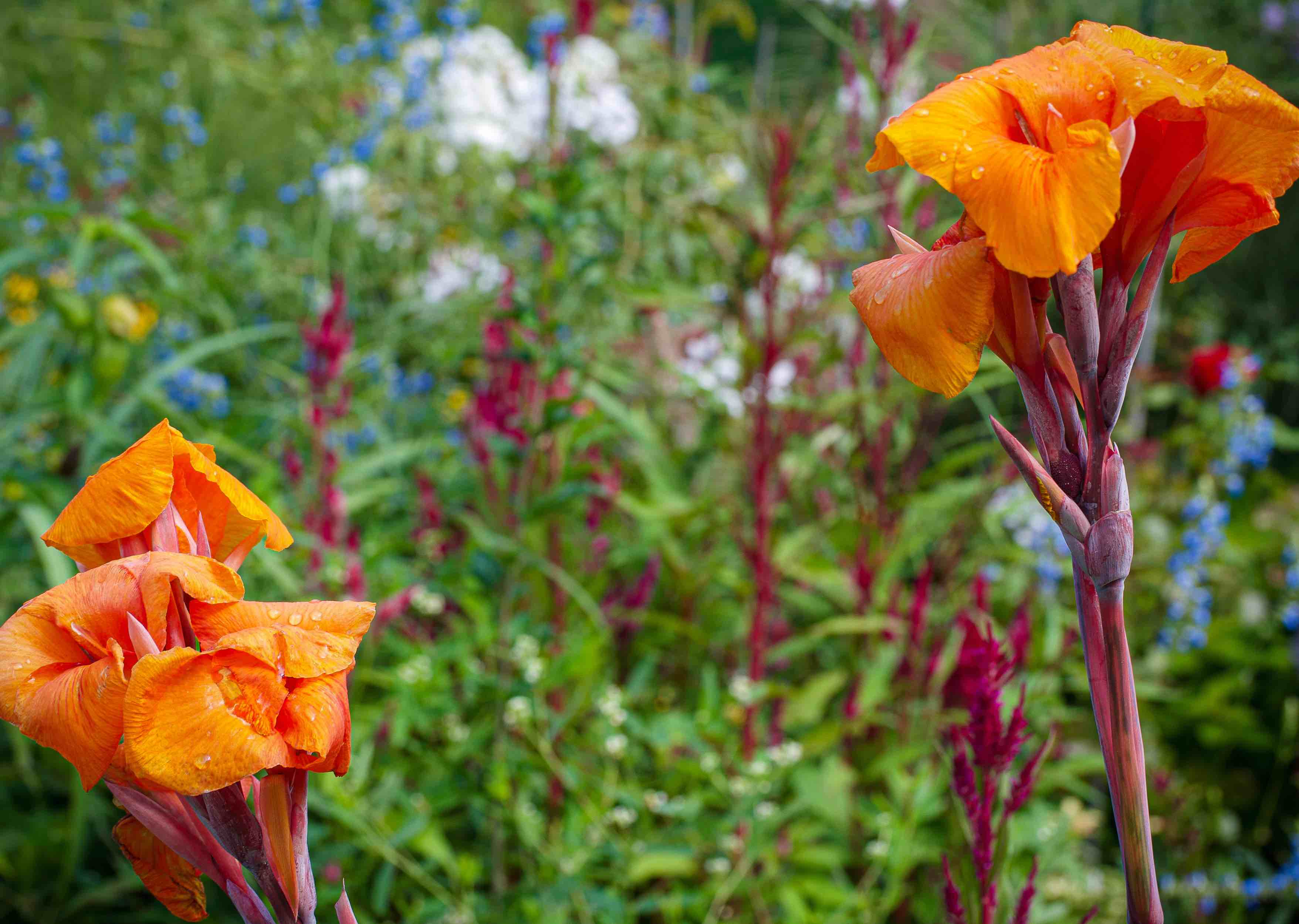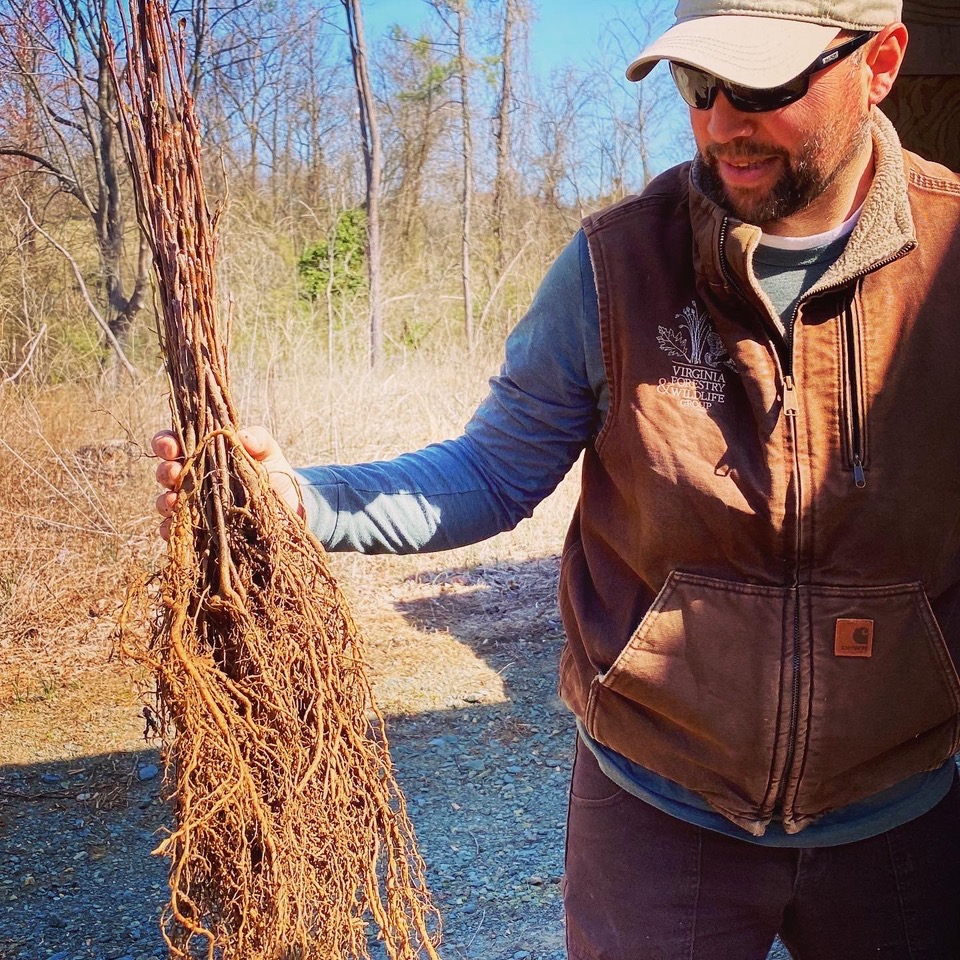 In 2017, we began working with Brian and his team to optimize our land for ecological support and environmental wellbeing. Brian is a Principal Wildlife Biologist with the Virginia Forestry and Wildlife Group. With his guidance, we have undertaken two massive initiatives: the transformation of unused land into wildflower meadows and reforestation with Tulip Poplar trees.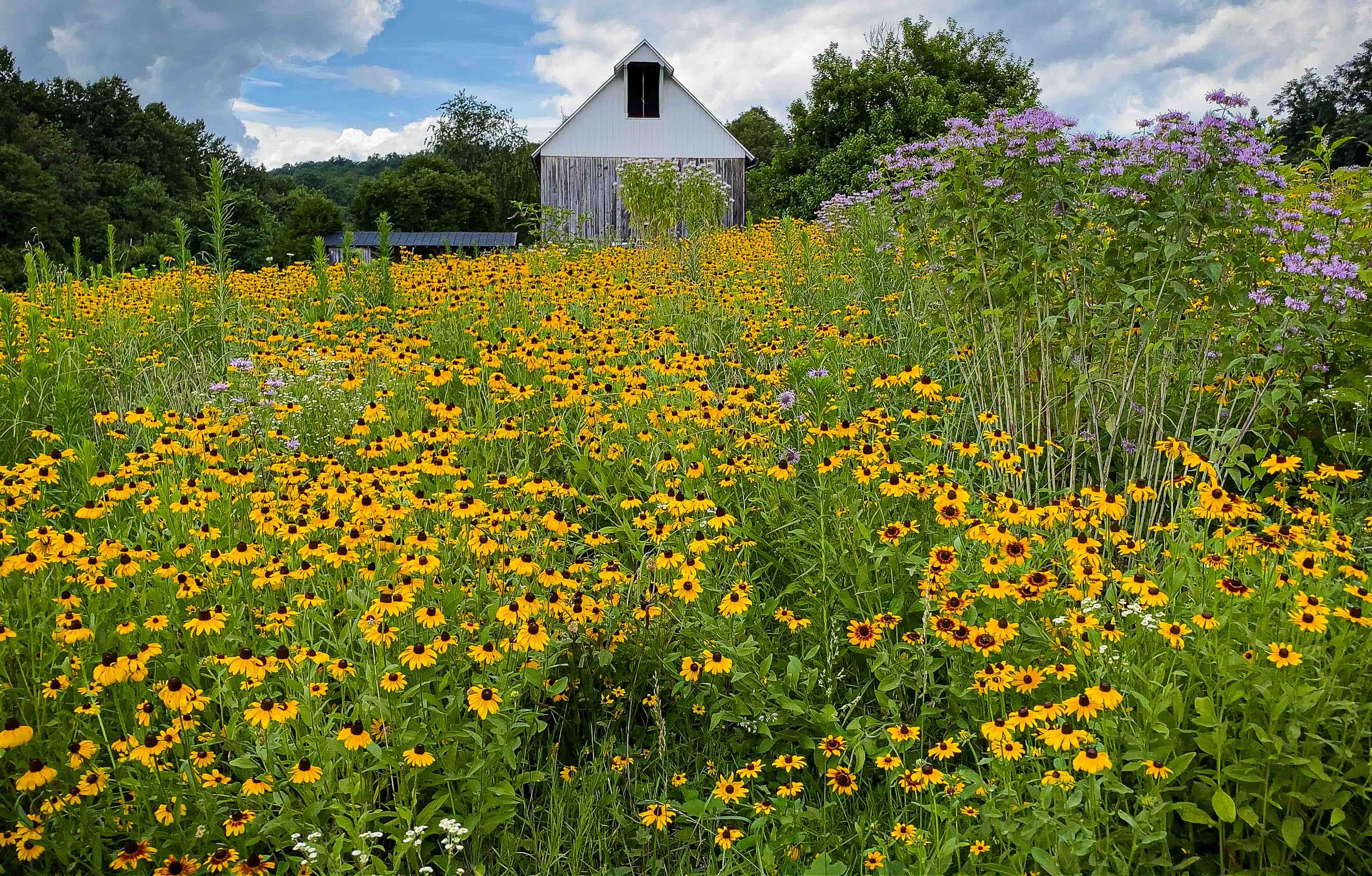 Four years ago, Brian and his team transformed eight acres of our land into wildflower meadows. These meadows bloom slowly and steadily for much of the year with an array of native plants, planted to provide diversified and sustainable nutrients for pollinators, including our ten apiaries and the over 400 different Virginian bee pollinator species. Now, in Spring, the largest meadow overflows with knee-high flowering grasses, interspersed with bright yellow blooms and purple-tinged foliage. We have, in turn, seen a tremendous uptick in pollinators among the meadows. In 2020, Brain and his team began a second initiative with us - the reforesting with Tulip Poplar trees. Under his guidance, we planted 12,500 Tulip Poplar bare-root seedlings on our property to replace harvested Loblolly Pines. Unlike the pines, the carbon-capturing Tulip Poplars better supports pollinator populations and adds native diversification to our local ecosystems. With Brian's counsel and extensive knowledge, we are proud to make the most of our resources, striving to conserve and revitalize this precious land.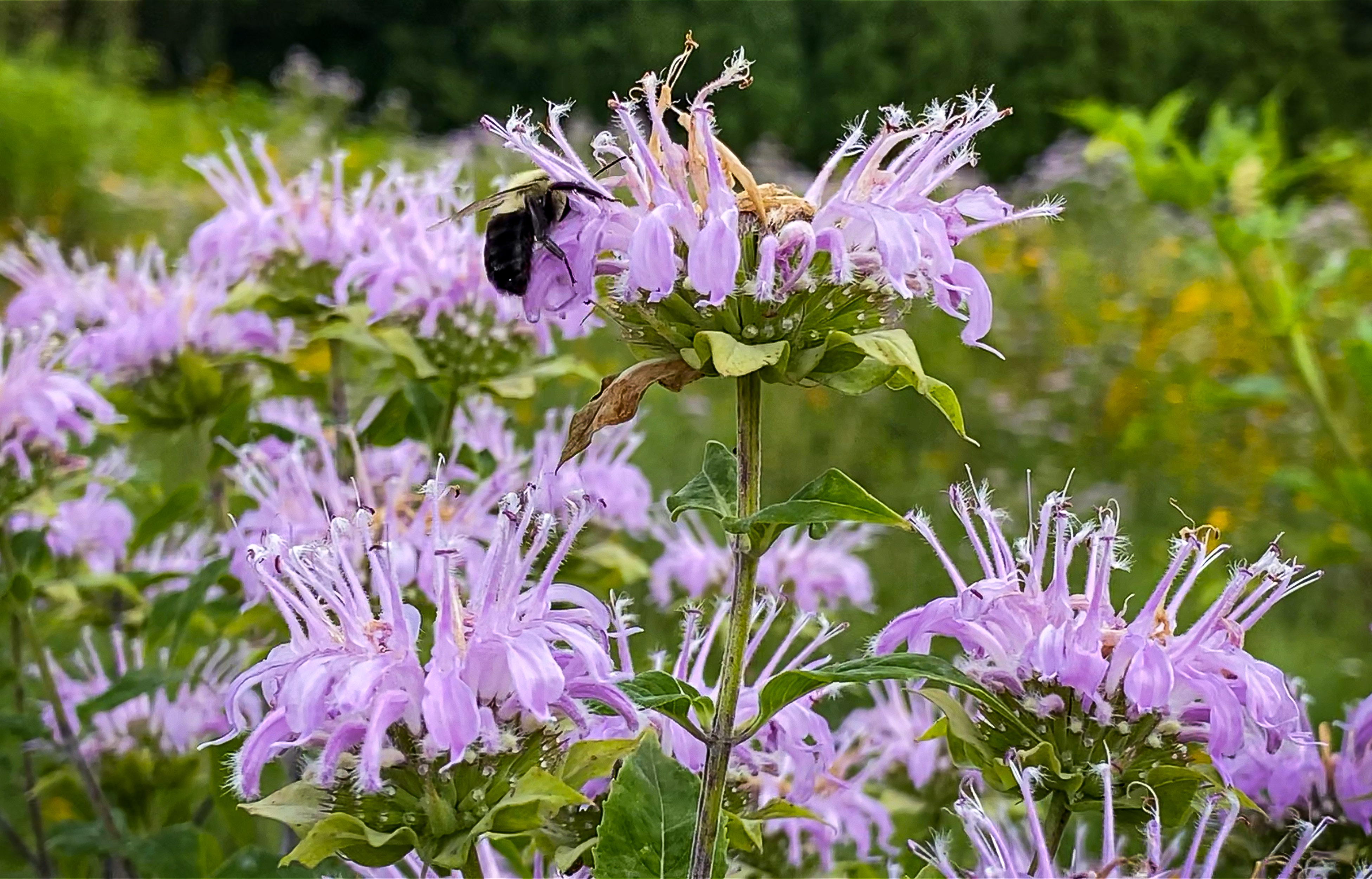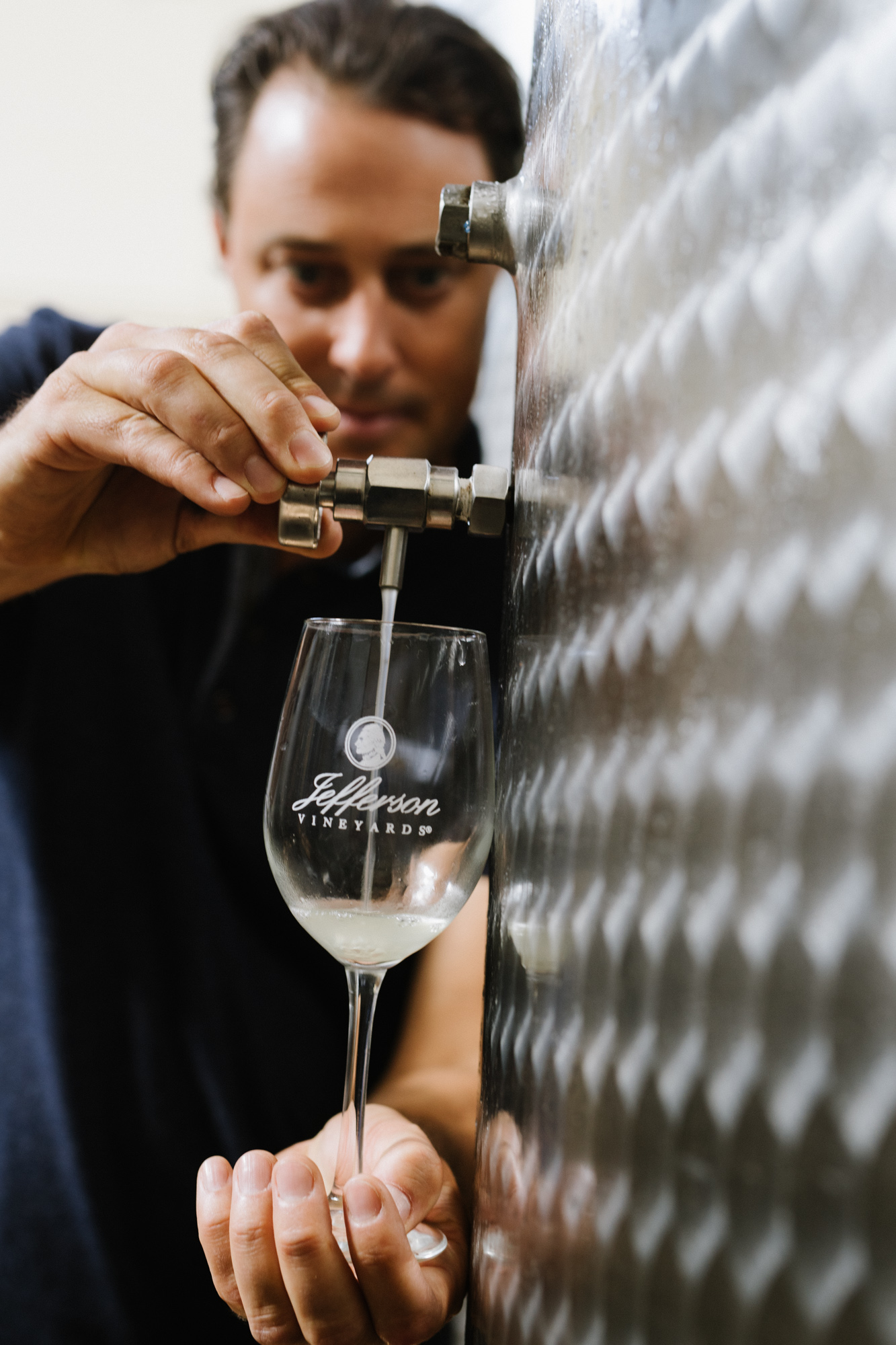 "If you've traveled or lived away from home, you have no doubt discovered the importance of "taste of place". In most cases, climate and culture dictate the ingredients that will be on your plate, or inside your glass. The textures, flavors, and colors of foods in each location are unique because each place is different. Flavors formed by a particular environment and culture. I learned that most acutely while living 14 years in Vietnam. Vietnamese food is beloved by many because of the sheer variety of ingredients and flavors. Culture furthered this delicious cuisine, a blend of Cambodian, French, Chinese, and Vietnamese all mixed into one delightful outcome. The concept of 'taste of place' is equally applicable to wine, but we call it a fancy name - "terroir". Virginia's terroir, and especially our very own terroir, influences the wines we produce. For example, I love how rich and complex our Viognier wines turn out - a true expression of the rich vibrant clay soils and the power of this land. Petit Verdot, with its tannic structure, is equally impressive. I have yet to taste a Viognier or Petit Verdot comparable to what we find here in Virginia. To me, this uniqueness in taste of place is something to be treasured. As we look back at our 40-year wine exploration at Jefferson Vineyards, we hope you will enjoy our 40 year anniversary bundle - an expression of the varietals (Viognier, Petit Verdot and Cabernet Franc) that reflect some of the best of our land. Salud! "
- Attila Woodward, Our Managing Partner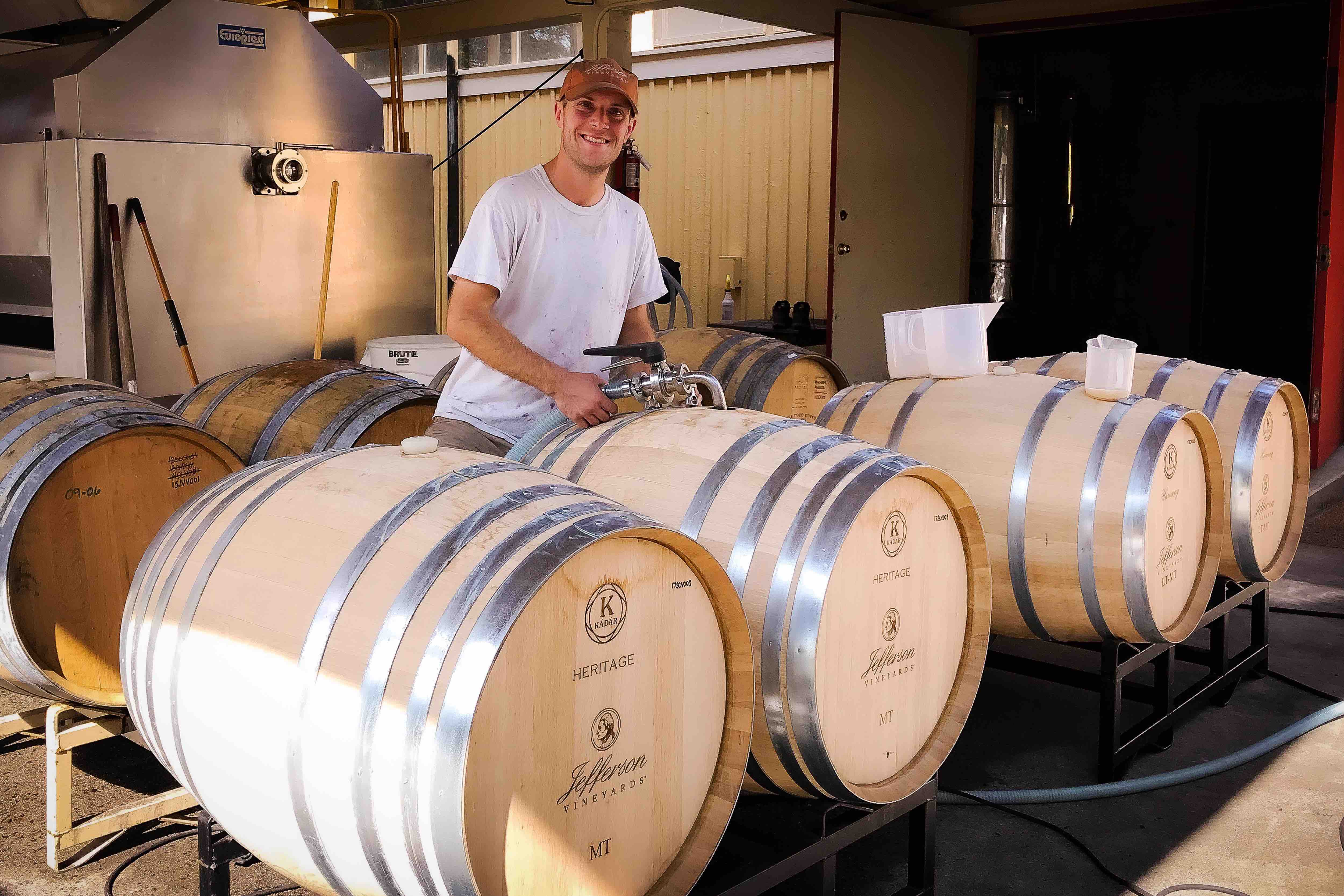 "Viognier is not only one of my favorite wines to drink, but it is one of the best varietals to work with. I love the versatility of Viognier. It can stand alone as a steel fermented or steel aged wine with all of its fruit characteristics, or as a light barrel-fermented wine for added complexity. One of my favorite wines we do is our skin-contact Viognier where we ferment the whole barrels on their skins before pressing. This allows for all the phenols to be extracted and creates a truly unique experience in the glass. Our 2019 Skin Fermented Viognier is delicious. I love enjoying this golden varietal out in the field after a long day of work with our "golden" vineyard assistant, Malcolm!"
- David Woodside, Our Assistant Winemaker
To celebrate our 40th Anniversary and enjoy our Featured Wines, click here.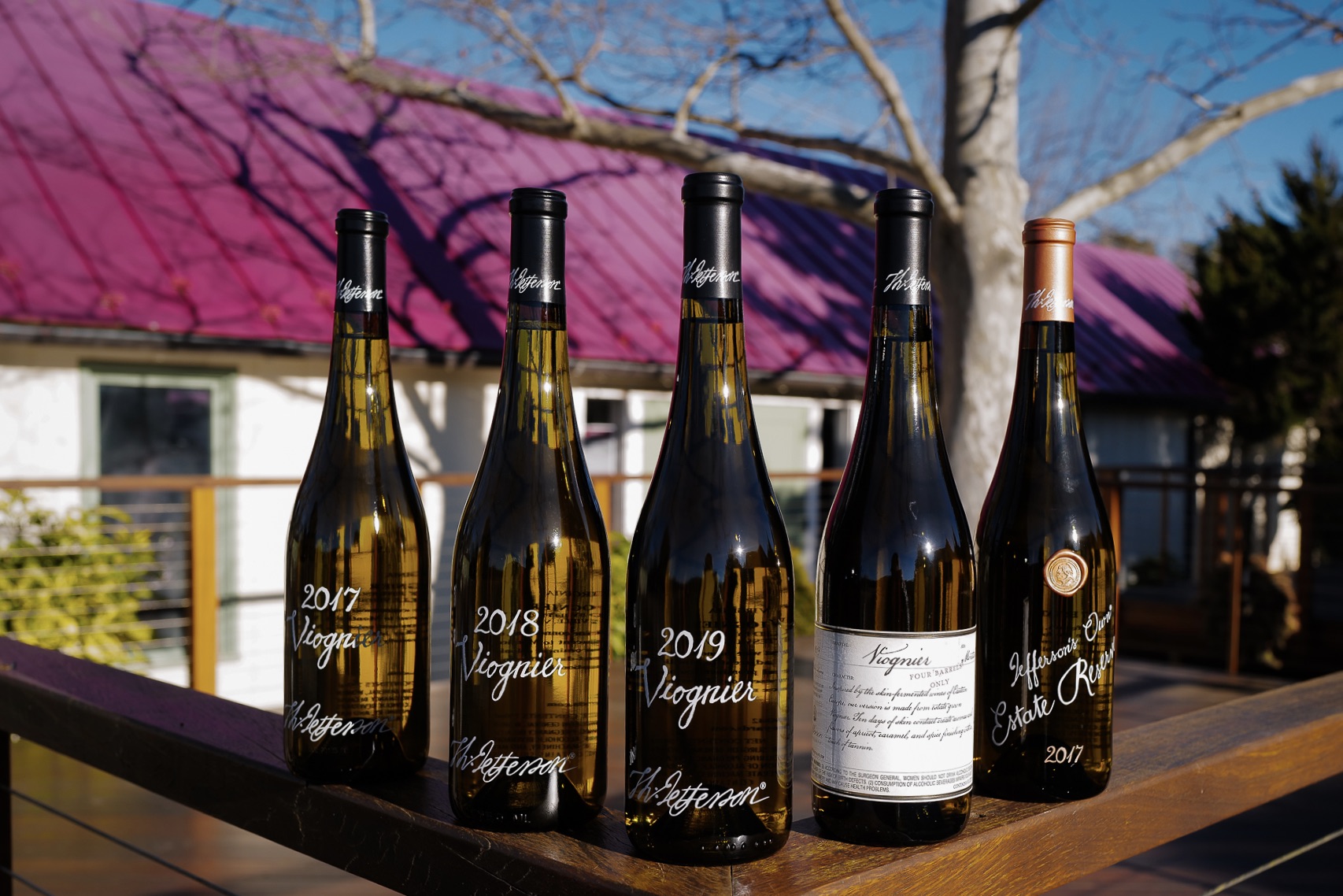 Peach, apricot, and lychee on the nose, a delicately balanced palate precede a round and lengthy finish. This is our golden-toned Viognier. Pronounced "vee-ON-yay", this French grape has found a home as the state grape of Virginia. Crafted from vines cared for by hand, aged for months, and created with the artisan expertise of our winemaking team, it is Jefferson Vineyard's flagship white, our most consistently awarded wine.
With decades of Viognier production and accolades, we're ready to share the secret behind this delicious white wine. Curious to learn more? Read on.
In the Vineyards
We designate nearly a quarter of our twenty-two planted acres to Viognier grapes. These fickle grapes are challenging to grow, but for us, the risk is well worth the reward. These bright green grapes flourish with strong sun and heat and more water than other varietals; a perfect complement to Virginia rains and summers. For over a decade, Hector and Nora Guzman, with the help of their family, have cared for these vines.
Though labor-intensive, the Guzmans prune, hedge, and pick the fruit by hand, ensuring each bud, shoot and grape receive personal attention. Viognier in particular cannot compete with other growth - be it grass or weeds - and must be tended to accordingly. Shoots that grow laterally instead of horizontally (known as 'lateral shoots') are corrected. Hector and his family keep watch for the early signs of pests or disease, meticulously maintaining our vineyards' health. And when the end of August rolls around, they harvest only the healthiest and most robust of fruit.
In the Winery
Great wine cannot be made without great fruit and of course, great winemakers. Chris Ritzcovan, our winemaker, and David Woodside, our assistant winemaker, have been working together in our winery for nine years. Throughout their tenure, the two have approached production with a steady commitment to both quality and creativity.
Before our Viognier is harvested, our team tests the fruit for particular sugar levels that will bring forth the apricot or peach flavors and floral aromas that epitomize the viognier varietal. Once in the winery, they begin the stylistic processes that distinguish our viognier. They inoculate the wine with commercial yeast, ferment it in oak barrels and stir the barrels on their lees to build the body and weight you sense in a sip of our final product.
To age the Viognier, again consideration is given to the precise barrel type. On the wine, their selection gives way to a toasted influence, carefully curated to complement the fruit and structure of Viognier.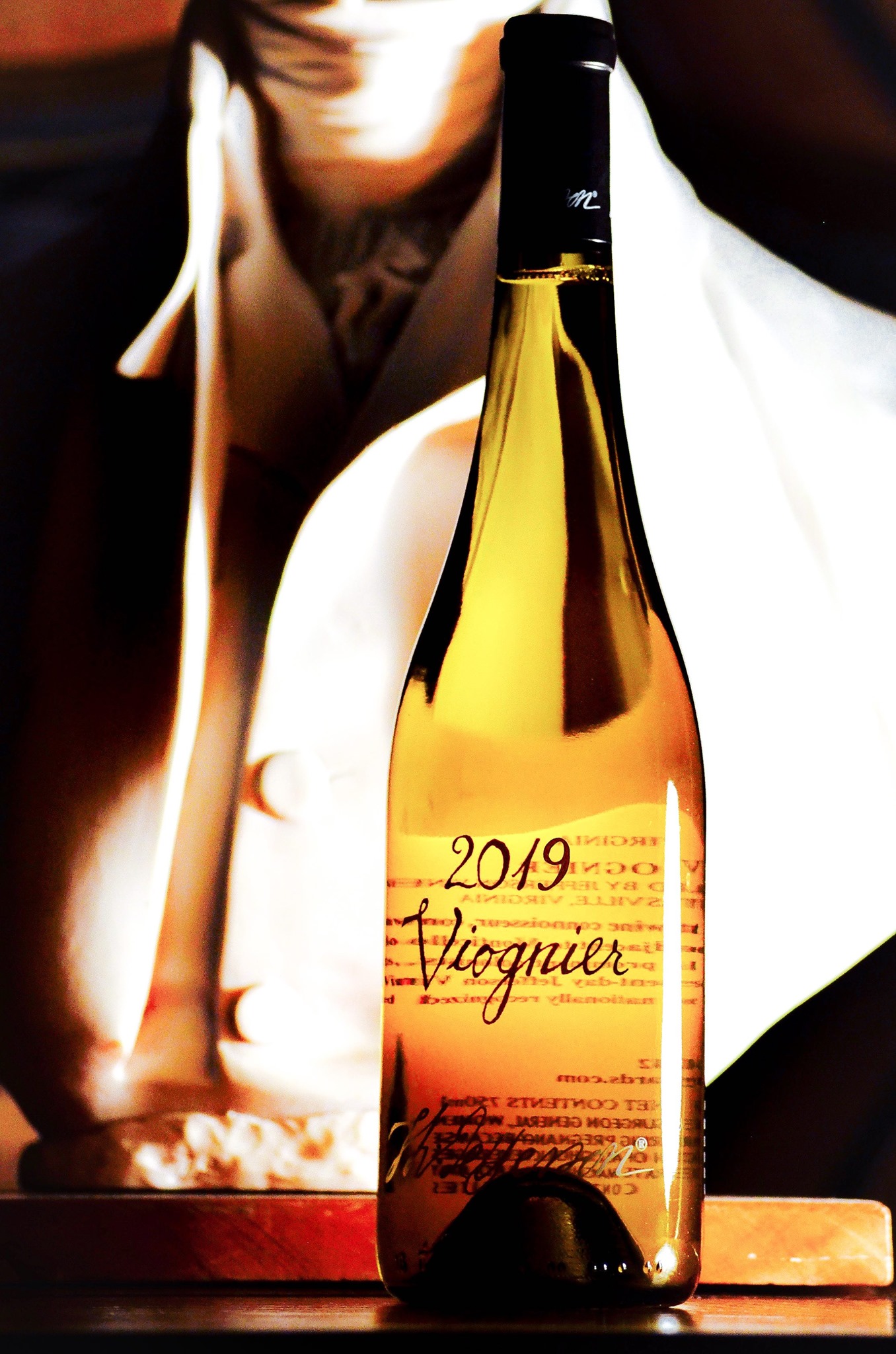 In the Glass
Nearly eight months after the fruit is picked, our Viognier is bottled and shared through our tasting room. It is championed by people like Heather Lavelle, our Retail Operations Manager, who will tell you our Viognier, though different from those of other regions, is consistent. Attila Woodward, our owner, will tell you he fell in love with Viognier because it is so beautifully balanced and pairs wonderfully with the South East Asian cuisine he spent over a decade enjoying while living in Vietnam. Both work to share their passion for this wine, submitting it to competitions across the country and encouraging those who visit us to try it for themselves.
In the 2020 San Francisco International Wine Competition, our Viognier 2019 received a Double Gold award, judged amongst thousands of other wines. Vinepair dubbed this same vintage one of the 28 Best White Wines for 2021. Savor Virginia Magazine Reader's Choice 2021 honored it with a Gold. Most recently, our Viognier was awarded a Gold by the 2020 Virginia Governor's Cup.
So, what is the secret to our Viognier?
It is the passion and dedication of the people who care for the vineyards, who craft the wine, and who advocate for its place among the top wines in the world. With every award, we are proud to advance the reputation of Virginian wine, with Virginia's own state grape.