Jefferson Vineyards Wine Blog
---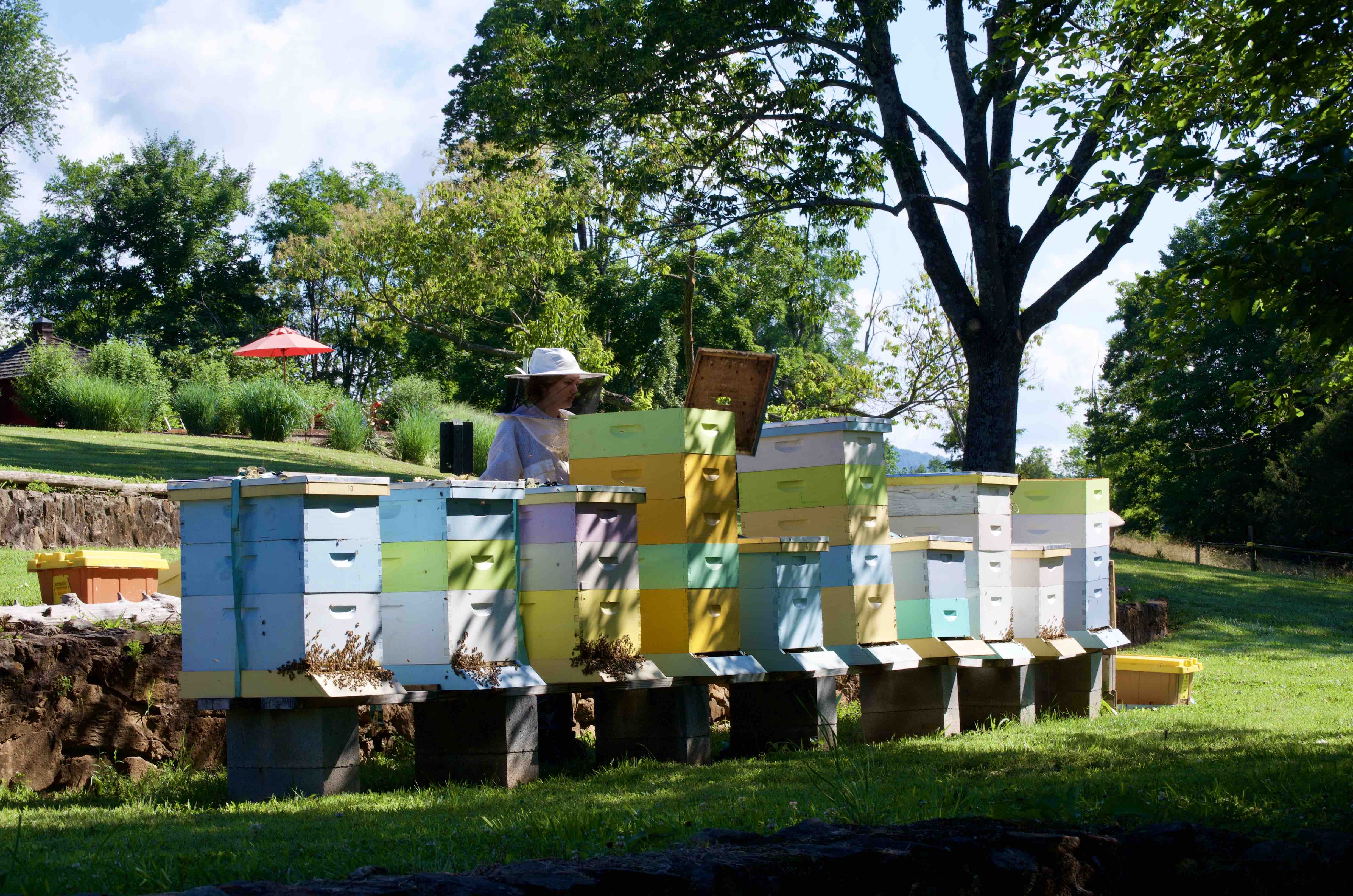 Brooke regularly visits our ten hives to check and care for the approximately four hundred thousand honey bees on our estate. A beekeeper for Elysium Honey Company, Brooke's primary concern is for the wellbeing of these honeybees. We rely on bees and like pollinators to support a significant portion of the world's plant life – our food included. She knows the bees' patterns, the subtle language between a queen and her hive, and can explain in detail all that's happening within the ten, stacked pastel-painted boxes the bees call home. She knows when there will be honey, when there is a threat of pest, and can read the bees well enough to hold a buzzing frame with her hands, unprotected. Attuned to the bees and to each passing season, she can tell you what blooms and blossoms the bees are enjoying each month, be it Apple Blossoms, or the white clovers speckling the fields, or the Tulip Poplars spread across our land.
This month, she harvested honey – only the excess of what the bees produced – and explained the process, step by step: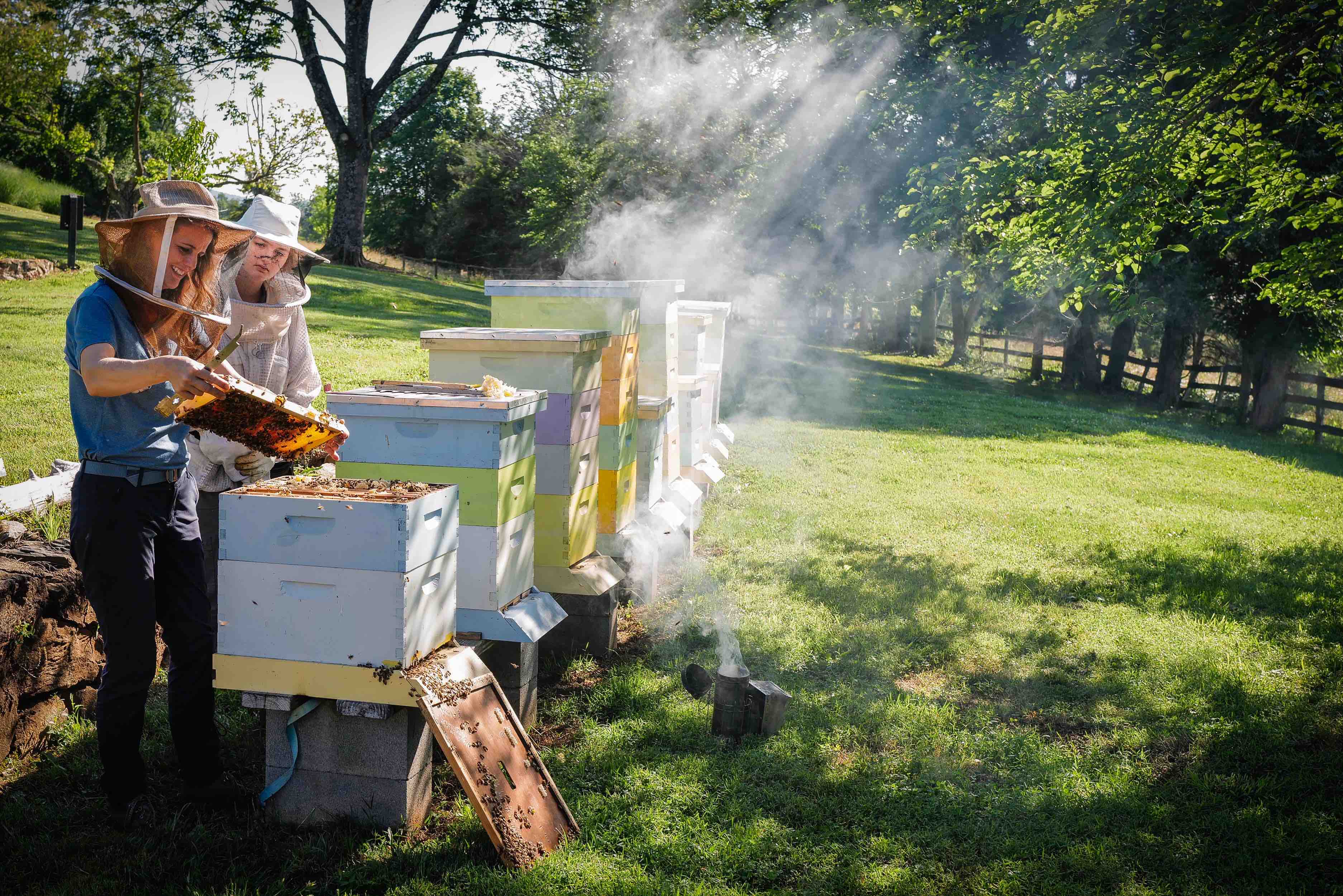 "The smoke is used to calm the bees and has the added benefit of masking a pheromone that alerts the bees to an intruder, the "alarm pheromone". A guard bee will bump us, dropping pheromone which serves as a guide for the reinforcements (Hive number eight would not be easily dissuaded by the smoke however). During the harvesting process we use it judiciously and sparingly, too much smoke irritates the bees and can flavor the honey. After such a long wait, we want the honey to taste exactly as the bees make it…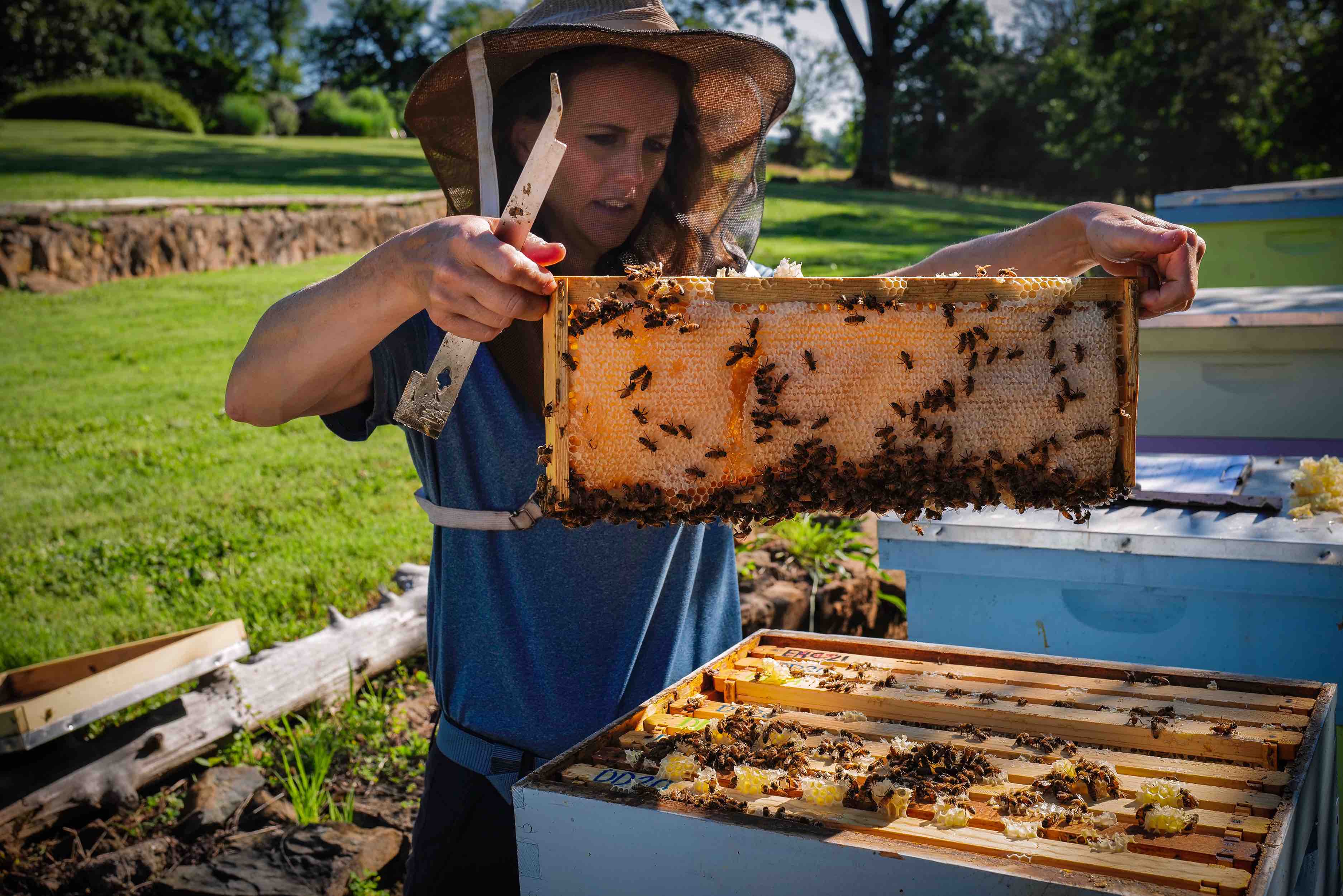 "To process, we first cut off the wax that caps the honey cells to release the flow. That is also the wax that makes lip balm and candles and then it is placed in a centrifuge - an extractor. A lot of the flavor resides in pollen cells as well, so we use a micron filter to allow as much of the natural honey flavors to be retained…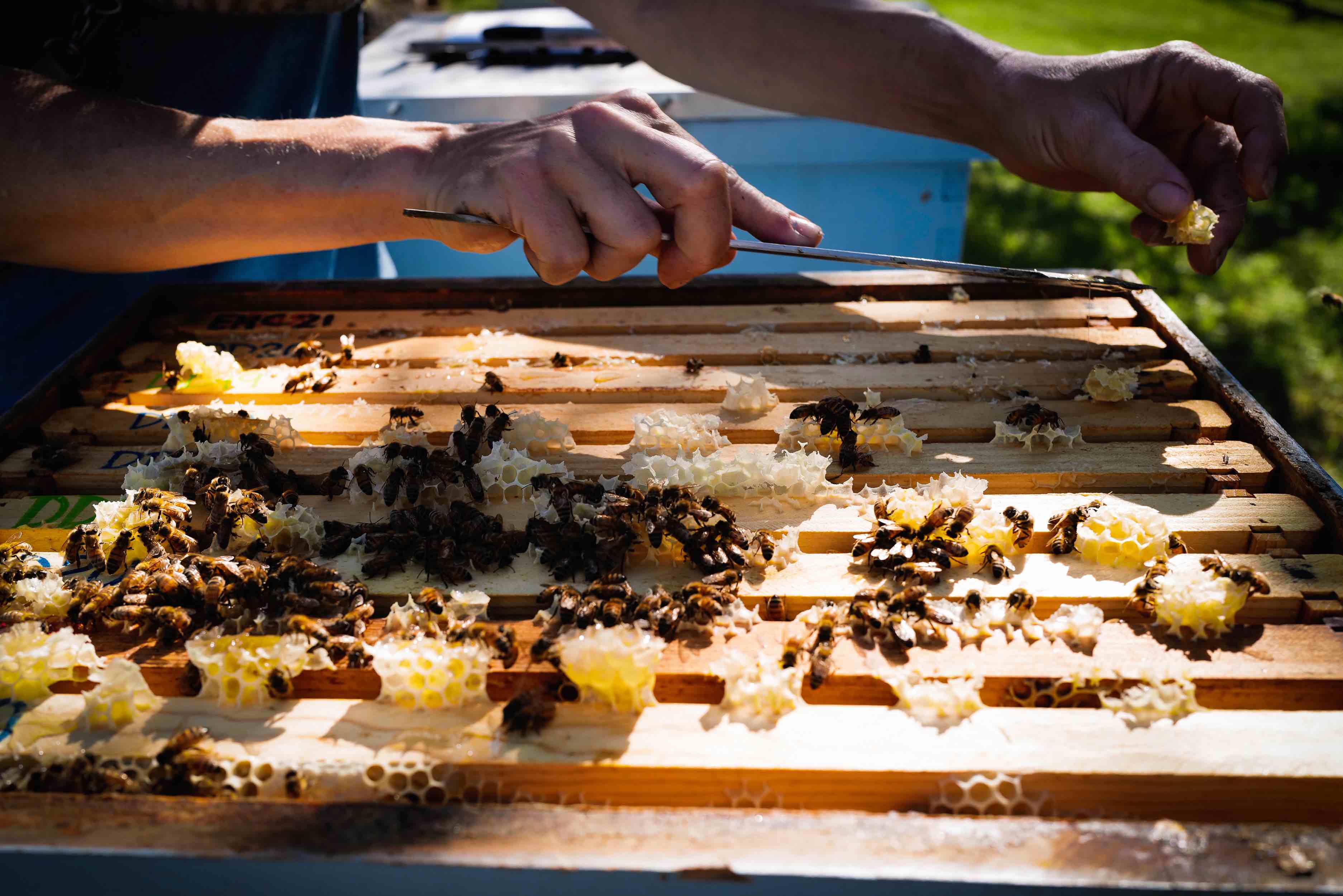 "Busy as a bee is well phrased. They are amazingly productive, and when the environment provides, they will collect as much as they can, far exceeding their needs… The upper boxes above the brood chambers are called "supers", short for superstructure. That means that anything they store there is surplus. We never harvest below the supers. Please also note that I am very conservative with the harvest too - I leave a minimum of 40lbs of honey on each hive to get them through the "dearth "in July and August, when most of the nectar sources have dried up, and the bees need a good supply of stores to get them through till the next nectar flow in the fall… Each colony at Jefferson Vineyards has at least 56lbs of honey to get through to late August, when the asters and goldenrod bloom and provide a nice nectar flow that the bees fill up on for the winter…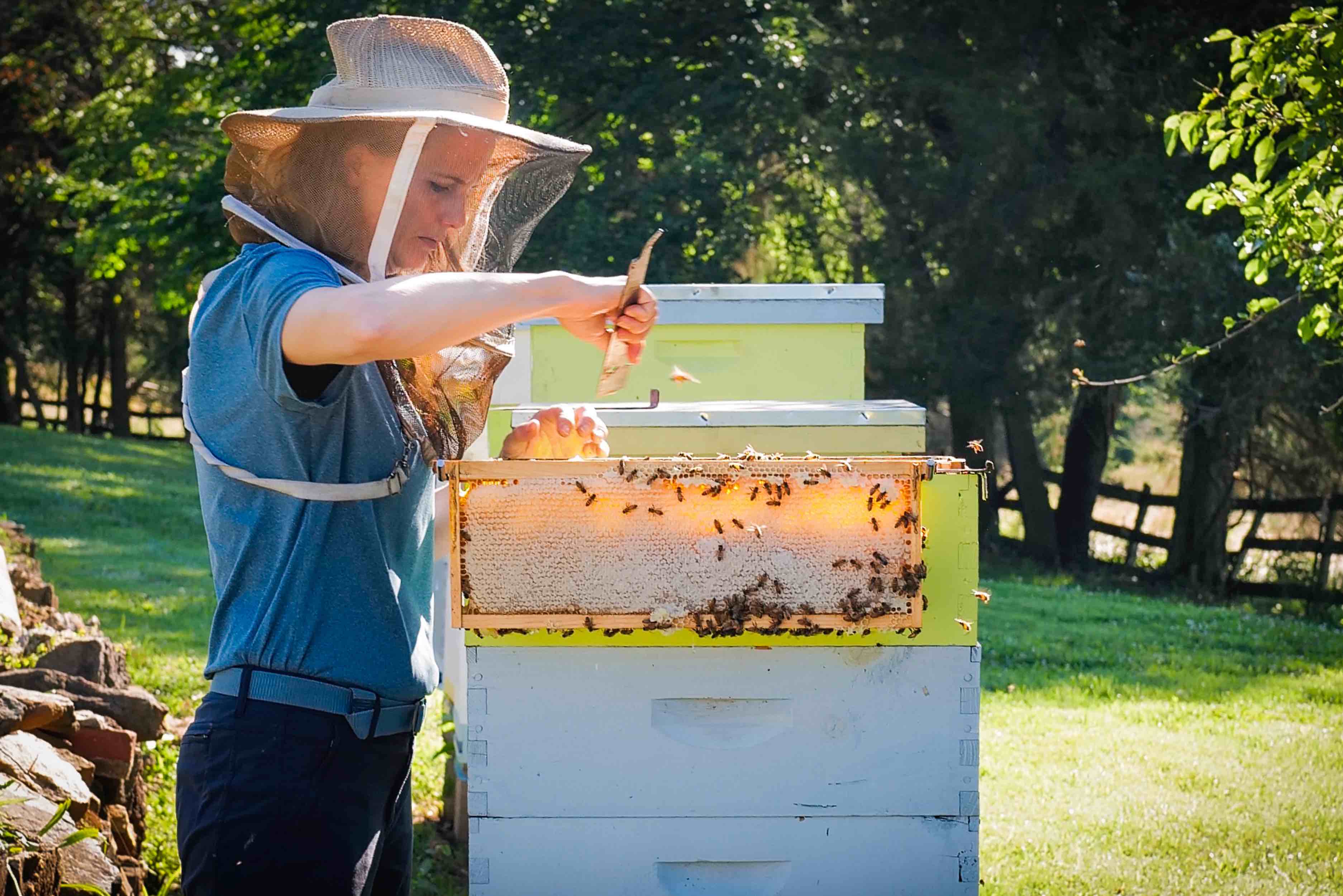 "It is wonderful when the weather, the forage and the honey bees collaborate to create an excess harvest like we had [at Jefferson Vineyards] this spring. The late summer delight of spending the afternoon with calm, healthy bees cannot be beat. They alight on your arm and the busy sound of their wings and vibrations is supremely delightful. The best feeling is knowing that they are doing just fine."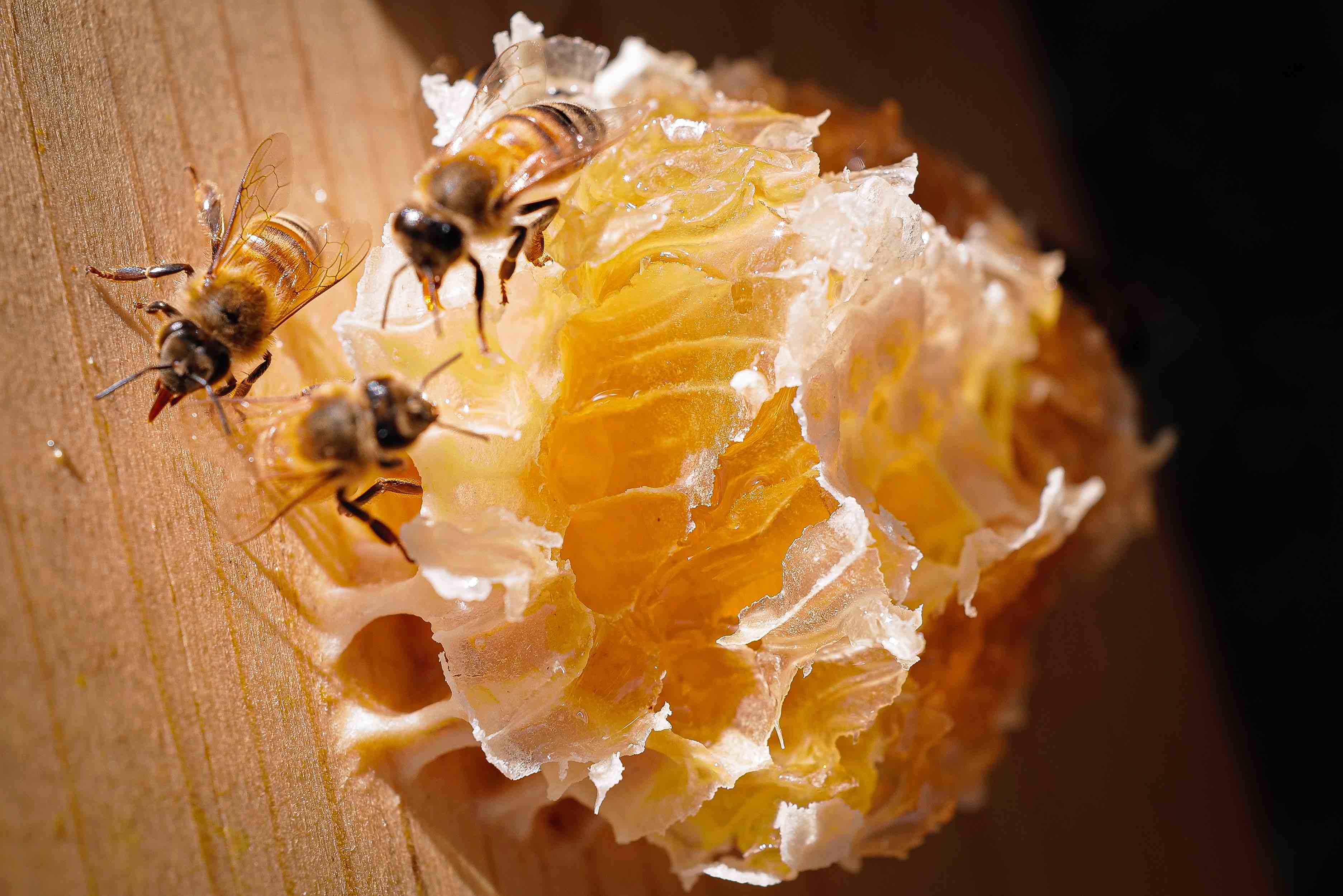 Jarred and delivered by the Elysium Honey Company, the honey from these hives will be our second 100% estate honey harvest since we established the apiaries in 2019 (available soon!). With Brooke's care and oversight, our bees are happy, healthy, and thriving.
As you notice bees this summer, note Brooke's parting reminder: "it is the absence of bees in an environment that is alarming, not their presence. When you see honey bees visiting you on the patio, please endeavor to enjoy them. They are defensive, not aggressive. Leave them be and they will go about their highly productive business."
Our estate honey will be available for purchase this late fall.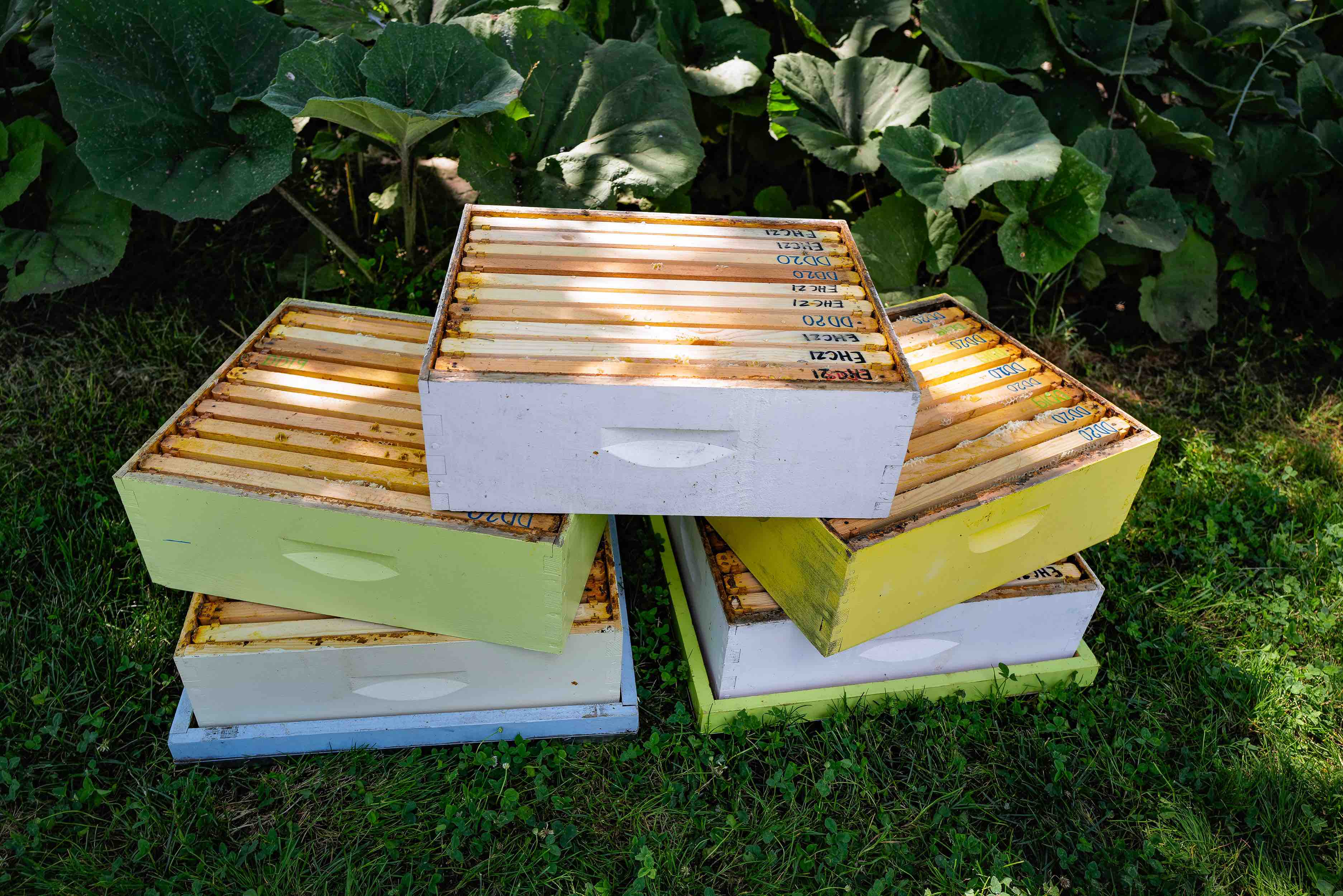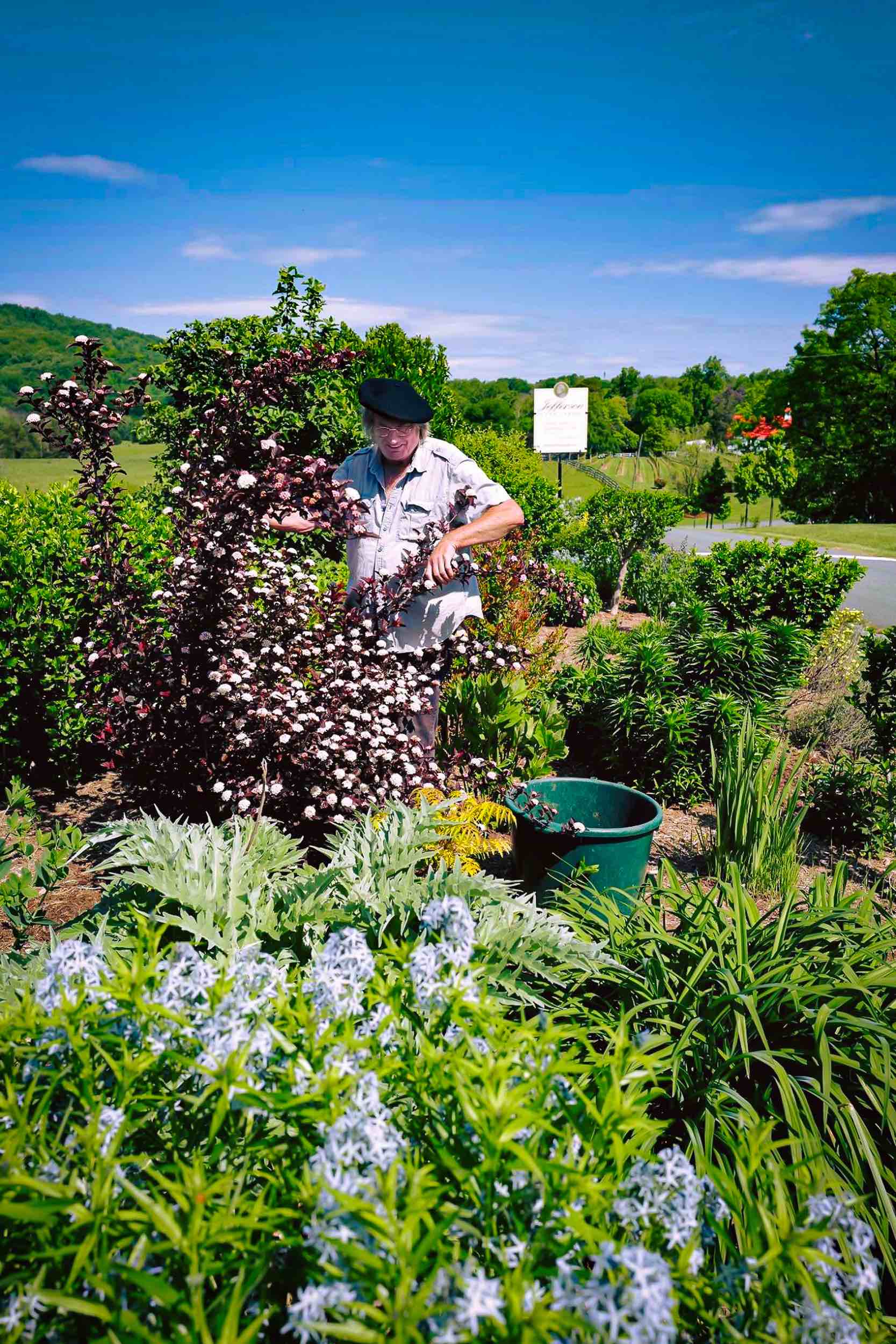 Twenty years ago, Robert joined Jefferson Vineyards and has been creating and caring for our gardens ever since. Born in England, Robert will tell you his life has centered around travel and horticulture. He specializes in the English Cottage Garden style, a style characterized by bright blooms, full garden beds, and bustling ecological life. Cottage gardens are not manicured or meticulously planned but curated and designed with spontaneous personal preference and available bed space. They celebrate natural beauty and connection, the simple wonder that springs forth when you collect beautiful things, teeming with life, and disregard 'ought to' and linear 'perfection'. In his gardens, Robert aims to surprise and delight the onlooker with an array of self-seeding plants. For eight months of the year, these gardens bloom providing habitat for pollinators, birds, and insects while organically controlling pests. Swallowtail butterflies lay eggs in the Bronze Fennel beside the patio. The bright green shoot barely reaching above the stoned wall most likely will have come from a parent plant across the parking lot. Each is allowed and encouraged to flourish. For us, the onlookers, the gardens burst forth in bright blooms – at once comfortable and strikingly beautiful.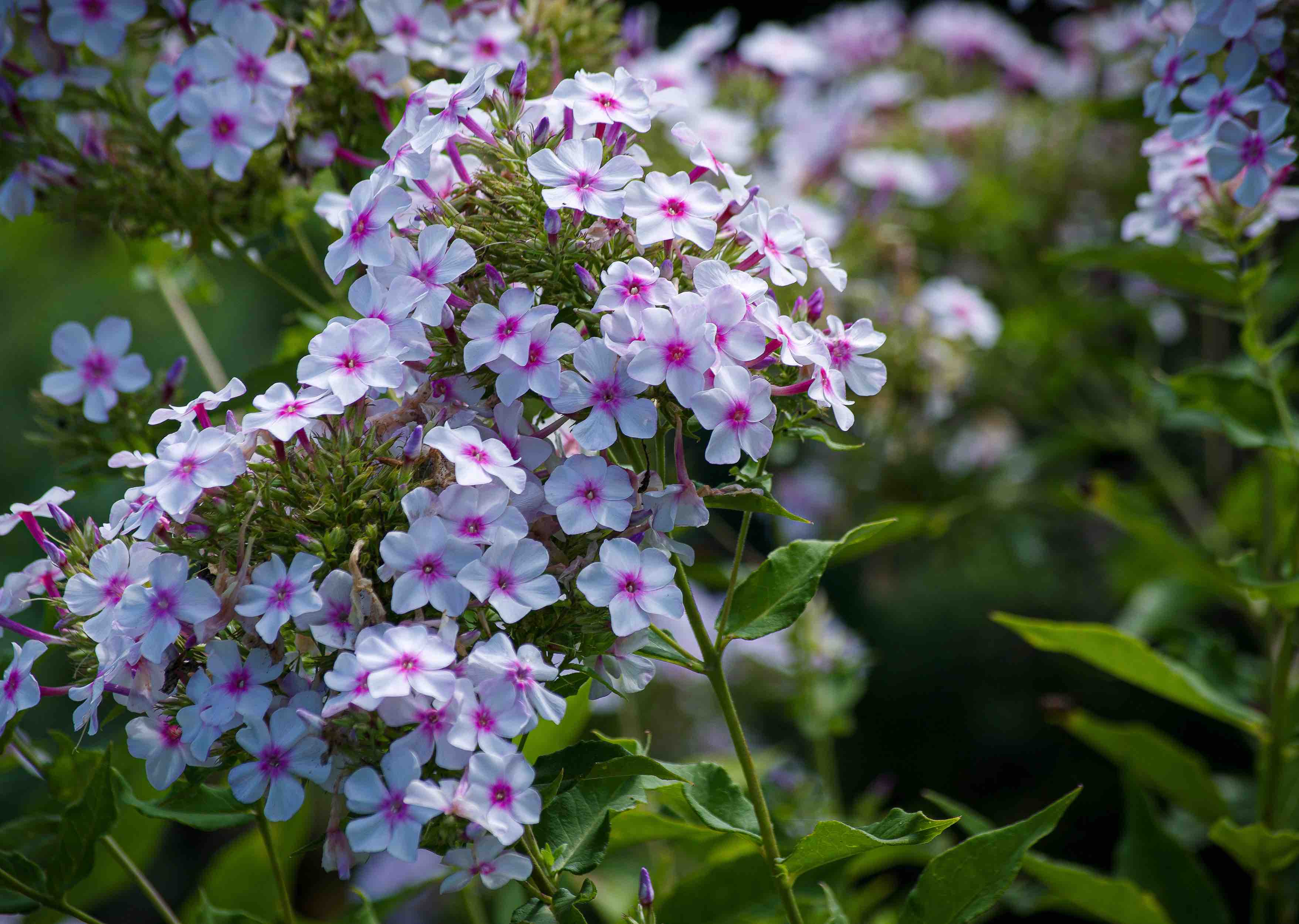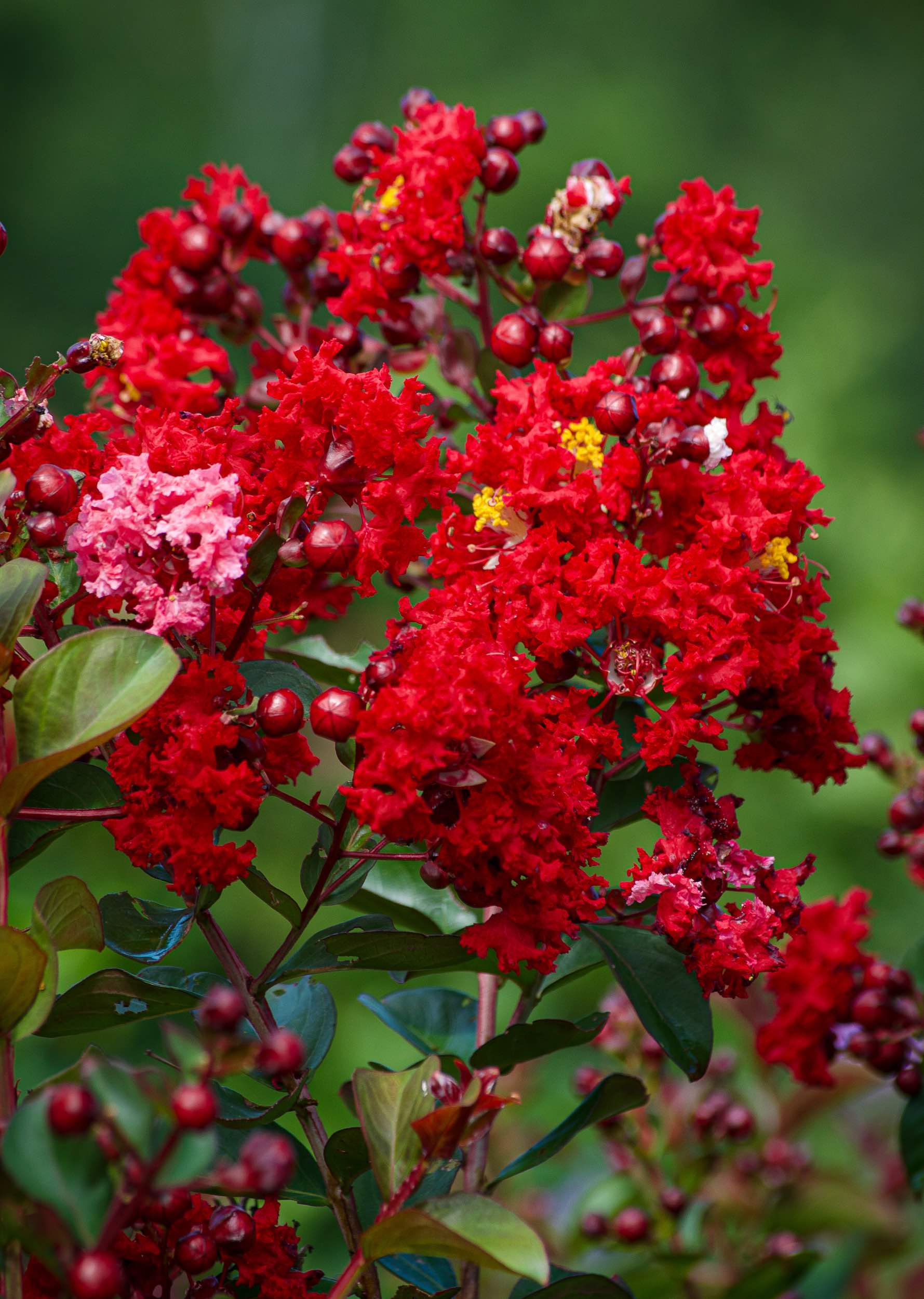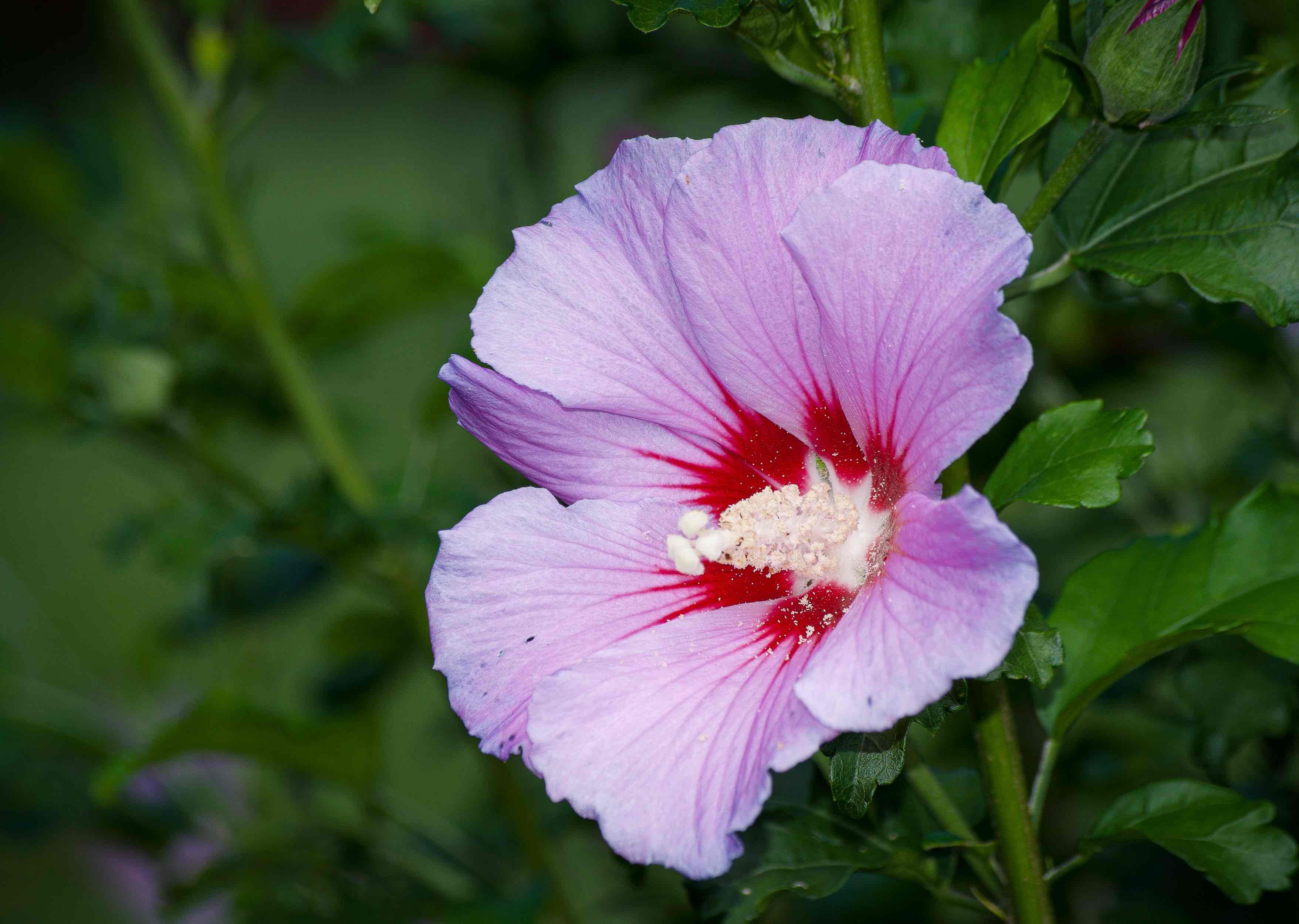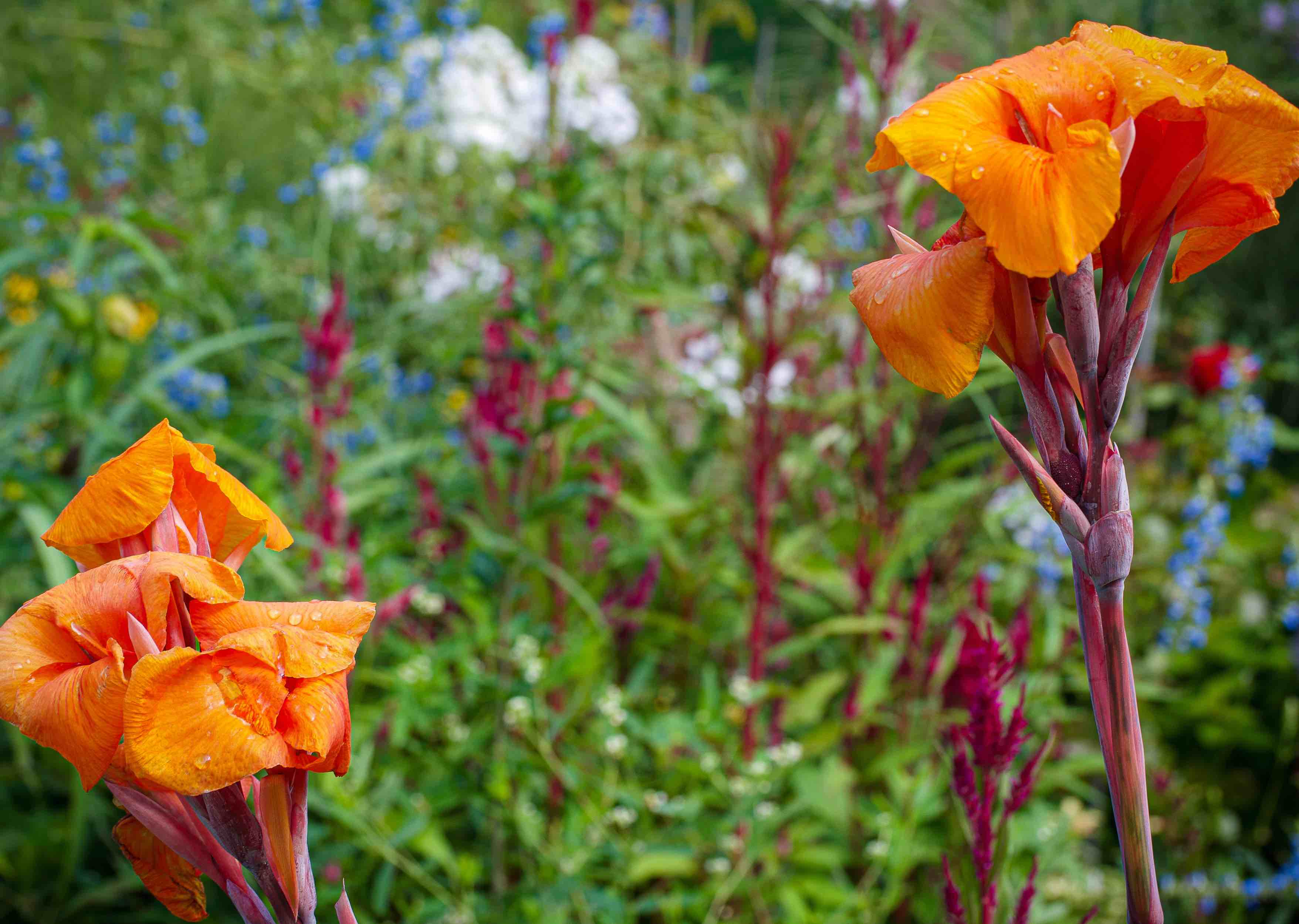 For forty years, we have been fortunate to be a part of the Charlottesville community. We have hosted festivals, welcomed loved ones to our grounds, enjoyed music together, and spent time with one another beneath an expansive Virginian sky. We have served as stewards of this historic land, investing in the wellbeing of its inhabitants and ecosystems. Just as we have cared for the land, we are caring for this community.
In celebration of our 40th Anniversary, Jefferson Vineyards has partnered with the Blue Ridge Area Food Bank, to support its mission of alleviating hunger throughout the Blue Ridge Area. The challenges of the past year continue to shake many members of our precious community. Accordingly, we have committed to a donation capable of providing approximately 48,000 meals across the Thomas Jefferson Service Area.
Should you wish to join us in supporting this worthy cause, please find a donation link here.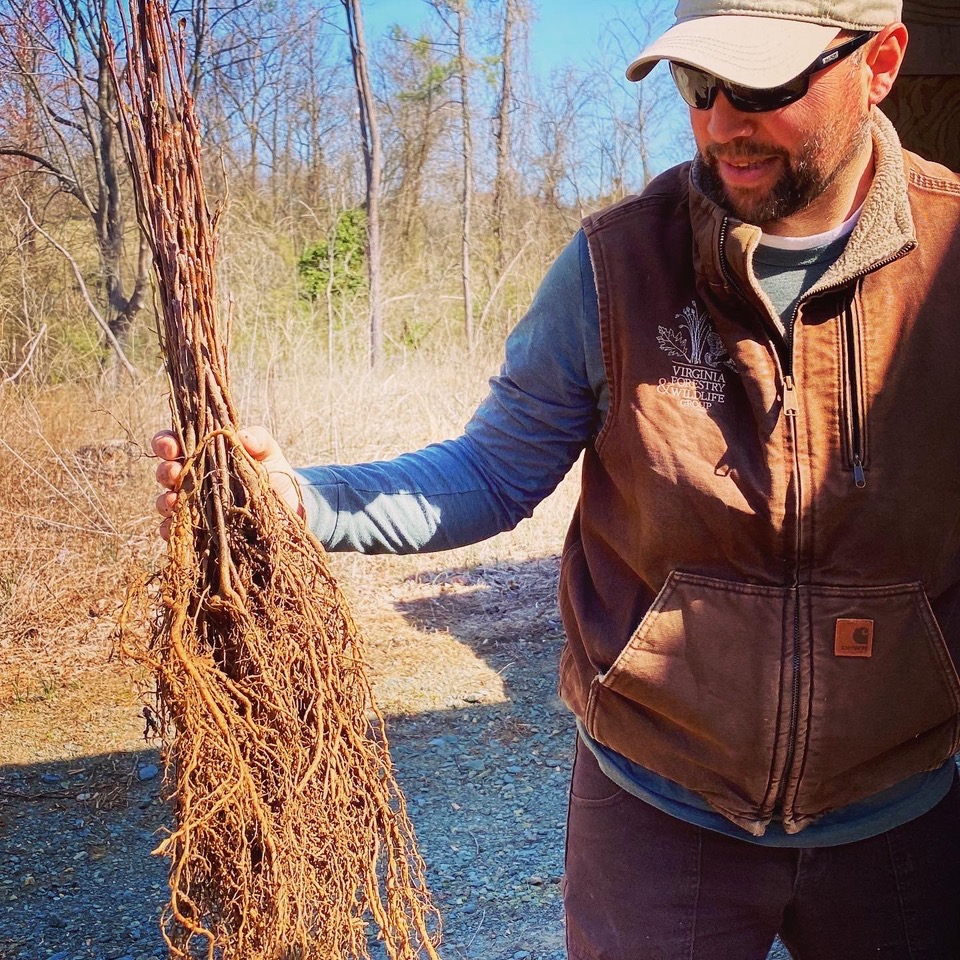 In 2017, we began working with Brian and his team to optimize our land for ecological support and environmental wellbeing. Brian is a Principal Wildlife Biologist with the Virginia Forestry and Wildlife Group. With his guidance, we have undertaken two massive initiatives: the transformation of unused land into wildflower meadows and reforestation with Tulip Poplar trees.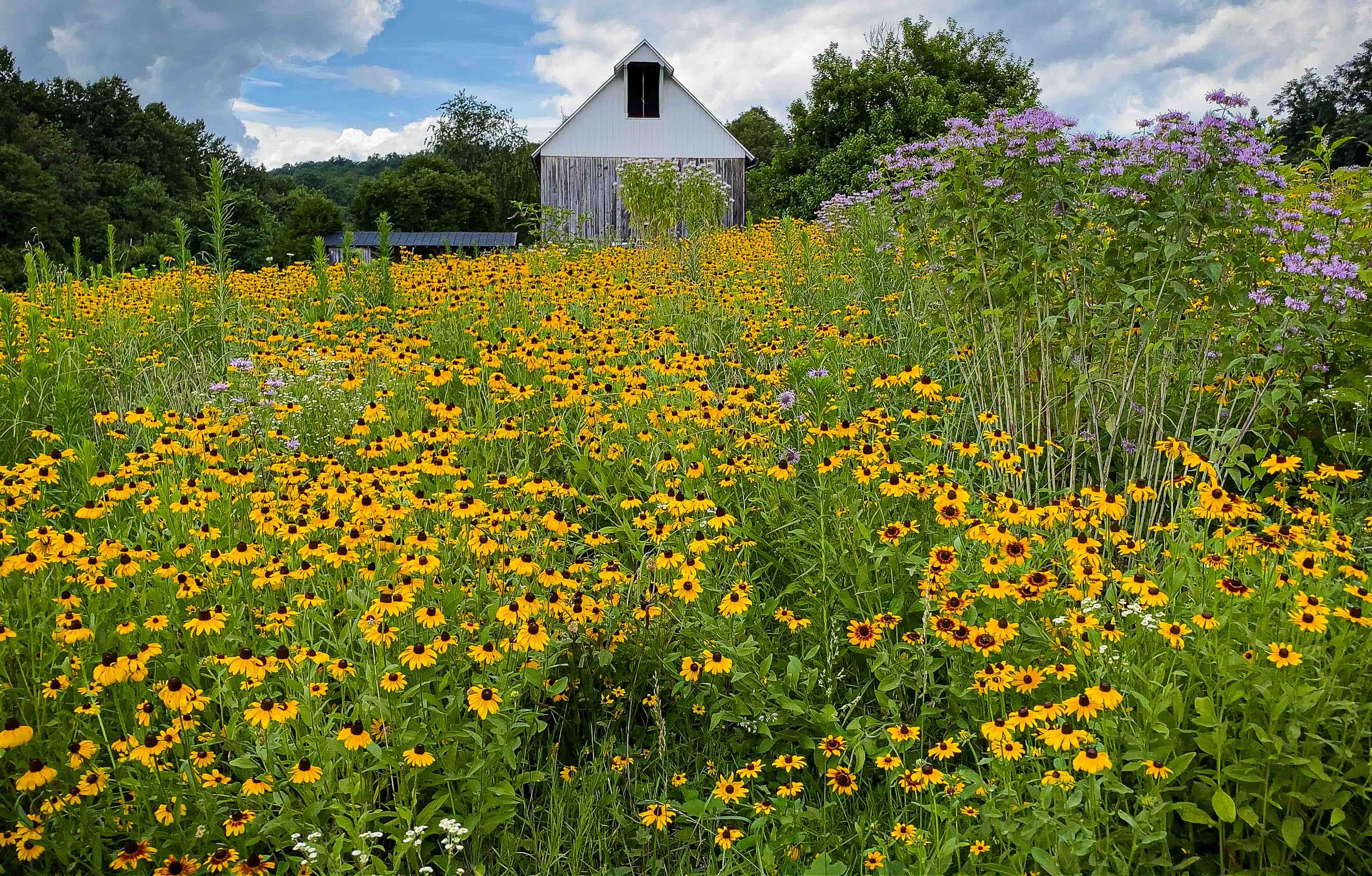 Four years ago, Brian and his team transformed eight acres of our land into wildflower meadows. These meadows bloom slowly and steadily for much of the year with an array of native plants, planted to provide diversified and sustainable nutrients for pollinators, including our ten apiaries and the over 400 different Virginian bee pollinator species. Now, in Spring, the largest meadow overflows with knee-high flowering grasses, interspersed with bright yellow blooms and purple-tinged foliage. We have, in turn, seen a tremendous uptick in pollinators among the meadows. In 2020, Brain and his team began a second initiative with us - the reforesting with Tulip Poplar trees. Under his guidance, we planted 12,500 Tulip Poplar bare-root seedlings on our property to replace harvested Loblolly Pines. Unlike the pines, the carbon-capturing Tulip Poplars better supports pollinator populations and adds native diversification to our local ecosystems. With Brian's counsel and extensive knowledge, we are proud to make the most of our resources, striving to conserve and revitalize this precious land.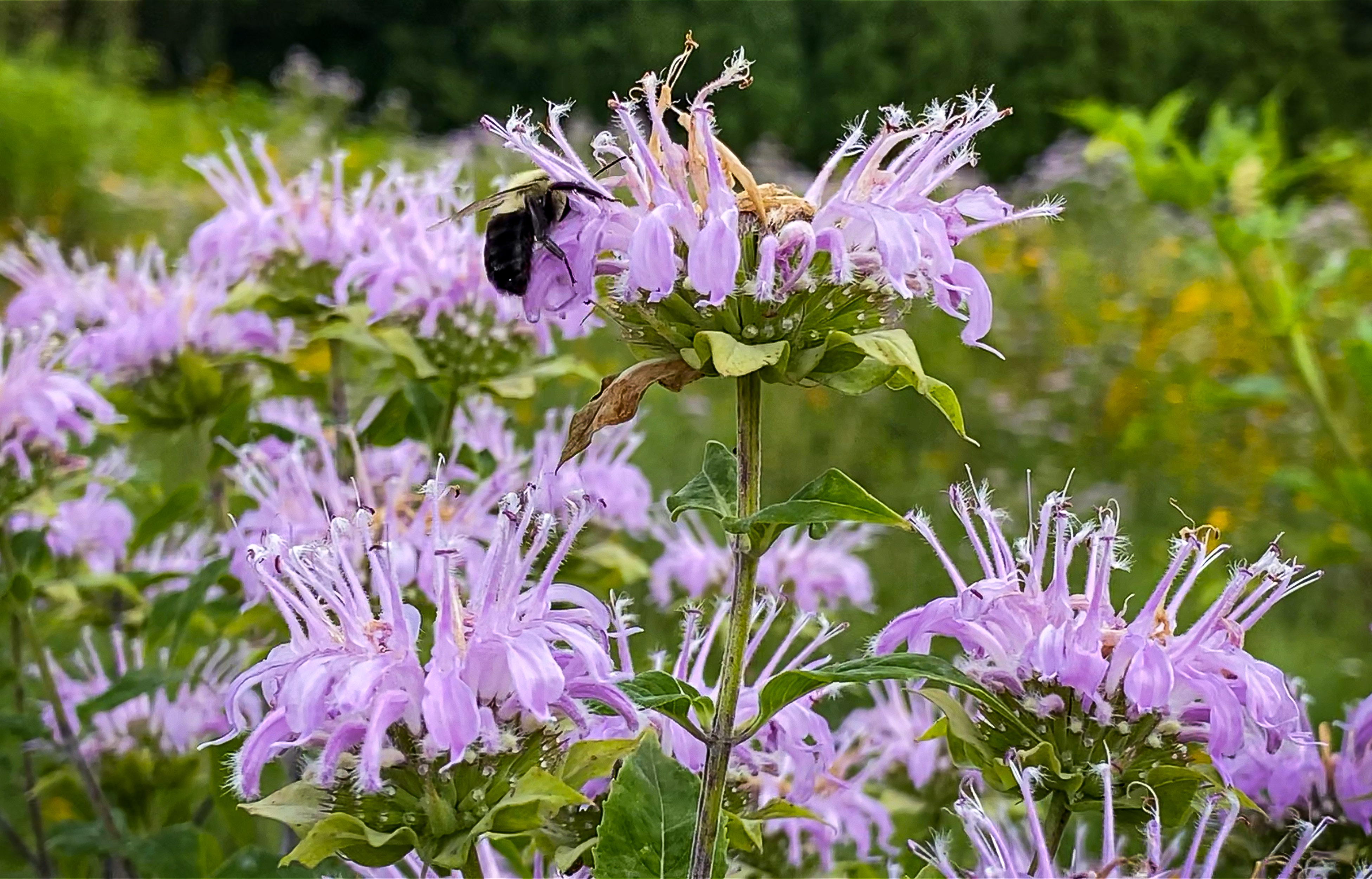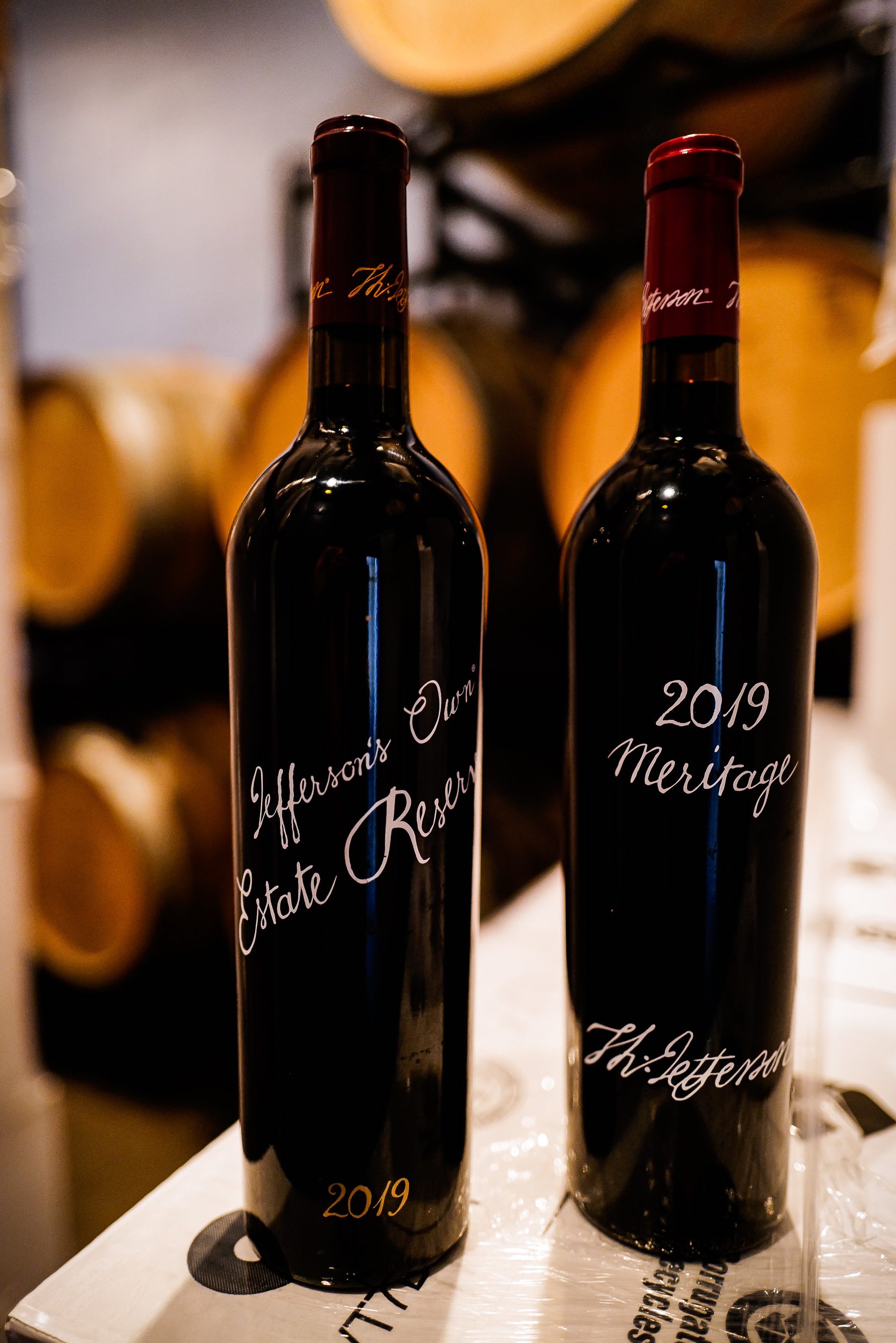 Before blending and bottling our wines, our winemaking team experiments with different blends to create the best possible wines. Considering everything from varietal to the influence of a particular barrel, we pick and choose to create wines that best display a particular vintage. Varieties are blended to create consistency and to enhance elements in the finished wine, elements that vary from vintage to vintage. Barrel-aged wines differ from barrel to barrel, each lending unique characteristics to the wine with which we determine the best blends. Trial by trial, the best iteration of the wine becomes clear. On June 16th, we bottled four more of your favorite reds from the spectacular 2019 vintage: Meritage, Merlot, Petit Verdot, and Estate Reserve. Once the reds are bottled, we'll begin preparing our 2020 Viognier, our latest vintage. Before late July, we'll do additional trial blends, cold and protein stabilize the wine before filtering and finally bottling this delicate, golden-hued wine.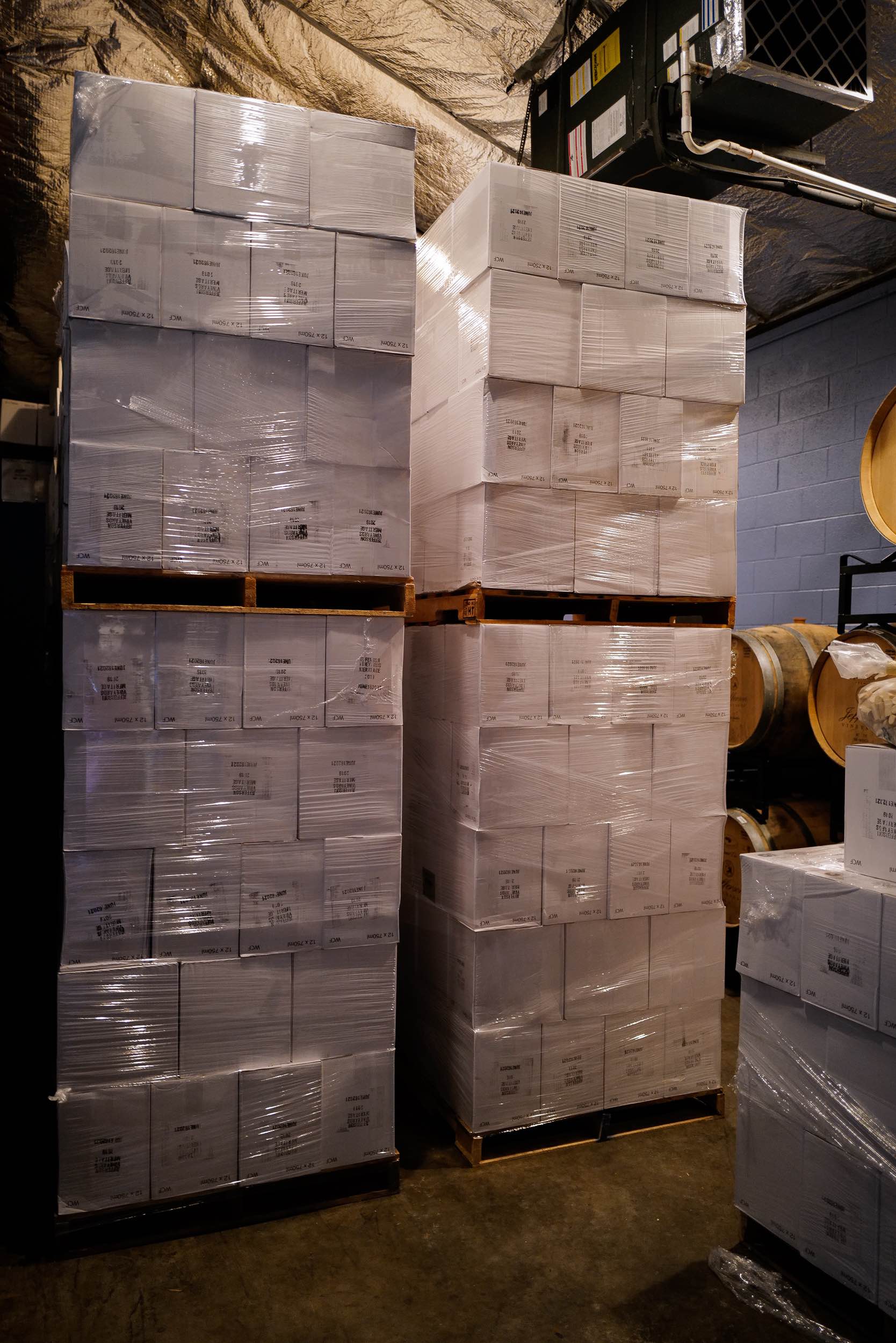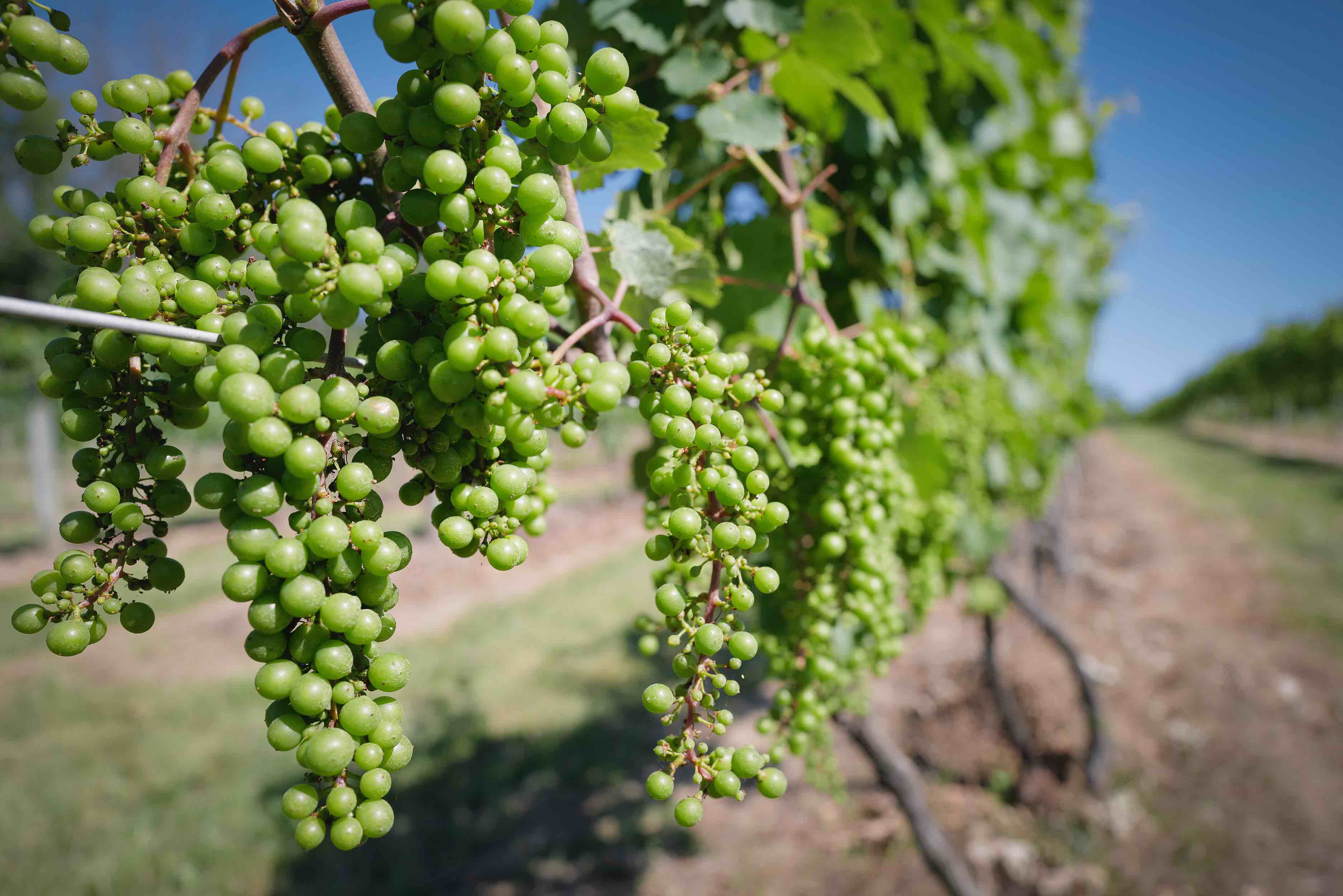 Our Chardonnay, Pinot Gris, and Riesling vines are in the "pea berry stage", while our red varieties, alongside Viognier and Petit Manseng, trail about a week behind. In the past weeks, flower blooms have become fruit, a process that commences only after the flowers have been pollinated and the fruit has set. While early grapes develop, our team busies themselves cleaning trunks, shoot positioning, shoot thinning, and leaf pulling. Trunk cleaning, shoot positioning and shoot thinning address how the vines grow - (in order) removing sucker shoots from the trunk, arranging desired shoots into neat vertical positions, and removing extra shoots to promote airflow and reduce crop load to ideal numbers. With leaf pulling, or canopy management, we remove additional leaves in the fruiting zone to better expose the fruit to the sun. This practice helps to control how much energy the vines are pulling into the fruit versus the leaves and encourages additional airflow to protect the fruit against mold and mildew. These tasks keep our team busy for the whole of June and July when, with early signs of verasion, we will begin netting the vineyard.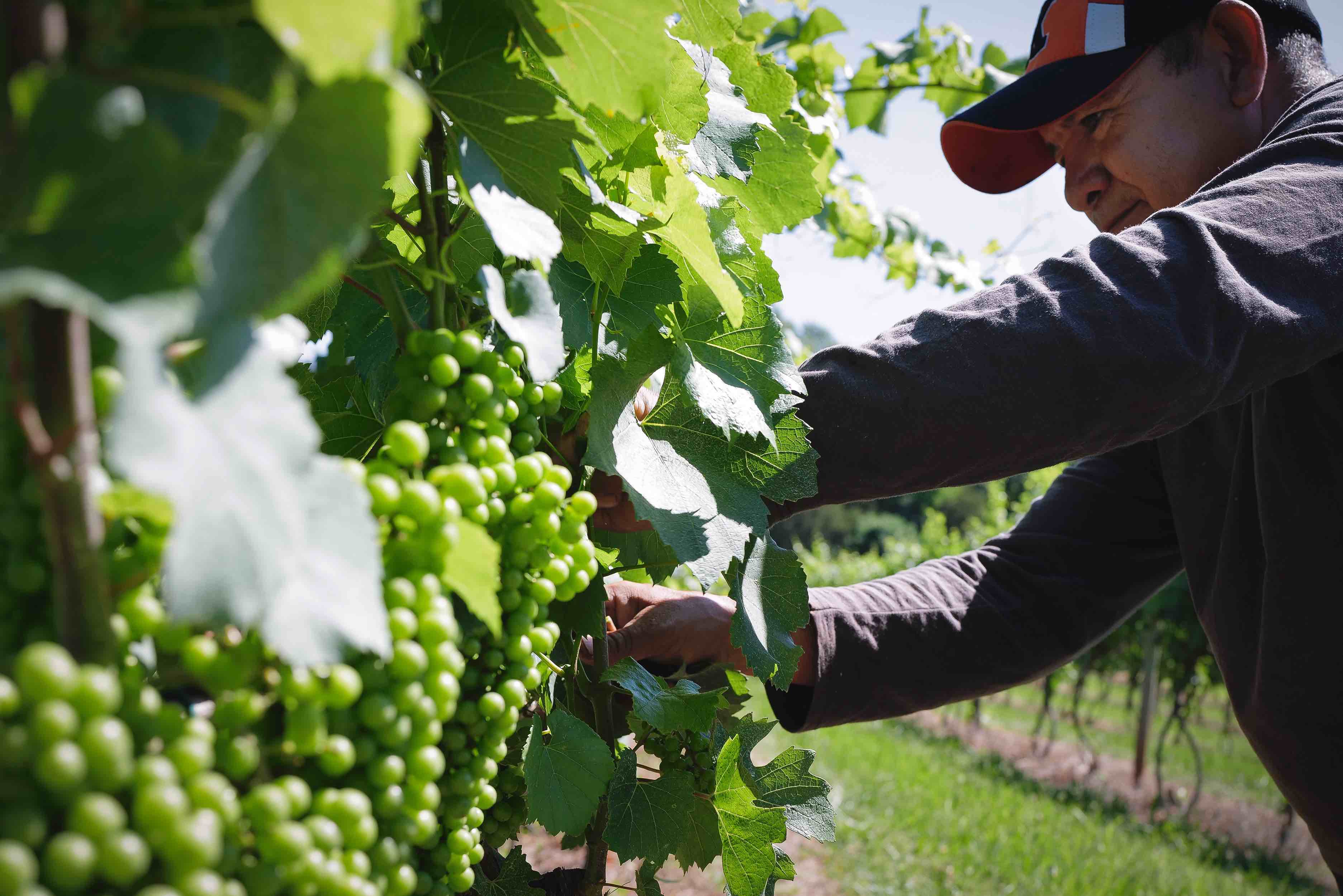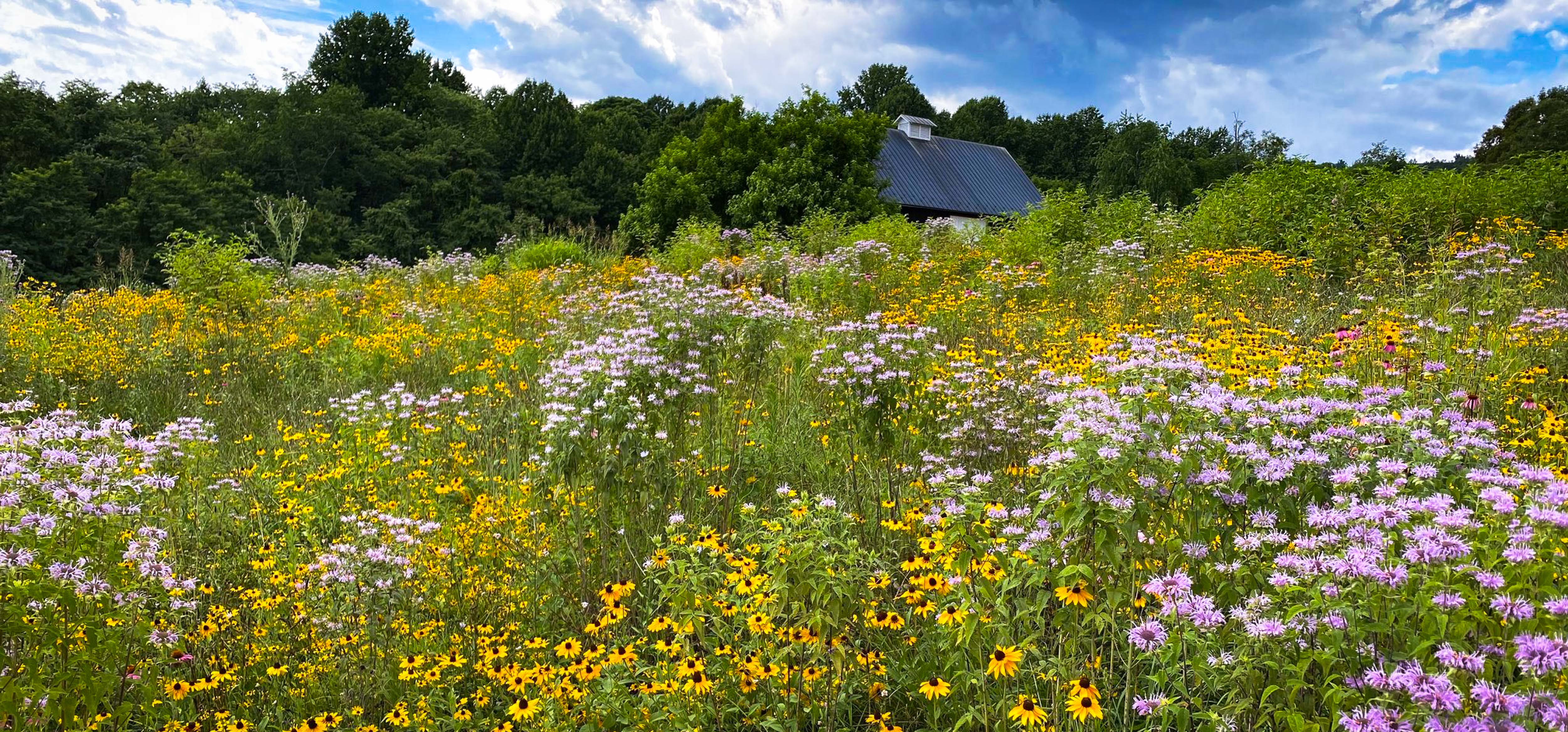 To arrive at our property this time of year is to find yourself surrounded by green: lush pastures, rolling hills, the wooded mountain, and the green rows of Pinot Gris and Chardonnay vines set against the red roof of St. Luke's Church. All of this is visible from the acres dedicated for guests to enjoy our wine, yet this spectacular vista is a sliver of the bigger picture. Our estate stretches across 700 acres, from the forest line atop Carter's Mountain to Jefferson's Monticello to Monroe's Highland home. Since our beginning we have cared deeply for this land, investing in its health and wellbeing well beyond the benefit to our vineyards.
Preserving Our Land & Water

In the 1970's the first generation of Woodward owners, Shirley and Stanley Sr., placed nearly 700 acres under conservation easement in perpetuity, setting the stage for our county to have the third most land conservation in Virginia. With this act, the Woodward's protected our land from future development and inspired others around them to do the same. Our vistas, the beauty of the natural world, and the historic corridor upon which we sit will remain as is for generations to come.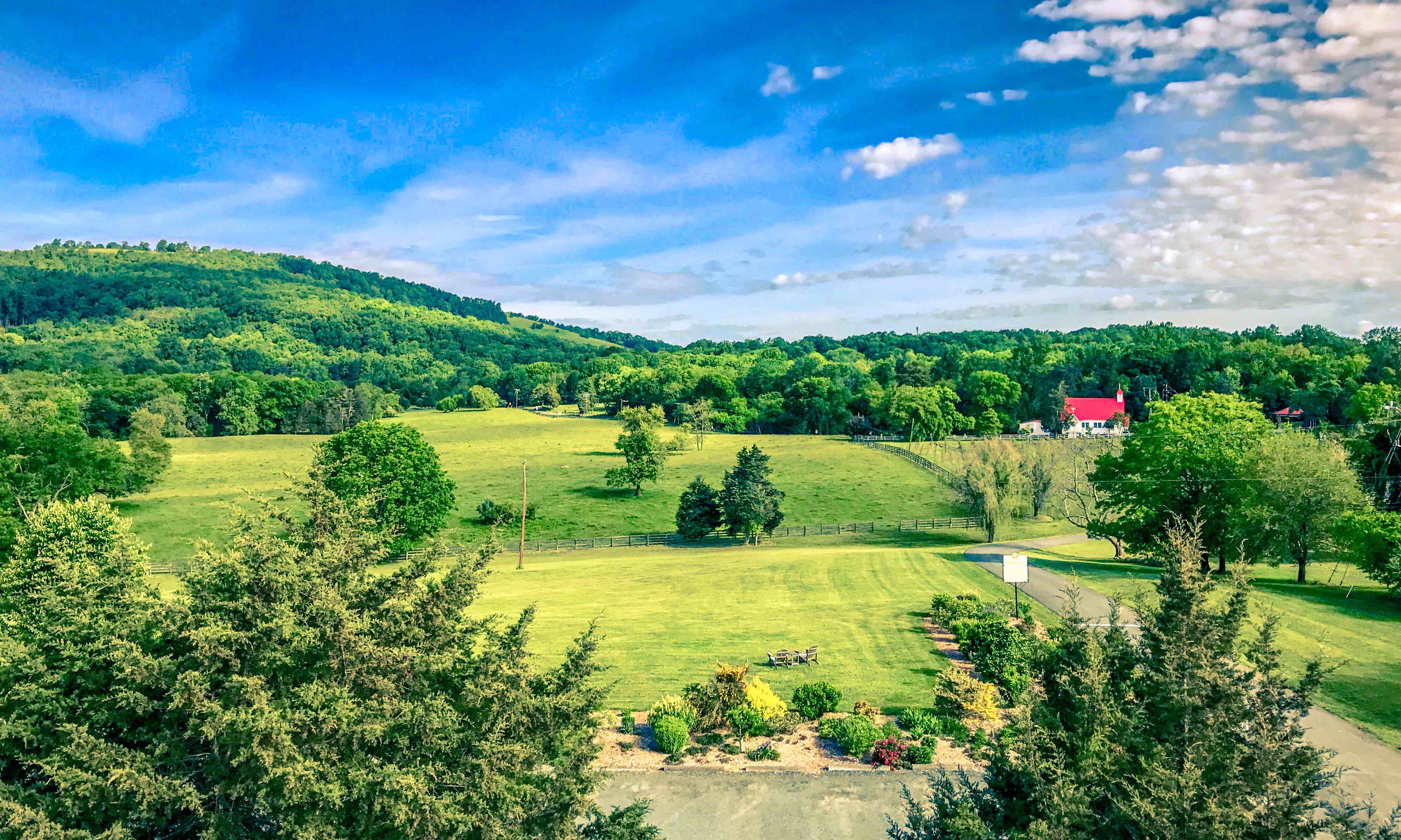 The first Woodward owners made clear their belief that this land and its resources are worth protecting. Each subsequent generation has followed in their footsteps and cared ceaselessly for the property. As we have preserved our land, we have worked to protect waterways from harmful agricultural runoff. The streams and tributaries that pass through our property eventually filter into the Chesapeake Bay, one of the largest estuaries in the United States. We protect these precious resources from our cattle operation by constructing extensive fencing at least 90 feet away from on-property waterways. Though the health of the Chesapeake has improved, we continue to do our part, reducing the impact of our cattle on our waterways as best we can. Most recently, our environmental attention has turned towards our pollinator populations.
Supporting Our Pollinators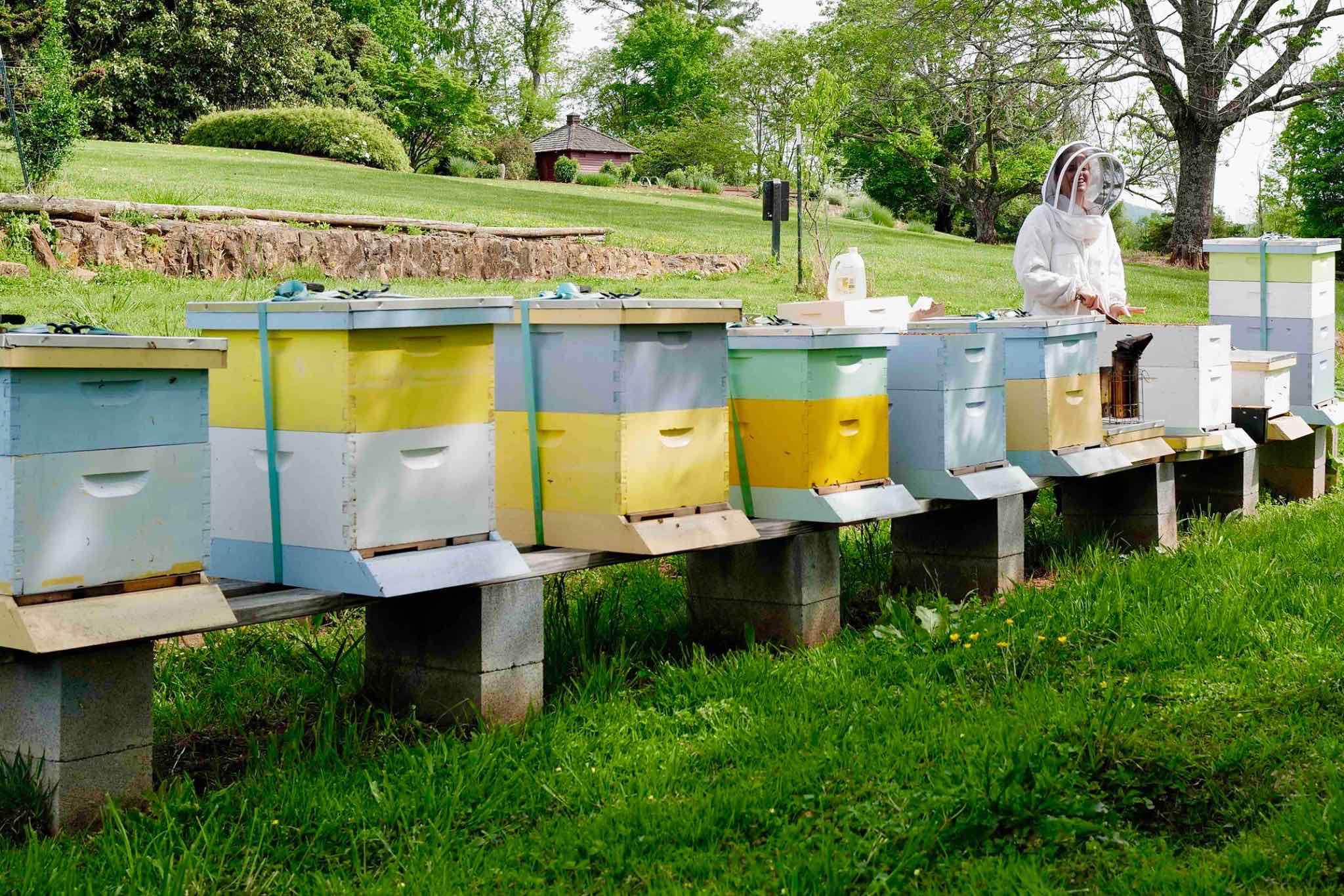 Pollinator populations have been in decline for years – 50% of honey bee hives collapse annually in the United States [1]. This population decrease is a threat not just to pollinators, but to us all. Pollination is critical to the wellbeing of ecosystems and the success of agriculture. Some experts have estimated that about one-third of every bite of food we eat exists thanks to pollinators like bees, butterflies, and other insects [2]. The predominant threat to these precious pollinators is simply the loss of healthy habitat – a problem remedied by ensuring hives are located on healthy land with robust forge and ecosystems. Accordingly, we have tried to provide a home and habitat for these critical creatures.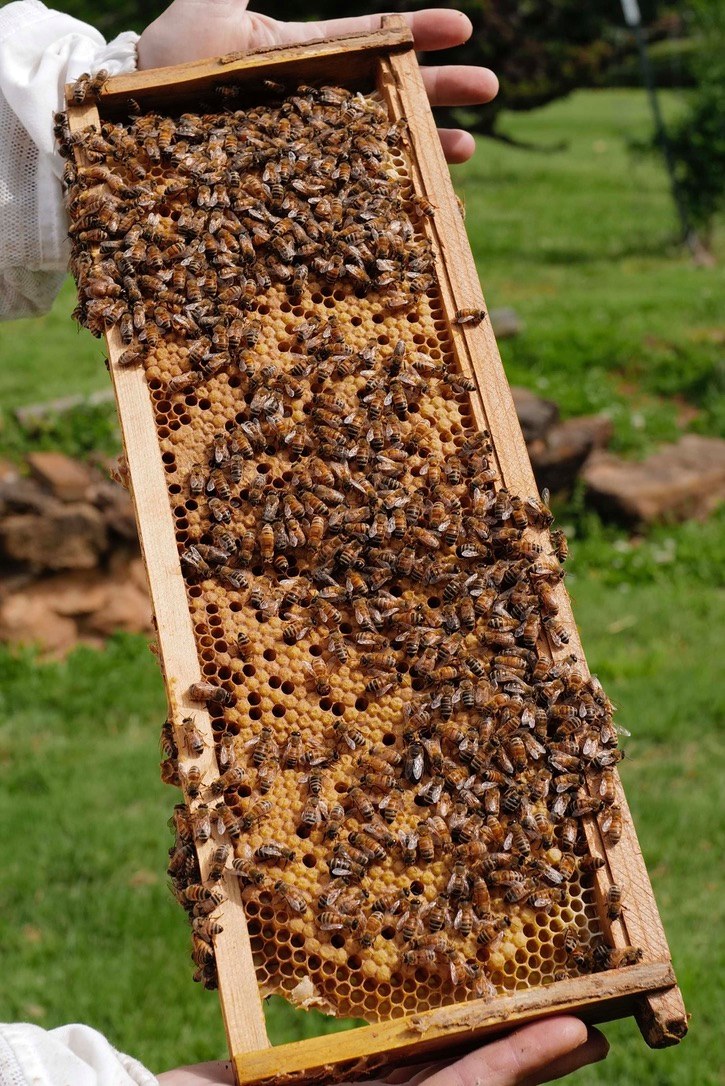 We host ten apiaries on our property to foster honey bee populations. Honey bees are a super-organism, a collective of individuals and generations working selflessly together for the survival of the whole colony. Each of these apiaries safely houses a queen bee and hundreds of thousands of bees, giving them space in which to build their hives and bolster their populations. Beyond a safe haven, we have transformed acres of our property to provide ideal food and habitat. Seven of our acres are now dedicated wildflower meadows. Spread between three distinct plots on our 700 acre property, these meadows are filled with native wildflowers.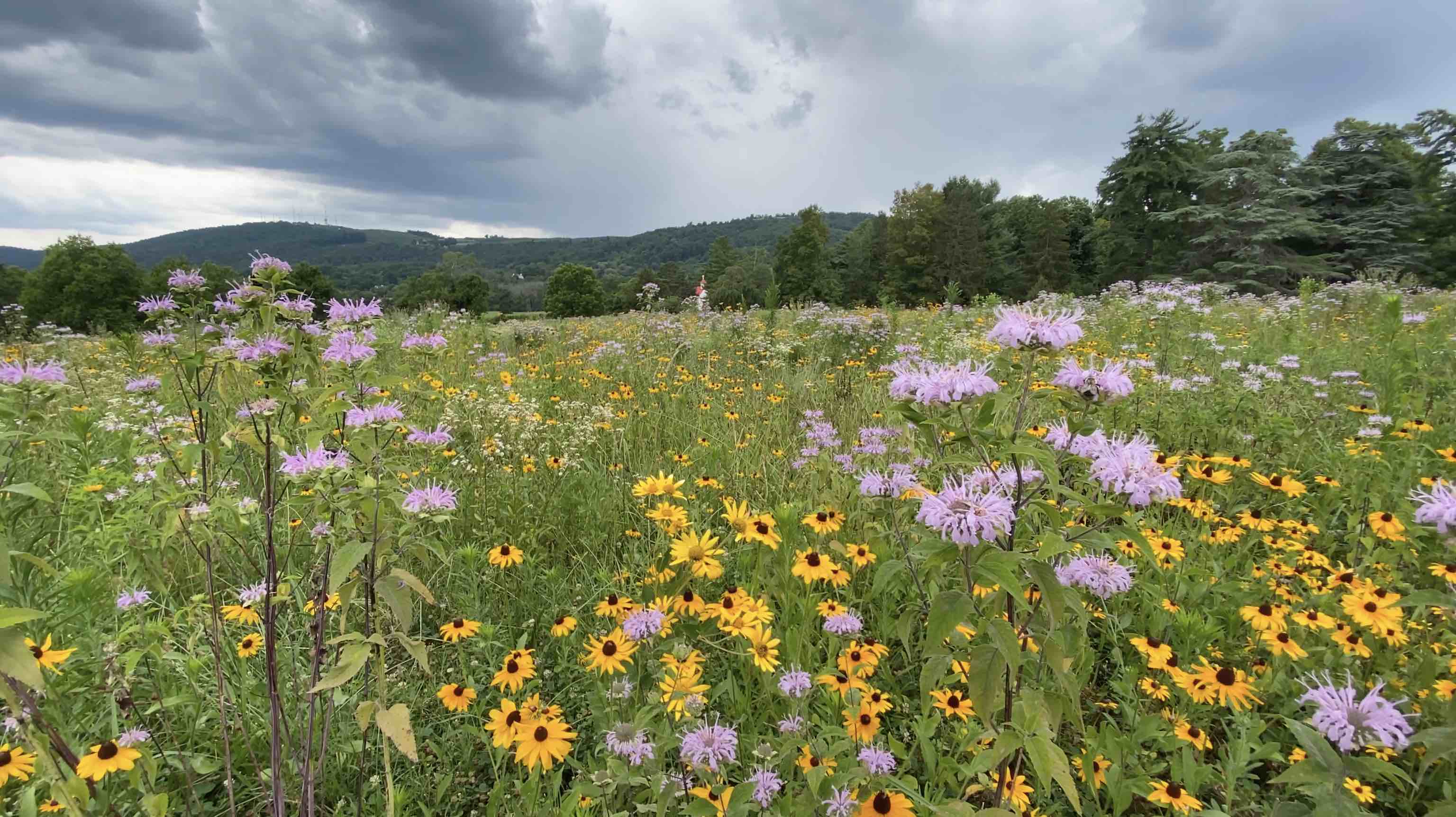 Additionally, in March of 2020, we planted 12,500 Tulip Poplar Trees to bolster critical ecosystem diversity. Unfortunately, many native trees in our area have been replaced by Loblolly Pines as a source of timber. By planting Tulip Poplar trees, we repopulate our land with one of Virginia's largest native tree species. Adult Poplar trees bloom in vibrant color; their large flowers are a near-neon yellow with a halo of orange around its base. Jefferson himself described the Tulip Poplar as "The Juno of our Groves" and planted one at Monticello [3].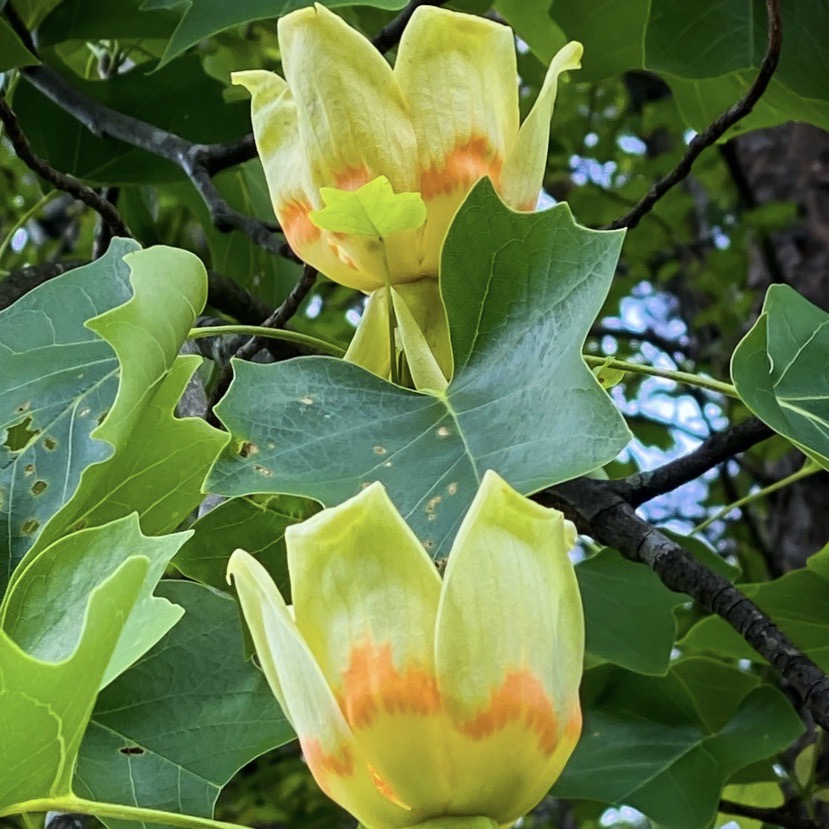 Upon returning their hives after visiting these floral oases, our bees transform the collected pollen into honey. The honey serves as food for the bees to help them survive the winter. We harvest any extra honey as a partner farm of the Elysium Honey Company. Elysium Honey is a local organization dedicated to caring properly for local pollinator populations and sharing the amazing, unaltered honey that comes from these hives. We provide the utmost care for our bees and are thrilled to soon share our first ever, 100% estate honey.
The Gardens You See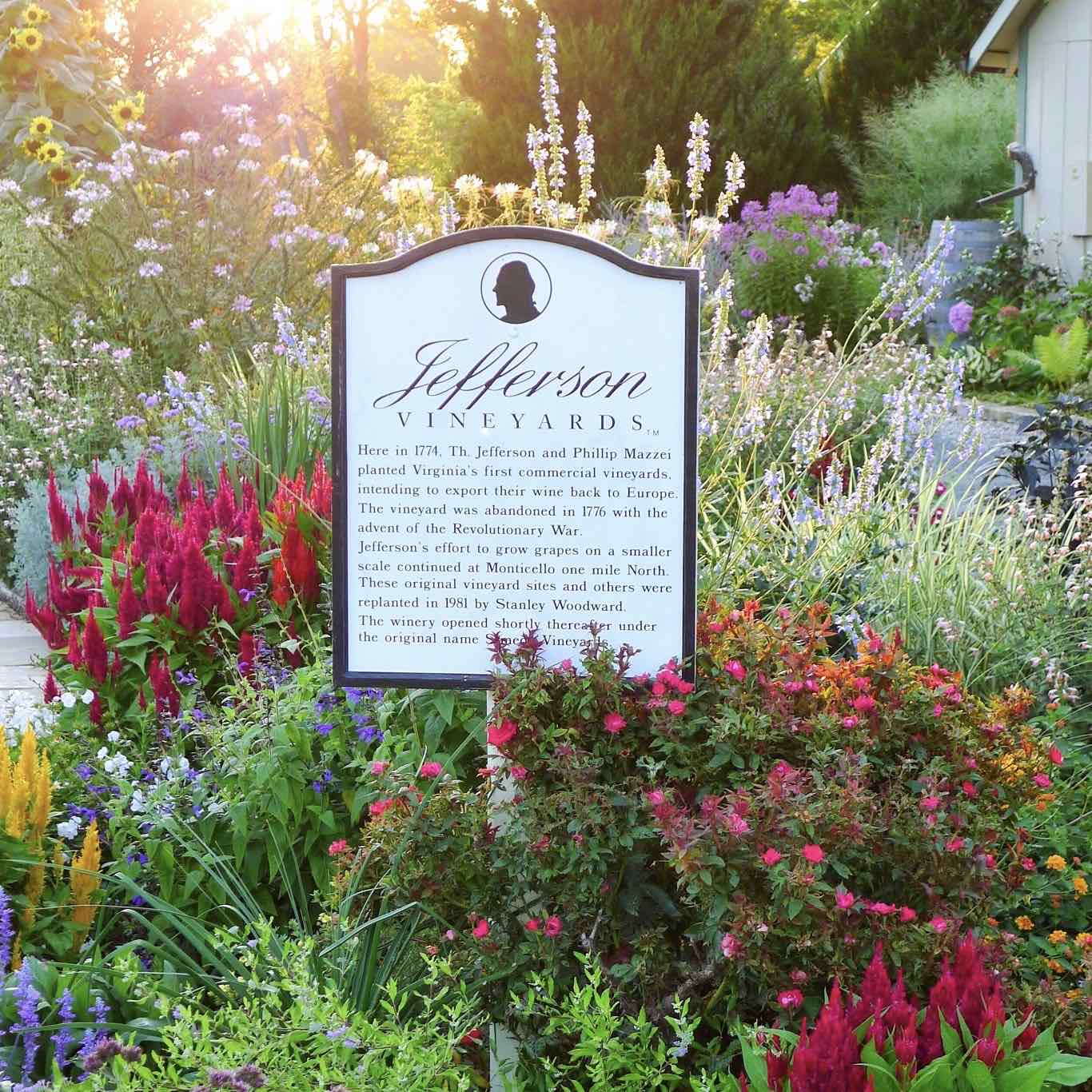 Arriving on our property, you will find yourself surrounded by a sea of lush green in the midst of which bursts our brightly colored English Gardens. Bordering our patio, this Cottage Garden was designed to bloom eight months of the year, attracting butterflies, bees, and more beneficial insects into this ecosystem. These gardens remind us of all that is precious and beautiful about our land, and Virginia. So, as you enjoy your wine in view of the garden's spectacular color think of the Tulip Poplars and wildflower meadows tucked out of sight, know the water that filters through our grounds is being cared for, as are the honeybees that float amongst the flowers.
To further welcome the end of Spring, we've selected wines that best reflect this spectacular season, each fruit-forward and full of floral notes. The Traminette 2019 is our most floral wine, with rose, easter lily and pear on the nose – a bouquet reminiscent of exotic perfume. Our Riesling too greets you with notes of lavender while each of our rosé wines boast berry notes and are themselves a burst of color as bright as Spring. Find each in our Limited Release Shop.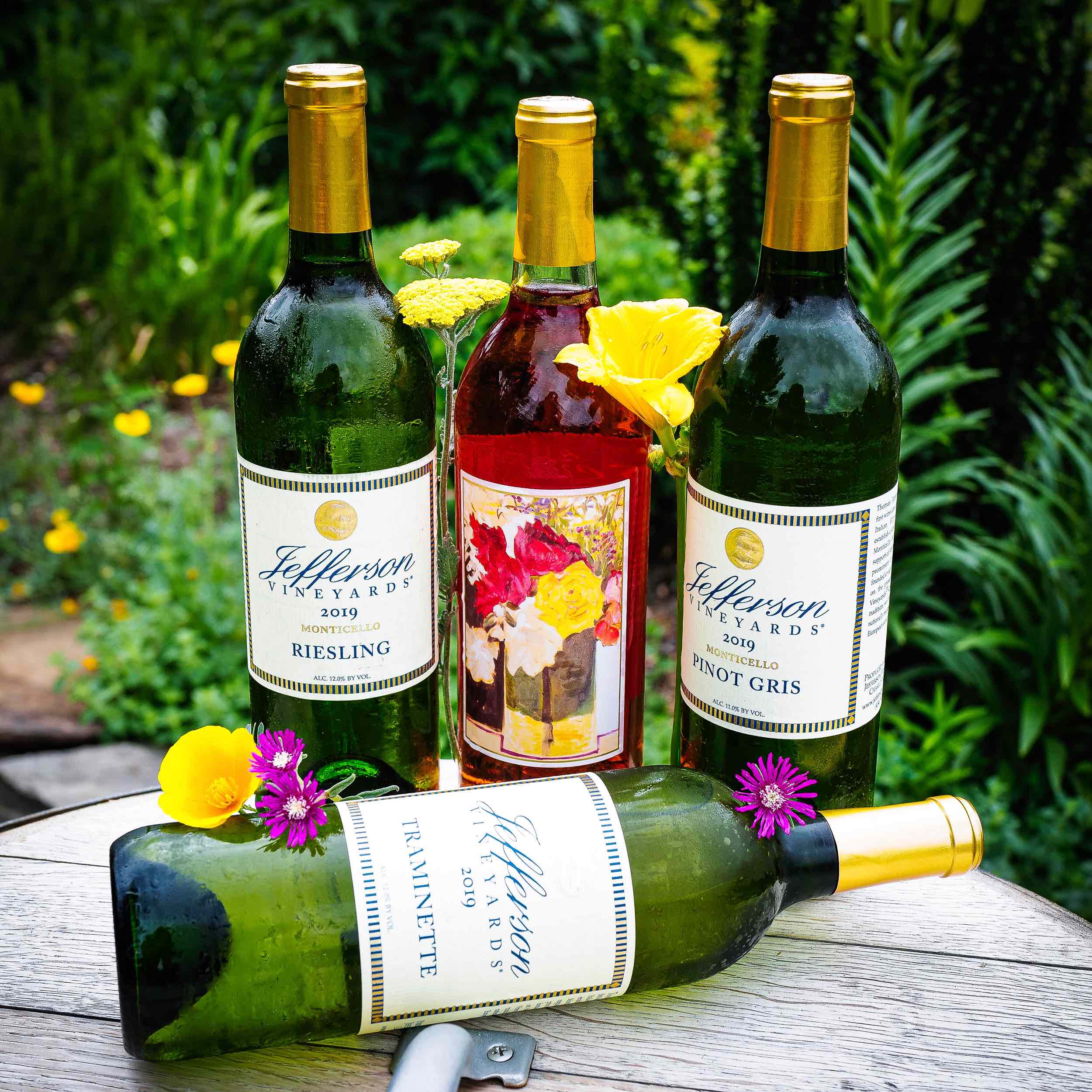 [1] "The Elysium Honey Co." The Elysium Honey Company, www.elysiumhoney.com/.
[2] "Natural Resources Conservation Service - Insects and Pollinators." NRCS, USDA , www.nrcs.usda.gov/wps/portal/nrcs/main/national/plantsanimals/pollinate/.
[3] "Tulip Poplar - Liriodendron Tulipifera." Monticello, The Thomas Jefferson Foundation, www.monticello.org/house-gardens/in-bloom-at-monticello/tulip-poplar/.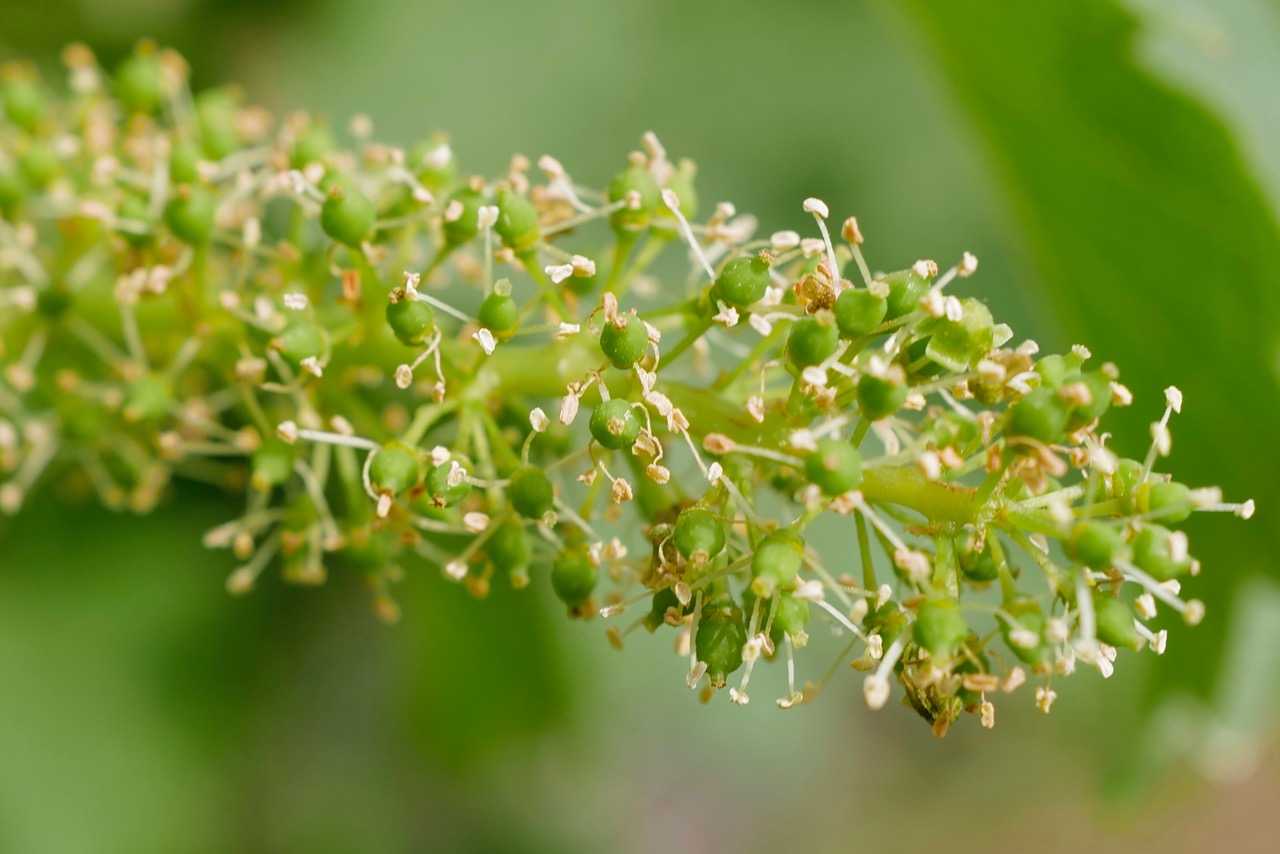 Spring has arrived in full. Now that the threat of frost has passed, a season of spectacular growth has begun. In Mid-April, dormant vines first burst into life during bud break. Now the grapevines enter the critical flowering phase. Miniature green spheres which house the pollen-carrying parts of the flower called "calyptras", or "caps" develop underneath a wild canopy of new leaves. At the vine's discretion, these caps open to reveal a minimalist flower - just a pistil and pollen-carrying stamen. Slowly but surely, the pistil is pollinated and each flower transforms into a tiny green berry which itself becomes fruit - the makings of a wonderful harvest.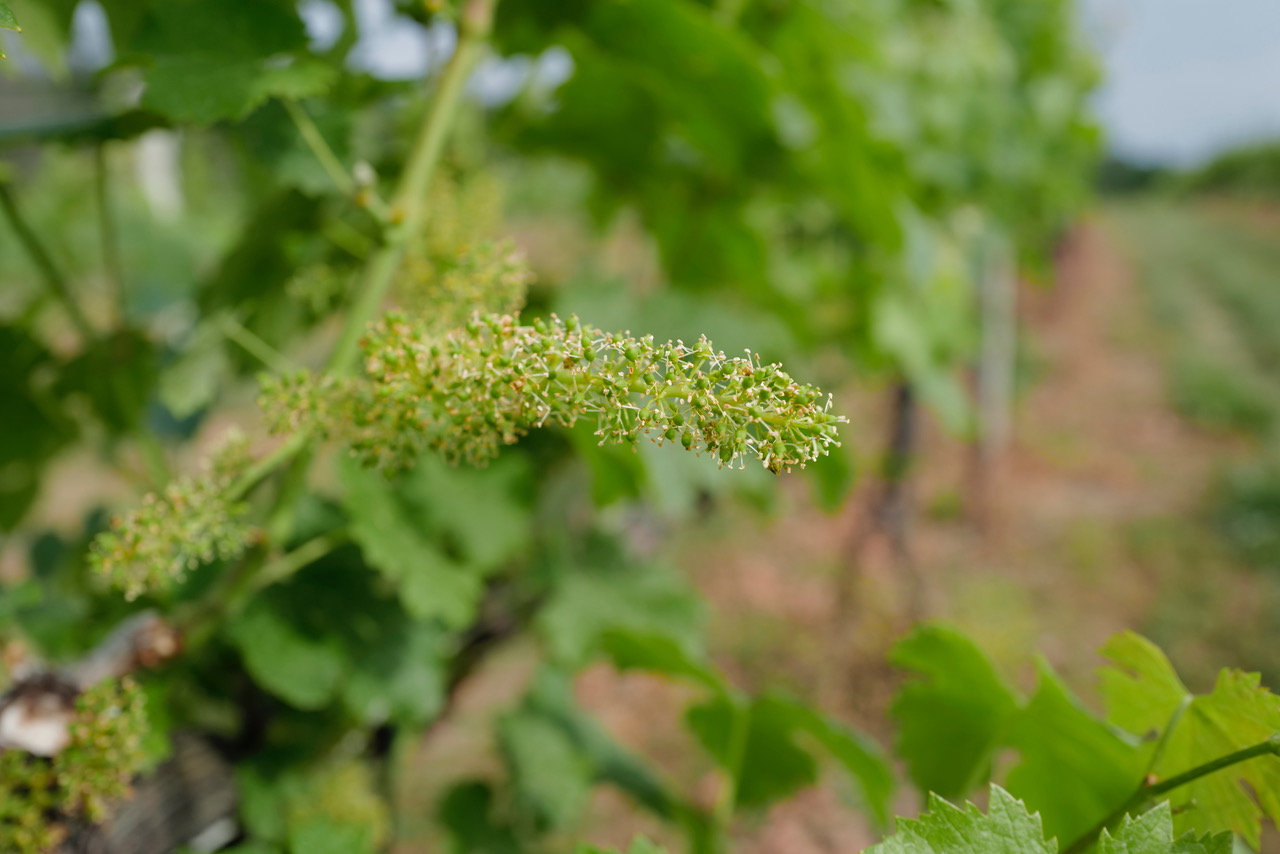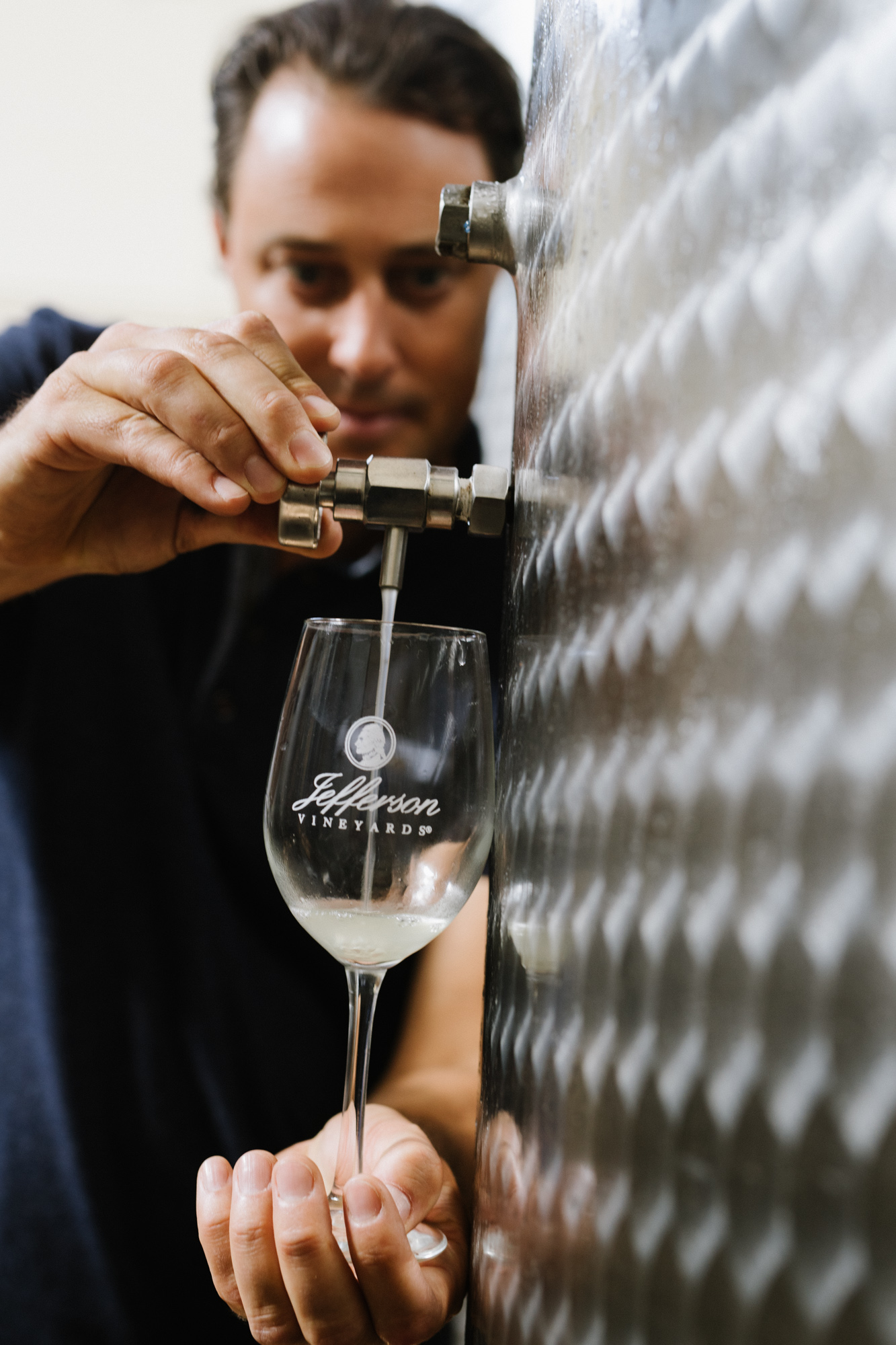 "If you've traveled or lived away from home, you have no doubt discovered the importance of "taste of place". In most cases, climate and culture dictate the ingredients that will be on your plate, or inside your glass. The textures, flavors, and colors of foods in each location are unique because each place is different. Flavors formed by a particular environment and culture. I learned that most acutely while living 14 years in Vietnam. Vietnamese food is beloved by many because of the sheer variety of ingredients and flavors. Culture furthered this delicious cuisine, a blend of Cambodian, French, Chinese, and Vietnamese all mixed into one delightful outcome. The concept of 'taste of place' is equally applicable to wine, but we call it a fancy name - "terroir". Virginia's terroir, and especially our very own terroir, influences the wines we produce. For example, I love how rich and complex our Viognier wines turn out - a true expression of the rich vibrant clay soils and the power of this land. Petit Verdot, with its tannic structure, is equally impressive. I have yet to taste a Viognier or Petit Verdot comparable to what we find here in Virginia. To me, this uniqueness in taste of place is something to be treasured. As we look back at our 40-year wine exploration at Jefferson Vineyards, we hope you will enjoy our 40 year anniversary bundle - an expression of the varietals (Viognier, Petit Verdot and Cabernet Franc) that reflect some of the best of our land. Salud! "
- Attila Woodward, Our Managing Partner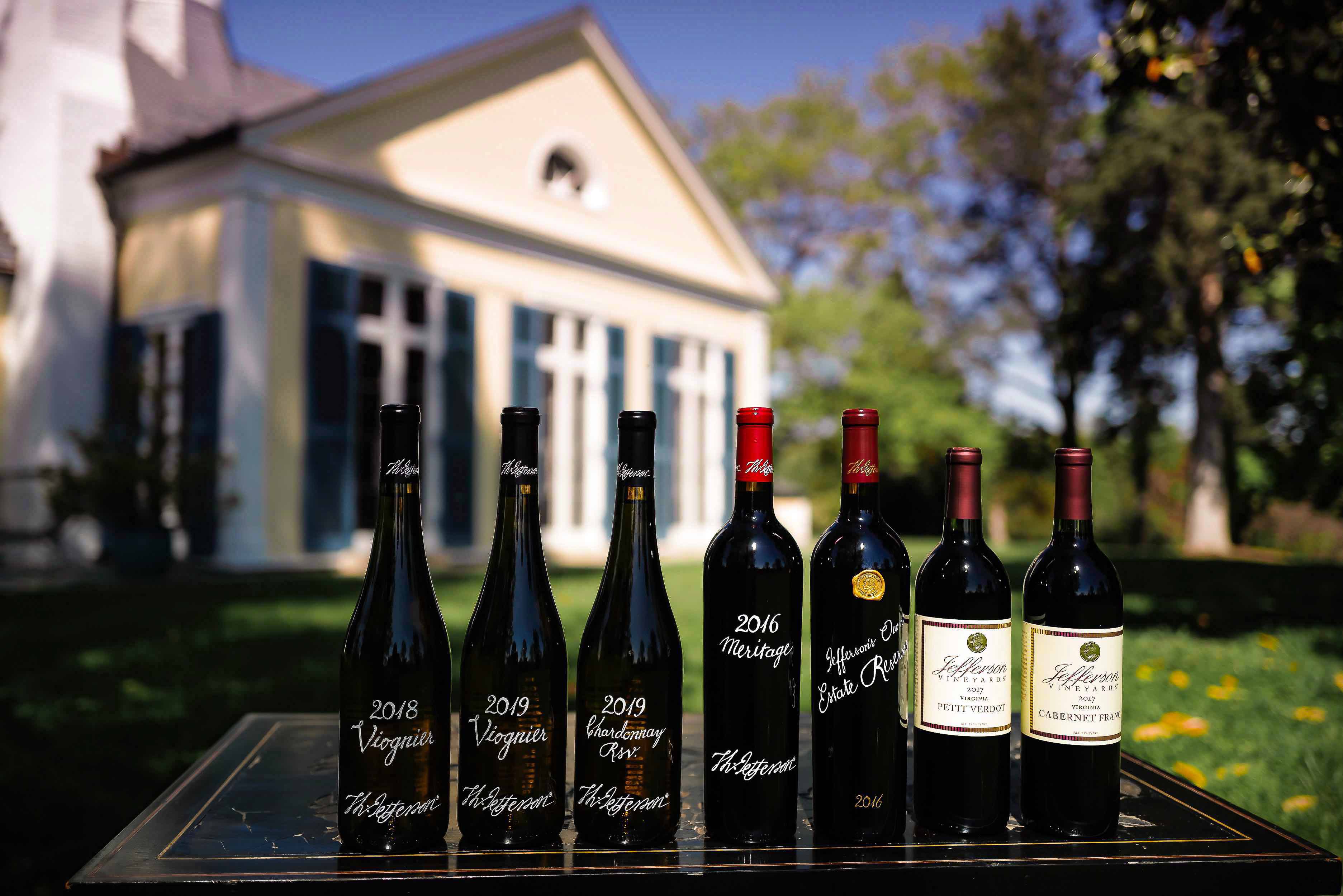 To Thomas Jefferson, wine was a "necessity of life." [1]. In a glass, he seemed to see a benefit to health, to culture, and to society. In his founding vision of our young country, he perceived a place for wine and carved a place for our first commercial viticultural endeavor in Albemarle County. It is on that same land that our forty-year legacy continuing Jefferson's vision began.
The Founding Vision
In 1773, convinced by Benjamin Franklin and sponsored by Thomas Adams, a friend of Jefferson's, prominent Italian viticulturalist, Philip Mazzei, arrived in Virginia.[2] Mazzei shared Jefferson's vision of planting vines and bringing to the new world the centuries old viticultural tradition. On his way to land promised to him, he and Thomas Adams paid a visit to Monticello. Without hesitation, Jefferson persuaded Mazzei to conduct his agricultural endeavors not on the separate tracts of land promised to him, but as his neighbor. Jefferson offered Mazzei land adjacent to his own, land that is a part of our present-day property, just south of Monticello.[3]
One year later, Mazzei established a commercial agricultural company for "the purpose of raising and making wine, oil, agruminous plants and silk" with the support of 38 shareholders including George Washington and Thomas Jefferson himself.[4] Mazzei was taken with his land, later exclaiming "In my opinion, when the country is populated in proportion to its extent, the best wine in the world will be made here…I do not believe that nature is so favorable to growing vines in any country as this."[5] Mazzei was deeply moved by American politics, he declared himself a patriot and first suggested the famous words "All men are created equal".[6] Though his precious vines were later trampled by the horses of a Hessian General, Mazzei anticipated the success of Virginia wine and supported Jefferson's own viticultural vision for the new world.[7]
Pioneers in Virginia Wine
Centuries later, Shirley and Stanley Woodward Sr. saw the same viticultural potential in the land. The Woodwards purchased the Colle property on the advice of their close friends, Major General "Pa" Watson and Mrs. Watson, whose own nearby Kenwood home was frequently visited by President F.D. Roosevelt. The Woodwards commissioned Franklin Delano Roosevelt's distant cousin to construct their house atop of the foundation of Mazzei's original home. There, the couple entertained a range of friends, family, and dignitaries. On numerous occasions, they hosted President Harry S. Truman, the first of which coincided with the Roswell UFO incident.
Having lived in Paris, Stanley Woodward was passionate about European wines, like Jefferson. At each of the Woodward's gatherings, a bottle of wine stood at the center of the table, a centerpiece around which colorful conversations took place. To share wines crafted from their historic land with their guests, Stanley and Shirley Woodward Sr. hired Gabriele Rausse. Like Mazzei, Rausse came to Virginia from Italy and brought with him rich viticultural expertise, and revived Jefferson's viticultural vision.
Having previously played a critical role in instituting Barboursville Vineyards, Rausse became our first winemaker. In 1981, he planted European grapes such as Chardonnay and Cabernet Sauvignon. Rausse himself came to be regarded as the Father of Virginian wine. Virginia was in its infancy as a growing region; there existed no expertise to reference as Rausse experimented with varietals and the Woodwards continued to invest in the vineyards. Only a handful of other wineries existed in the region at the time and success followed after a tedious process of trial, error, resilience, and impassioned perseverance. Yet, the Woodwards and Rausse saw in the land the same potential Mazzei recognized. As pioneers in Virginian wine, the Woodwards strove to provide a home for Virginia's early wine talent.
Incubators of Talent
In 1993, the second generation of Woodwards, Marie Jose and Stanely Jr., took the reins and committed themselves to elevate the characteristics of our wine. Following Rausse, the Woodwards recruited Michael Shaps to Virginia. Shaps greatly advanced the quality of our wine and is now a renowned figure in the present-day Virginia wine industry. The French Frantz Ventre followed Shaps, and created intricate nonfiltered wines that aged beautifully. In their last decade at the vineyards, they hired Andy Reagan. Reagan furthered the quality of our red wines and garnered much acclaim.
In 2013, the third generation of Woodwards came to the helm of Jefferson Vineyards, and with them came a new winemaker. Chris Ritzcovan continued the legacy of merit set by the talents before him. With his expertise, our Viognier program in particular shines as an emblem of consistency and excellence. With each winemaker and every vintage came an opportunity to advance our craftsmanship, to continue in Jefferson's viticultural vision, and to propel forward the reputation of Virginia as a wine destination.
Our Place
Tucked between Jefferson's Monticello and Monroe's Highland, our land first defined our story. Here, Mazzei began his early attempt to realize Jefferson's viticultural dream. It is this same land that attracted Shirley and Stanley Woodward and inspired them to create European wines like those which so enamored Jefferson. It is to this land that we today welcome our patrons and on which we strive to produce high-quality wine.
Though our visitors see only a small fraction of our property, our estate span 700 acres nestled between Carter Mountain and two presidential homes. The Woodwards began caring for this historic land before we made our first wine, placing nearly 700 acres of land under conservation easement in perpetuity to protect it from development for generations to come. We have invested in the health of our land and its inhabitants, from caring for our orchards and vineyards by hand, to the eight acres of wildflowers planted to support pollinators, and to the 12,500 tulip poplar trees planted to improve the health of our ecosystem.
Just as we have cared for the land, we are investing the care for our community. In celebration of our 40th Anniversary, Jefferson Vineyards has partnered with the Blue Ridge Area Food Bank and committed to a donation capable of funding approximately 48,000 meals across the Thomas Jefferson service area.
A Toast to Forty Years
We have faced trials and tribulations over our forty-year heritage, but none have been so great as to deter us from pursuing Thomas Jefferson's viticultural dream on the land it was first attempted. Here, we drew inspiration from the efforts of Philip Mazzei and Thomas Jefferson to create a legacy establishing and advancing the reputation of Virginian wine. Our Viognier and Petit Verdot programs continue in this pursuit.
Over the course of these four decades, we have expanded and experimented with a range of wines in a ceaseless effort to share with our patrons the best expressions of our craft. We have created a broad range of traditional wines and experimented with unique grape varieties and production techniques. In every glass we have tasted and every bottle we have shared, we continue in our founding legacy and find endless reason to continue forward.
To celebrate our 40th Anniversary and all we have accomplished together, we are revealing the rich details of our history and craftsmanship by opening our cellars to offer monthly limited vintage releases. Additionally, we will share the details of our story and the wines that have defined us over the decades through our blog.
We thank our patrons and the Virginia wine industry for their ceaseless support. Please join us as we raise a glass to the years to come - the bright future ahead for Virginia, its wine, and us all.
[1] Thomas Jefferson memorial association of the United States, et al. The Writings of Thomas Jefferson. Definitive ed. / Washington, D.C.: Issued under the auspices of the Thomas Jefferson memorial association of the United States, 1905
[2] Marchione, Life and Wanderings, 184-87, 202, 203
[3] From Thomas Jefferson to James Strange, 18 September 1806," Founders Online, National Archives, https://founders.archives.gov/documents/Jefferson/99-01-02-4291.
[4]"Plan of Philip Mazzei's Agricultural Company, 1774," Founders Online, National Archives, https://founders.archives.gov/documents/Jefferson/01-01-02-0096.
[5] Sacalia, S. Eugene. "Chapter 16: Albemarle County – 1773 – 1779, Wild Grapes." Philip Mazzei: My Life & Wanderings, edited by Margherita Marchione, by Philip Mazzei, American Institute of Italian Studies, 1980 pp 212.
[6] United States, Congress, Cong. House – Post Office and Civil Service. Designating October 1993 and October 1994 as "Italian-American Heritage and Culture Mont, 1994. 103rd Congress, 2nd Session, Bill H.J.Res.175, 1994.
[7] Jefferson to Albert Gallatin, January 25, 1793, in PTJ, 25:92. Transcription available at Founders Online.