September 7, 2021 | 40th Anniversary, Monthly Specials | Anabelle Nuelle
The Wonderful World of Cabernet Franc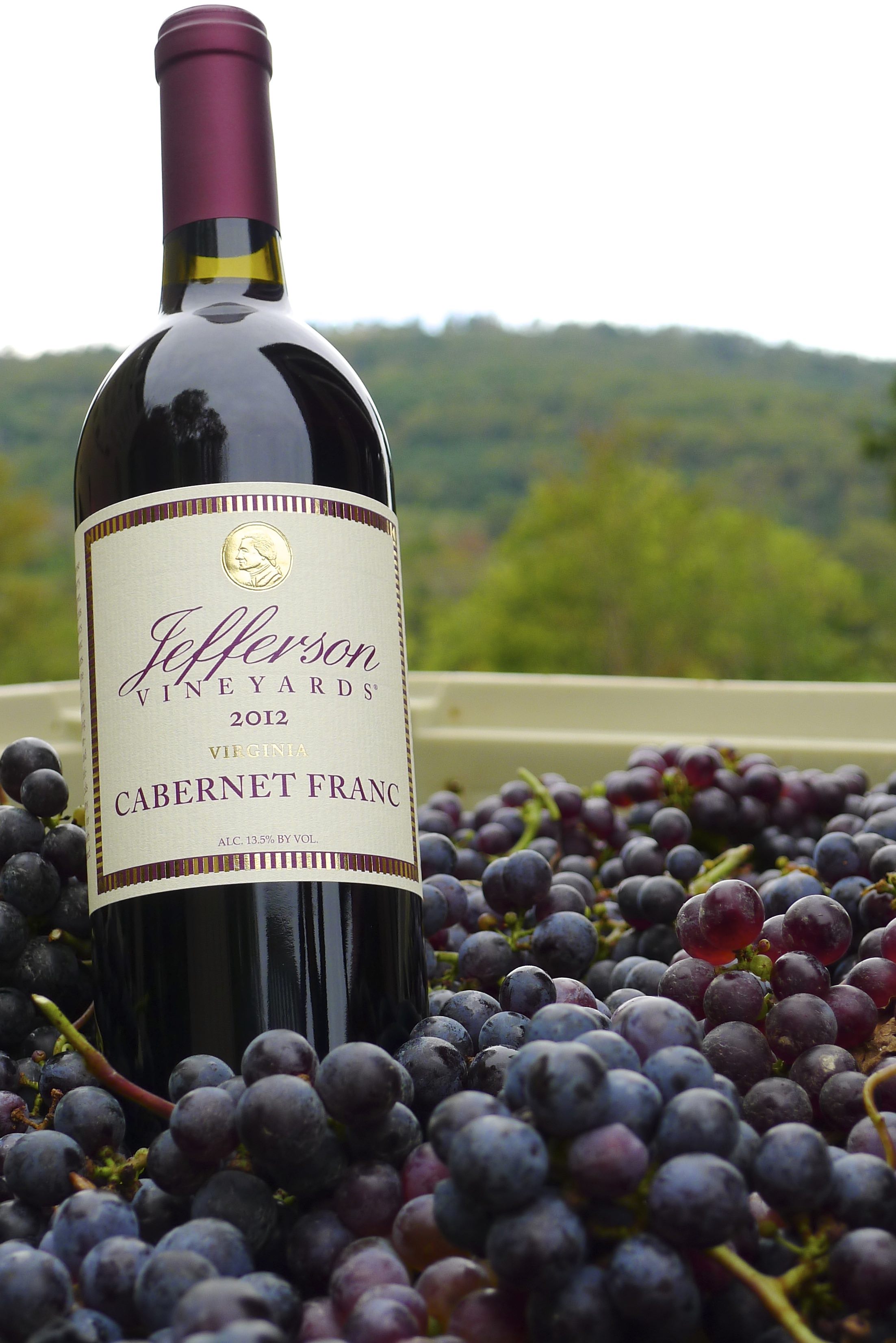 Finally, it begins. After a year of patience, a year of care, monitoring every vine, every cluster of new fruit, a year spent optimistically, expectantly - it begins again. Harvest, and with it, the start of a new vintage.
For the entirety of each year, we turned our attention to our vines. We hold our breath with every drastic turn of the weather – from Winter's coldest nights to Spring's heaviest rainfalls, and Summer's blistering heat. For months, our team busied themselves cutting away rogue shoots and training the remainder to grow up towards the sky. We manually pulled leaf by leaf from the vines, regulating how much light reaches the growing fruit and ensuring air will flow freely through the trellised vines. Hundreds of hours spent between the neat vineyard rows, spent in every season, taking notes on the vines' response to the heat, humidity, and parched earth, waiting to arrive, finally in Fall.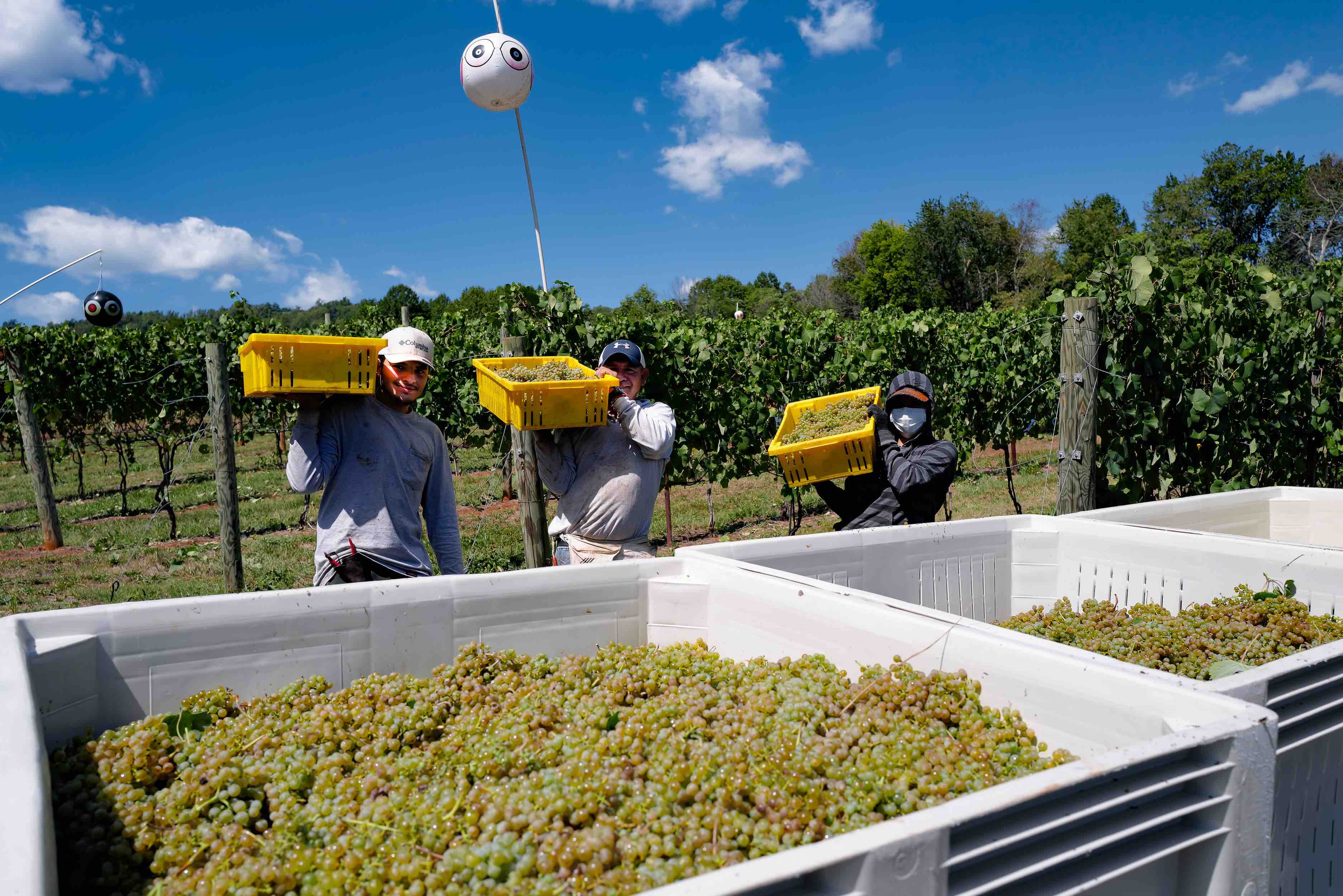 We began by harvesting the white varietals, the earliest to break bud, and which, in late August are first ready to be harvested. Pinot Gris and Chardonnay, alongside the Riesling and Viognier, mature most quickly, reaching the optimal brix levels (a measure of the fruit's sugar). Day by day our team tests and records the fruits' progression until now, when all indicate the best time to begin collecting fruit. Then, in September's shortened days, the first of our red wines reach optimal maturity. It is at that time when we begin harvesting Cabernet Franc.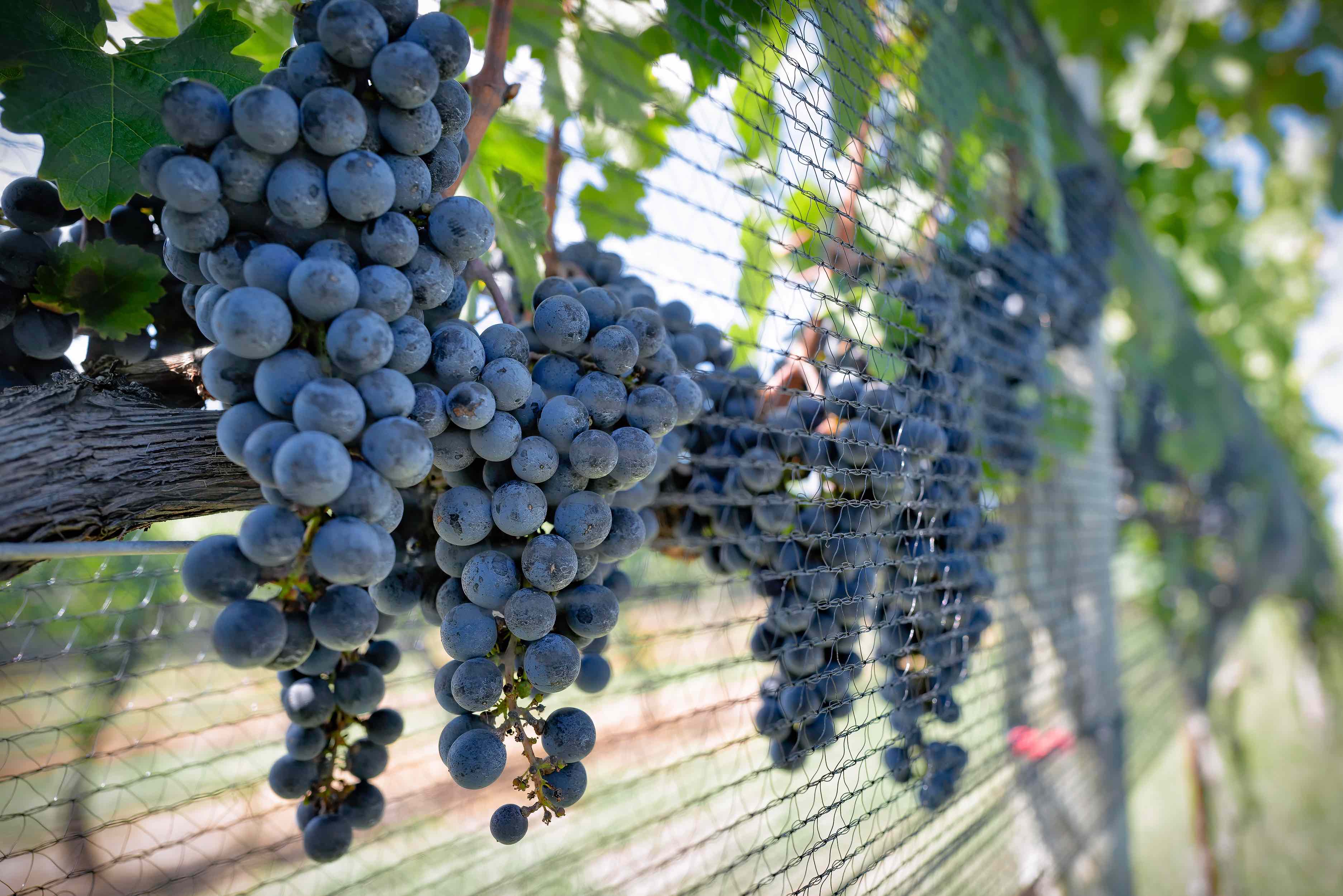 Cabernet Franc is an ancient varietal, the parent grape to the much-beloved Merlot and Cabernet Sauvignon varietals as well as the unique Carmenère grape. Hailing from France's illustrious Bordeaux growing region, each of these grapes boasts bright red fruit flavors and supple tannins much like their Cabernet Franc parent. Merlot, Cabernet Sauvignon, and Cabernet Franc comprise what is known as the 'Bordeaux Blend'. Borrowed from the same region in which these grapes originated, the Bordeaux Blend is primarily composed of Cabernet Sauvignon, Merlot, and Cabernet Franc, with smaller percentages of Petit Verdot, Carmenère, and Malbec. [1, 2] Though the percentages of each will vary from place to place and winemaker to winemaker, the blend itself is as renowned as its founding region.
Medium-bodied with strawberry, raspberry, and even bell pepper, the robust Cabernet Franc grape gowns amenably in a range of climates. In each, different flavors arise. In cold climates, the varietal's sharp, tart flavors come forward and its acidity becomes more pronounced. In warmer climates the varietal's sweeter side arises, sweet strawberry and dried fruit flavors become more pronounced. Cabernet Franc grows well in so many regions due, in part, to a group of compounds called methoxypyrazines. A naturally-occurring pest deterrent, methoxypyrazines create a pepper flavor in the wine. This flavor too will change with climate but is most frequently described as bell pepper. [3]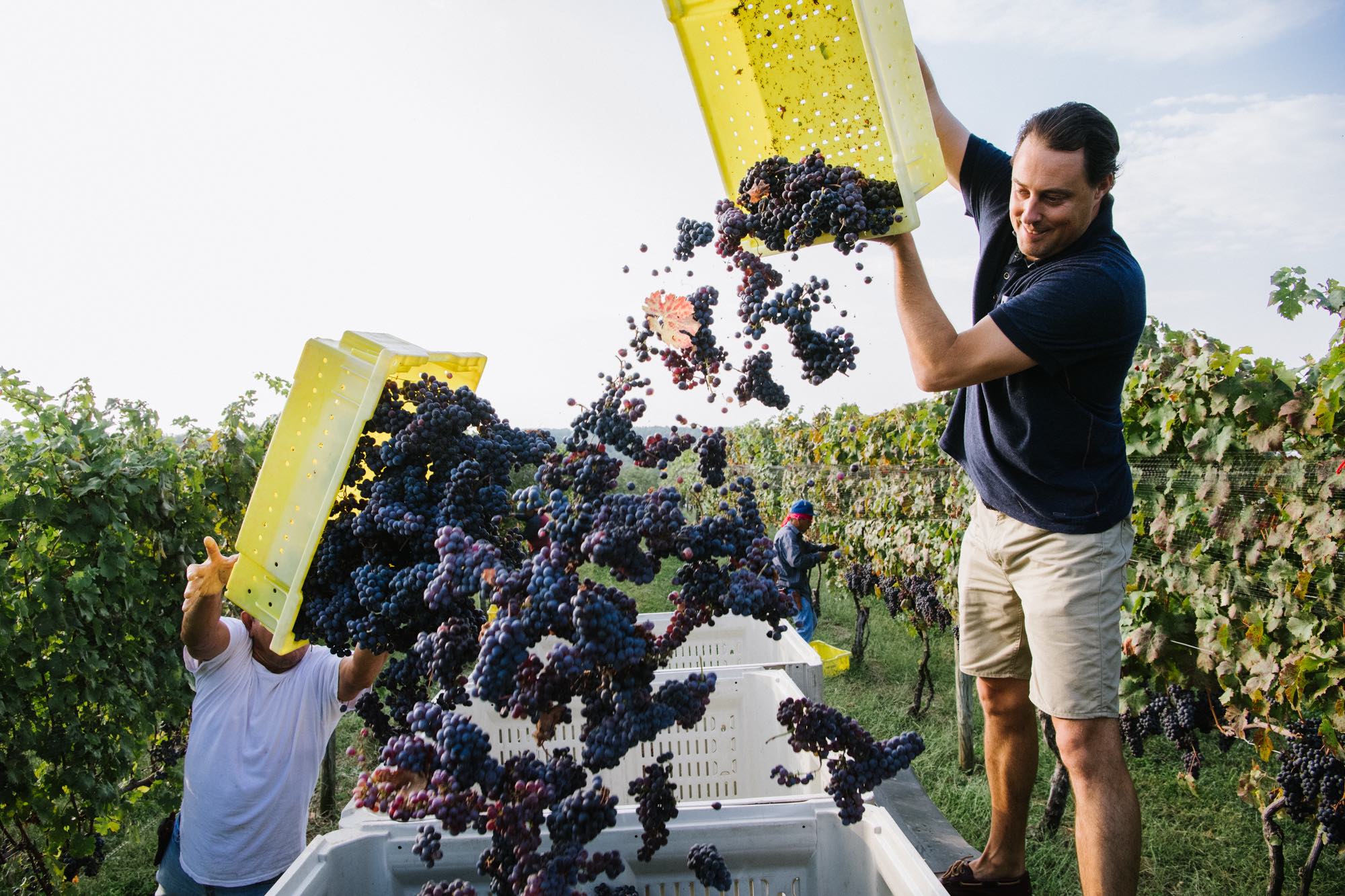 Cabernet Franc flourishes in our vineyards and across Virginia. We presently grow our Cabernet Franc in our Apple Vineyards where they are protected from the afternoon heat and their acidity is better preserved. We supplement our vineyard's fruit with Cabernet Franc from Silver Creek vineyards located 40 miles down the road to protect against the unpreventable and offer diverse Cabernet Franc flavors. Yet, Jefferson Vineyard's history with Cabernet Franc is nearly as old as we are. We first planted Cabernet Franc decades ago. Ever since, it has been a darling of our portfolio.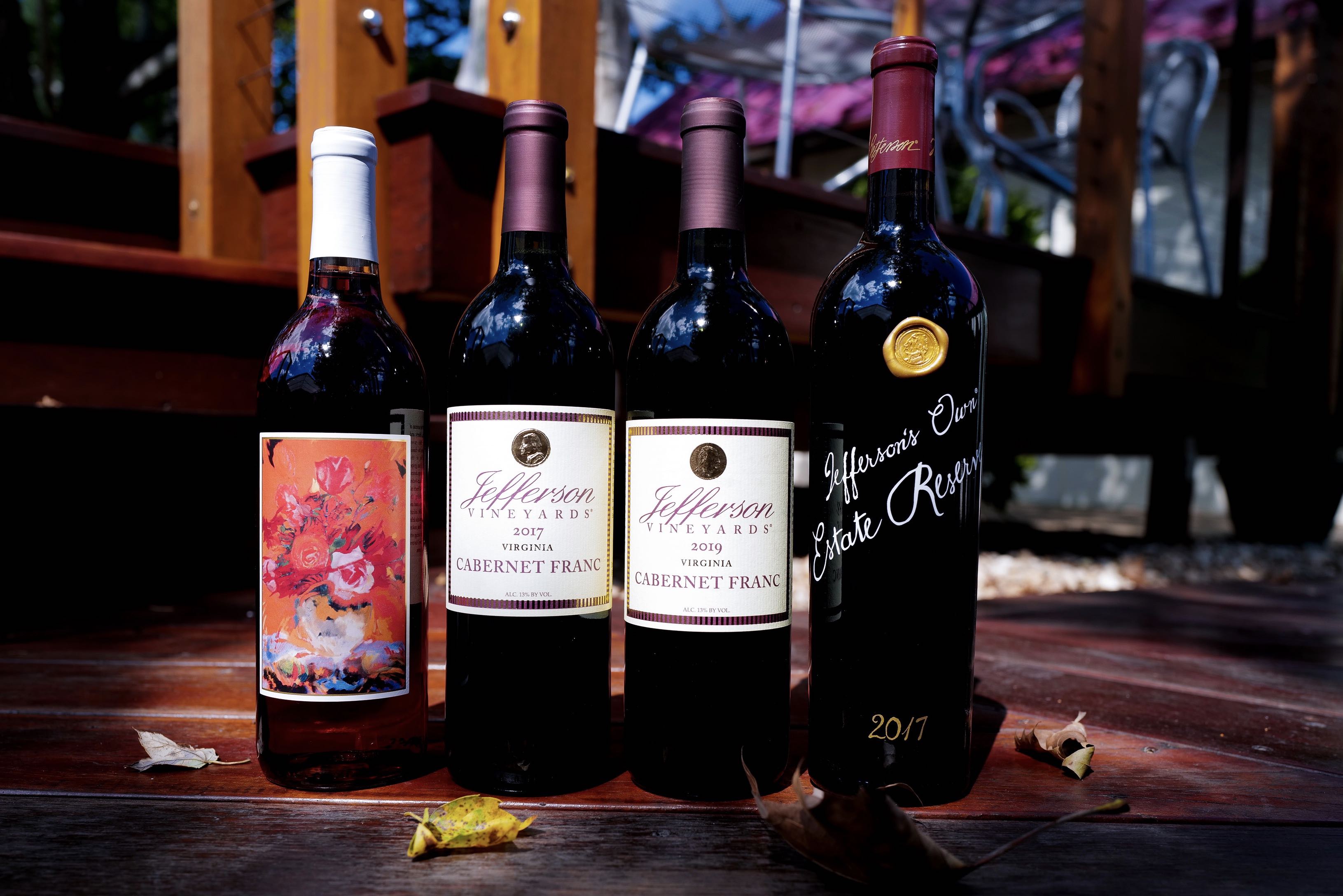 Our most recent 2019 vintage opens with aromas of dark cherry, vanilla, and floral components, before cherry and blackberry on the palate. With medium tannins and balanced acidity with a smooth finish, this wine was awarded Gold in the 2021 Virginia Governor's Cup. But our Cabernet Franc offerings don't stop there. To celebrate this robust, historic grape and its many flavors, we've collected our best Cabernet Francs in this month's Featured Wines. There you'll find our 2019 vintage as well as our highly awarded 2017 Cabernet Franc. In this vintage, aromas of dark cherry and cedar mingle with luscious dark fruits and balanced acidity on the palate before flavors of vanilla, and light pepper in the finish complements its soft palate. Should you prefer big, bold reds, you'll also find our 2017 Estate Reserve. Comprised 52% of Petit Verdot and 48% of Cabernet Franc, this wine showcases Cabernet Franc's strengths as a blending grape. With oak and spice on the nose, a strong acidity on the palate with black tea flavors before a fruit-forward finish, and balanced tannins, this bold wine is worth saving. To experience our Cabernet Franc in a totally new light, enjoy our Off Dry 2018 Rosé with pomegranate on the nose, ripe cherry, and juicy berry on the palate before a semi-sweet finish with a hint of tannin.
Our eager anticipation for Harvest, the beginning of a new vintage, calls into sharp contrast the legacy of this ancient grape. From its roots in Bordeaux, as the parent to many of the world's favorite varietals, Cabernet Franc has found a happy home here, in Virginia's Albemarle County. Find iterations of Cabernet Franc of harvests of past in our Featured Wines selection, and enjoy the range of flavors and wines crafted from Virginia's own Cabernet Franc as we look ahead to a new vintage.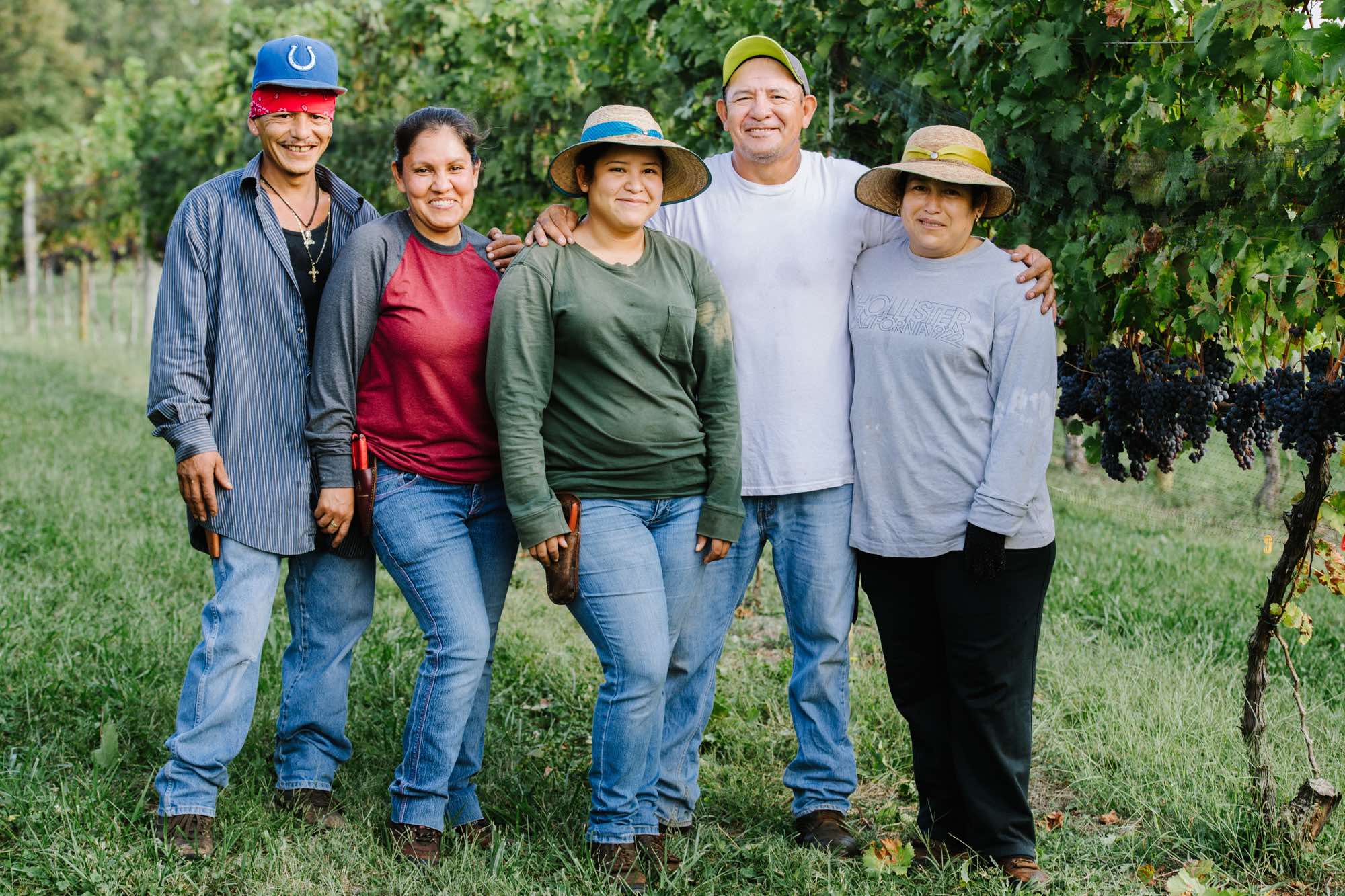 [1] Chris Mercer March 6, and Chris Mercer. "What Is a Bordeaux Blend? Ask Decanter." Decanter, 9 Mar. 2020, www.decanter.com/learn/advice/what-is-in-a-bordeaux-blend 51789/#:~:text=A%20Bordeaux%20red%20blend%20usually,Blanc%2C%20Sauvignon%20Gris%20and%20Muscadelle.
[2] "What Grape Varieties Make up a Bordeaux Blend?" Wine Folly, 14 Apr. 2017, winefolly.com/deep-dive/what-grape-varieties-make-up-a-bordeaux-blend/.
[3] "Cabernet Franc." Wine Folly, 12 Sept. 2018, https://winefolly.com/grapes/cabernet-franc/.
Comments
Commenting has been turned off.