Jefferson Vineyards Wine Blog
---
---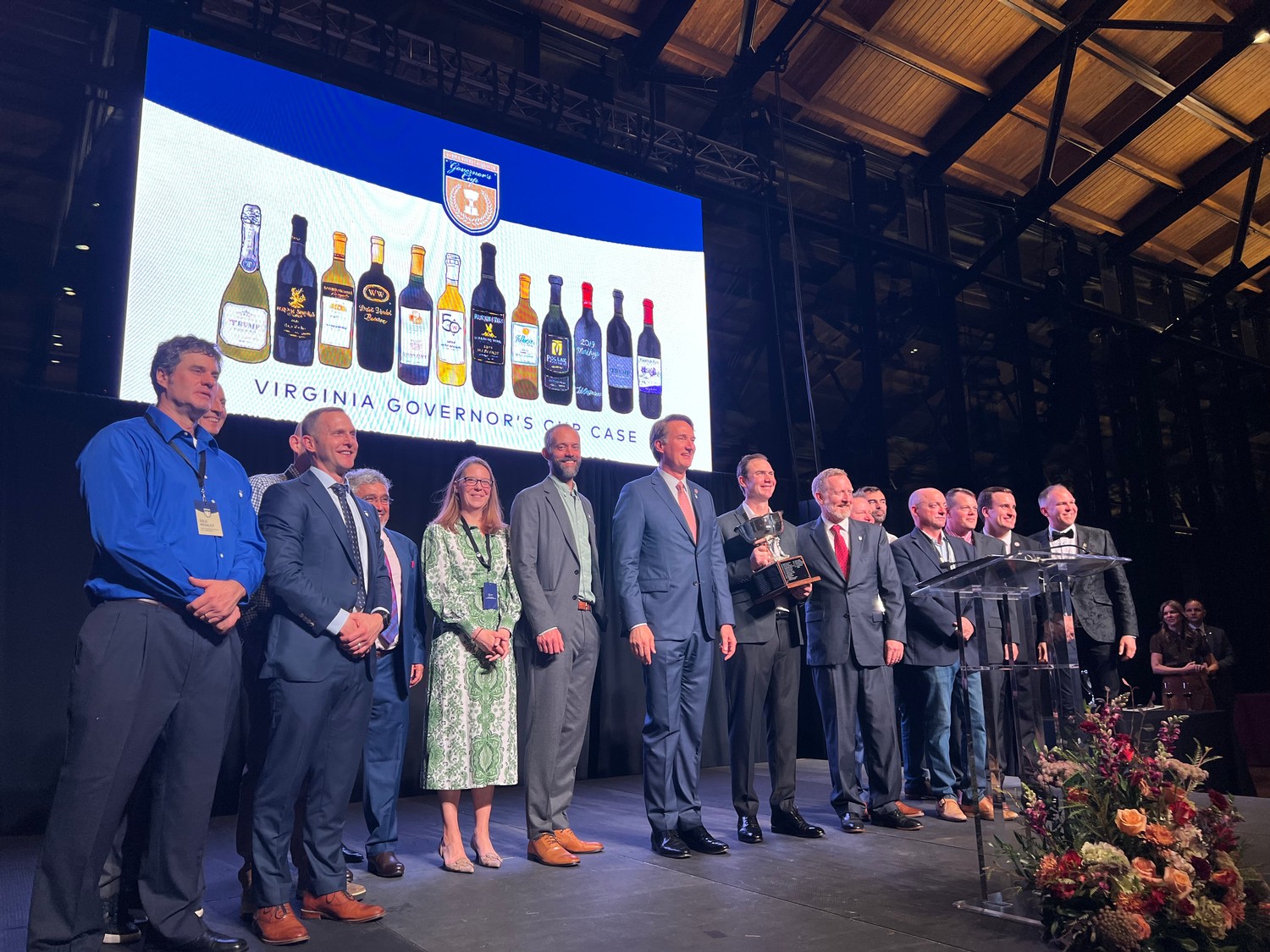 We are deeply honored and humbled to have been recognized with two of the top twelve wines in this year's Virginia Governor's Cup competition! February 23rd, at the Virginia Governor's Cup Gala in Richmond, our 2019 Meritage and 2021 Petit Manseng won gold medals and made it into the Governor's Cup Case.
As well, we received two other gold medals for our 2019 Petit Verdot Reserve "Upper Vineyard" and 2019 Petit Verdot Reserve. That's four total gold medals with two being in the Governor's Case!
What a spectacular night and an amazing accomplishment!!
Every year Virginia wineries enter this prestigious competition vying for the coveted Governor's Cup (the top wine in the state). This year 614 wines were entered, and 142 gold medals were awarded. Within the 142 golds, twelve were selected to be in the Governor's Case and one of those received the prestigious Governor's Cup.
The tradition and elegance of Meritage continues with our 2019 vintage. This Bordeaux style wine is a blend of 45% Merlot, 40% Petit Verdot, 12% Cabernet Franc, and 3% Malbec. Entirely estate grown and aged 20 months in oak. Decadent red fruit and cedar on the nose, with flavors of cocoa, currant and macadamia nuts. The finish is round with medium tannins. This red blend is age worthy, detailed, and precisely balanced.
Our 2021 Petit Manseng was sourced from Silver Creek Orchard in Nelson County. We have partnered with Silver Creek for over a decade. With a different microclimate, their fruit provides a varying degree of flavors and textures. Our 2021 was aged 6 months in oak to provide balance. Petit Manseng needs to be tamed. Honey, tropical notes, and spice on the nose lead into a full-bodied palate of pineapple and stone fruit flavors. Hint of grapefruit lend to the bright, lengthy finish.
Here are some of the notes from the prestigious judges.
2019 Meritage- Nose: "Black cherry, herbal notes." "Black currants, tart blueberries, purple flowers, thyme and other herbs, wood and cedar, potting soil." Palate: "Cedar, black currant leaf, blackberry jam, wet leaves." "Flavors of blackberry, black cherry, rounded medium tannins, pleasant aftertaste of blackberry, black cherry."
2021 Petit Manseng- Nose: "Refreshing, tangy flavors of lime zest, pineapple, ripe peaches." "Bright citrus and tropical notes." Palate: "Verdant notes, fruit fresh. Brisk acidity, good balance, lengthy finish of complexity and nuance." "Bright acidity, rich texture, nice concentration, nice complexity, long finish."
2019 Petit Verdot Reserve "Upper Vineyard"- Nose: "violet, licorice, blackberry, explosive!! Wow!" "Floral, violet, licorice, black fruit." Palate: "Blackberry, tannic backbone, violets". "Dry, flavors follow nose, silky mouth feel, ripe tannins, medium length."
2019 Petit Verdot Reserve- Nose: "powerful nose, with black currants, spices, purple lavender and violets, some peppery notes." "Cedarwood, oak spice, dark fruits." Palate: "Palate is soft and jammy, very nice. Other notes as above, with some cocoa introduced. Nice wine, nice finish that is jammy, but still elegant and nuanced. Nice work here." "Silky, bold tannins, rich texture, dense ripe fruit, nice concentration and complexity, long finish."
A big thank you to the entire Jefferson Vineyards team that made this all happen! Remember wine is "made" in the vineyard. Our vineyard team is second to none. And we adore them! Let's celebrate this momentous accomplishment.
We also want to congratulate our fellow Monticello Wine Trail colleagues at Delfosse Vineyards for taking home the 2023 Virginia Governor's Cup. Great job friends!