March 2, 2021 | News & Awards, Our People | Anabelle Nuelle
Virginia Governor's Cup Honors Jefferson Vineyards with Three Gold Medals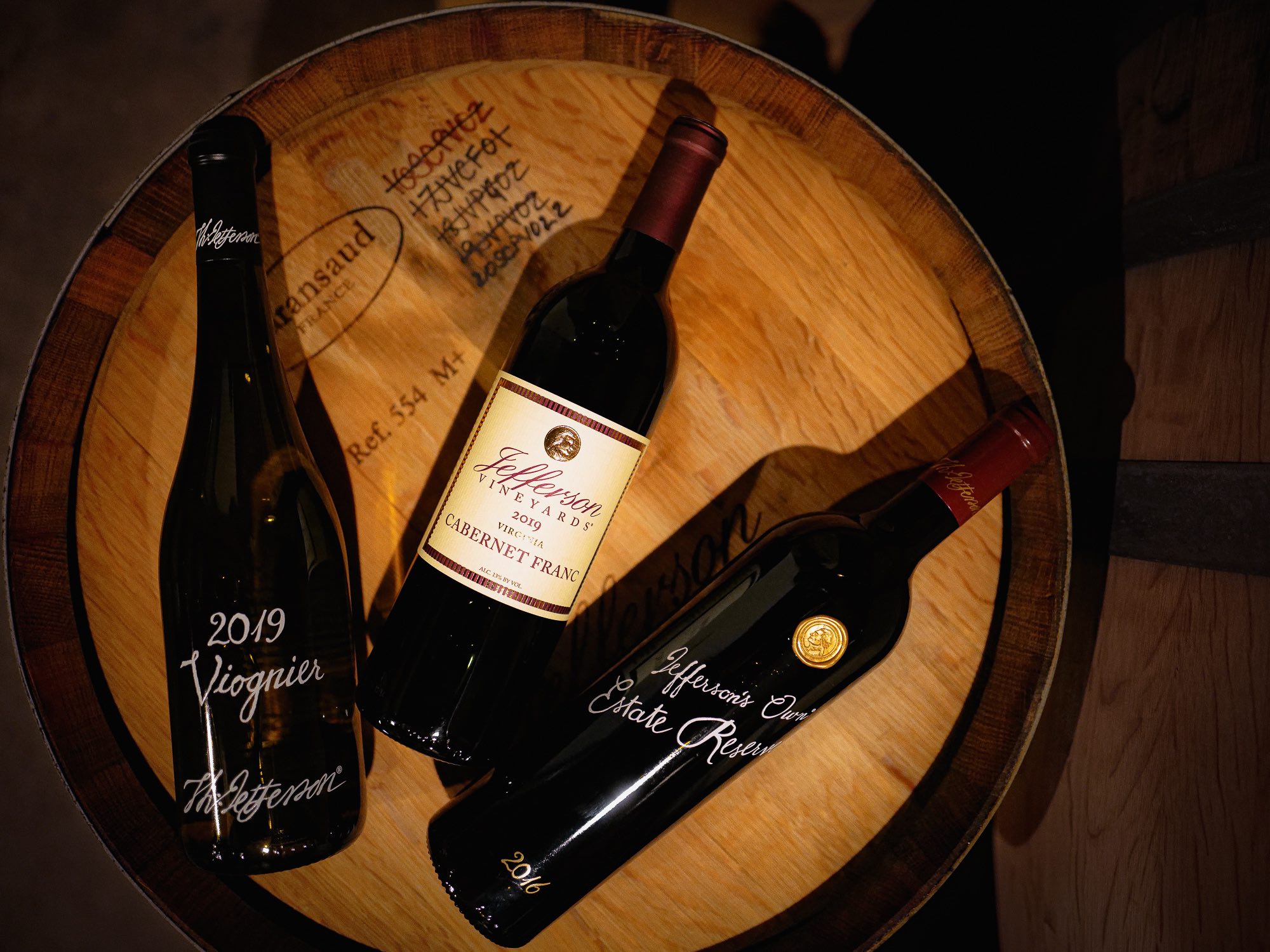 Jefferson Vineyards is thrilled to be awarded three gold medals in the 2021 Virginia Governor's Cup. Our 2019 Viognier, 2019 Cabernet Franc, and our Petit Verdot based 2016 Jefferson's Own Estate Reserve each was awarded gold medals, highlighting the quality of fruit and craftsmanship across Jefferson Vineyards' wines.
The accolades awarded by the Virginia Governor's Cup celebrate the craftsmanship of our winemaking team, Chris Ritzcovan and David Woodside, as well as the hard work of our vineyard team. Their combined efforts and ceaseless commitment continue our 40-year tradition of crafting high-quality wine.
Jefferson Vineyards is honored by the recognition our Viognier, Cabernet Franc and Petit Verdot based Estate Reserve have received. Each of these varietals defines Virginia as a growing region. To have received recognition within Virginia's top varietals such as Viognier, the state grape, and Petit Verdot, is thus especially humbling, reaffirming both our investment and dedication to these programs.
Jefferson's Own Estate Reserve 2016 was crafted solely from the estate's finest Petit Verdot fruit. This oak-driven red boasts a powerful spice and fig bouquet with a balanced acidity and plum on the palate. The already highly awarded Viognier 2019 opens with intricate floral notes, white peach and nectarine on the nose, the palate is delicate and balanced, before a round and floral finish with a lingering acidity. The Cabernet Franc 2019 vintage is marked by aromas of dark cherry and vanilla, with a palate of piercing cherry, blackberry, and black pepper. In the finish, one tastes candied cherry and vanilla with a balanced acidity, medium tannins and hints of oak.
Jefferson Vineyards congratulates all of our fellow wineries, as well as the organizers of this year's Virginia Governor's Cup event. Together, we expand and advance the reputation of Virginia's exceptional wines and wineries.
We will be reopening our doors to visitors on March 11, and warmly invite visitors to enjoy our award-winning red and white wines this Spring. In the meantime, you will find our Triple Gold Bundle available in our online store for a limited time. Committed to memorable wine, experiences and education, we continue in Jefferson's own viticultural dream.
Comments
Commenting has been turned off.