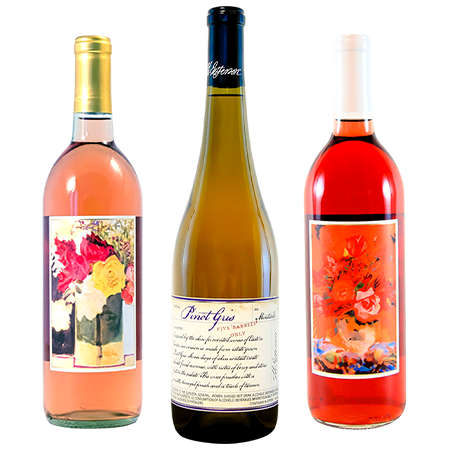 Spring Blush Bundle
In celebration of Mother's day and spring, we've put together this blush bundle for you. Three distinct wines that will cheer-up those wonderful women that bring joy and comfort to our lives!
Skin-Fermented Pinot Gris 2018: Clementine, lime zest, and floral components are greeted with delicate notes of white peach and pear. The finish is balanced and smooth with a hint of tannin.
Rose 2018: Brightly refreshing with notes of strawberry and marzipan. The palate is expressive of cherry and pear, finishing crisp and dry. (Varietals: Merlot, Cabernet Franc, and Petit Verdot).
Semi-Sweet Rose 2018: A Cabernet Franc based wine loaded with ripe cherry and juicy berry flavors on the palate. The wine finishes semi-sweet with a hint of tannin. (Varietals: Cabernet Franc and Merlot)
*Available with a 5% discount. Does not combine with 3, 6 and 12 bottle discounts. Wine Club discounts still apply.