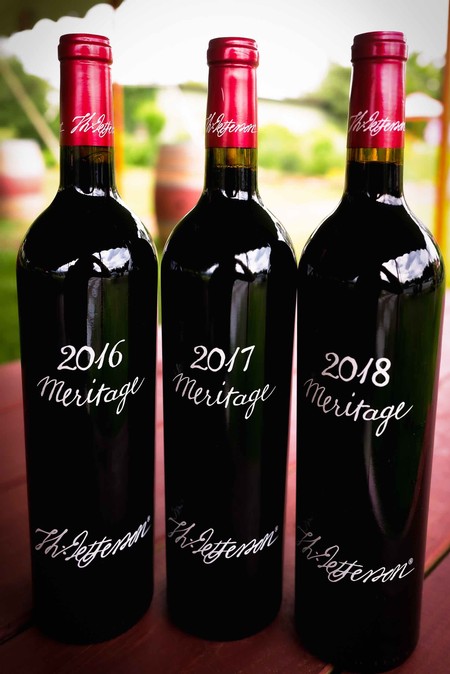 Father's Day Bundle
Celebrate Dad with a bold Meritage, a wine worth cherishing. Distinguished by barrel-driven notes of cedar or oak, bursting with berry flavors, and a hint of spice this beloved Meritage Vertical tells a tell of terroir, each vintage distinct. On Father's Day, enjoy this limited collection chilled with your favorite grilled dish (we'll even tell you how in next month's blog). Cheers to fathers everywhere!
Meritage 2018: An oak driven wine with aromas of cedar, and vanilla. The smooth palate is integrated with bright fruits and a creamy finish. (52% Petit Verdot, 38% Merlot, 10% Malbec). 18 months oak. $32.95
Meritage 2017: Vibrant aromas of red fruit and spice complement the balanced and delicate palate. Vivacious notes of cherry, currant, and violet finish with lengthy acidity and tannin. (Varietals: 40% Cabernet Franc, 29% Cabernet Sauvignon, 26% Petit Verdot, 5% Malbec). 19 months in oak. GOLD (2020 VA Governor's Cup). $46.95
Meritage 2016: Lively aromas of oak and red fruit complement the balanced and delicate palate. Flavors of cherry and pomegranate finish with lengthy acidity. (Varietals: 55% Petit Verdot, 25% Merlot, 10% Cabernet Sauvignon, 7% Cabernet Franc, 3% Malbec). 19 months in oak. GOLD (2020 San Francisco Chronicle Wine Competition). $50.95
*Price includes 5% discount. Does not combine with 6 and 12 bottle discount. Wine Club member discounts (20% & 25%) still apply.
Stay In Touch
Subscribe and get access to select exclusive wines and promotions.