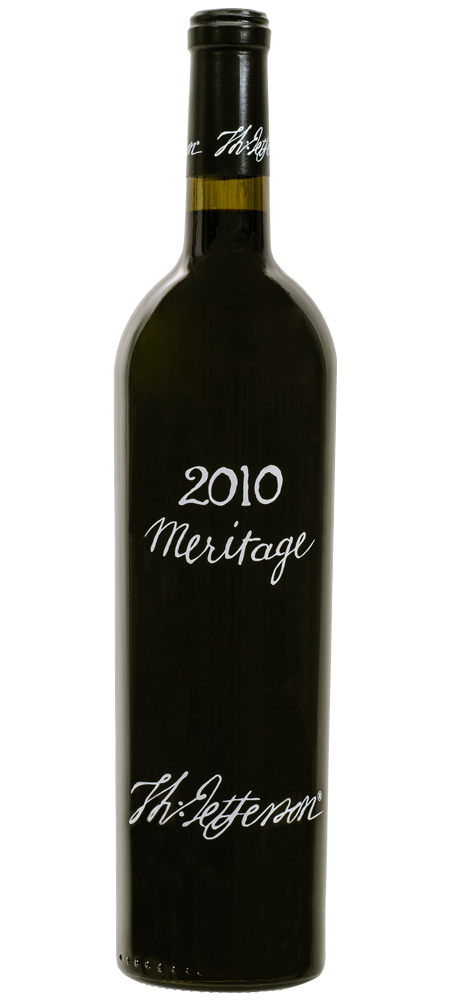 Meritage 2010
A powerful wine from a legendary vintage. Loads of oak on the nose, with a full, viscous palate. Stone fruit flavors abound, finishing with lengthy tannins.
Wine Profile
Awards
GOVERNOR'S CASE - 2015 VA Governor's Cup Competition; GOLD - 2015 VA Governor's Cup Competition; 90 POINTS - International Wine Review Report;
Vineyard Notes
The 2010 Vintage was very hot and very dry. Night time temperatures stayed in the 70's and upper 60's until late July. This kept the vines from respiration, continuing the process of photosynthesis through the night. This greatly accelerated sugar production but not necessarily flavor development. It was the first time any winemaker or vineyard manager prayed for rain in August or September hoping to slow down the climbing ph and sugar levels so the tannin and flavonoid development could catch up. The last week of July we got our wish and had a few nice cool, cloudy and rainy days. The season progressed as it had before, being warmer and drier than normal, yet we had no issue with ripening any variety. Across the board we are very excited about the 2010 wines - our most legendary vintage.
Winemaker Notes
The 2010 Meritage is currently showing beautifully. The nose is filled with aromas of herb, chocolate, strawberries, and vanilla. The palate is thick with immensely integrated fruit, wonderfully balanced acids and chewy tannins. Flavors of plum, tobacoo, earthy spice and orange peel are met with creamy, mouth filling flavors.
Food Pairing Notes
The 2010 is versatile in its food pairings. The high-toned style complements full-flavored items such as ashed chevre, goronzola, or Bloomsbury cheeses, while the weight and structure allow it to stand up to fattier cuts of meat, such as bacon wrapped filet.
Other Notes
45% Merlot. 29% Cabernet Franc. 13% Cabernet Sauvignon. 13% Petit Verdot