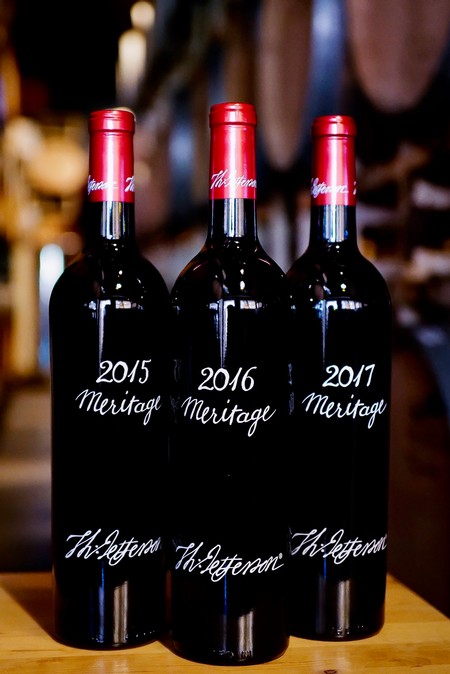 Meritage Bundle
No longer do you need to forfeit your favorite Meritage wines to summer's sweltering heat. When done correctly, our Meritage wines chill beautifully, perhaps even better than when served at room temperature. With three consecutive vintages, distinguished by notes of spice, pepper, and tobacco amongst bright fruit flavors, each this bundle will balance whatever you have cooking on the grill. Your favorite bold red Meritage may just become a summertime staple. Available exclusively this July.
Meritage 2015: Cedar and blackberry on the nose followed by a bright black cherry palate, finishing with balanced spice. (Varietals: 34% Petit Verdot, 26% Cab Franc, 24% Merlot, 13% Malbec, 3% Cabernet Sauvignon). 17 months in oak. SILVER (2018 San Francisco International Wine Competition); SILVER (2018 Virginia Governor's Cup). Price: $65.95
Meritage 2016: Lively aromas of oak and red fruit complement a balanced and delicate palate. Flavors of cherry and pomegranate finish with lengthy acidity. (Varietals: 55% Petit Verdot, 25% Merlot, 10% Cabernet Sauvignon, 7% Cabernet Franc, 3% Malbec). 19 months in oak. GOLD (2020 San Francisco Chronicle Wine Competition). Price: $54.95
Meritage 2017: Vibrant aromas of red fruit and spice complement the balanced and delicate palate. Vivacious notes of cherry, currant, and violet finish with lengthy acidity and tannin. (Varietals: 40% Cabernet Franc, 29% Cabernet Sauvignon, 26% Petit Verdot, 5% Malbec). 19 months in oak. GOLD (2020 VA Governor's Cup). Price: $48.95
* Price includes 10% discount. Does not combine with 6 and 12 bottle discount. Wine Club 20% and 25% member discounts still apply. One bundle per customer. Only 50 bundles available.
Stay In Touch
Subscribe and get access to select exclusive wines and promotions.