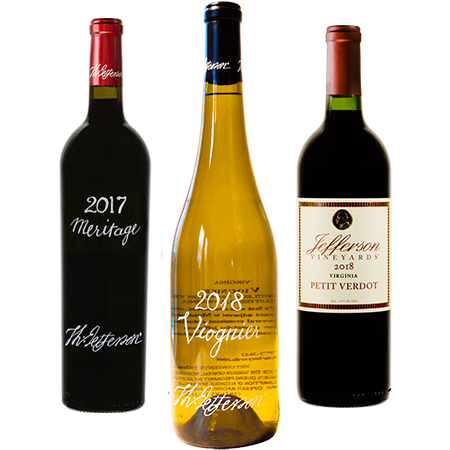 A Taste of VA Bundle
This special bundle includes our staple wines that Jefferson Vineyards are known for and that our customers love! These three wines embrace the history of both Jefferson Vineyards and Virginia and are some of our most award winning. From, Viognier, the state grape of Virginia, to Petit Verdot, and finally the magnificent Bordeaux style blend that is our Meritage. This is the perfect bundle if you want to enjoy a taste of Virginia wine!
Viognier 2018: A bouquet of honeysuckle, lychee, and orange zest gives way to rich apricot and peach flavors, rounded out with brown sugar and a lengthy finish.
Petit Verdot 2018: An aura of dried fruit and oak lead to a vibrant palate of red berry and black tea-like flavors. The bright, lingering finish is filled with raspberry notes and warm tannins.
Meritage 2017: Vibrant aromas of red fruit and spice compliment the balanced and delicate palate. Vivacious notes of cherry, currant, and violet finish with lengthy acidity and tannin.
*Price includes 5% discount. Does not combine with 6 and 12 bottle discount.