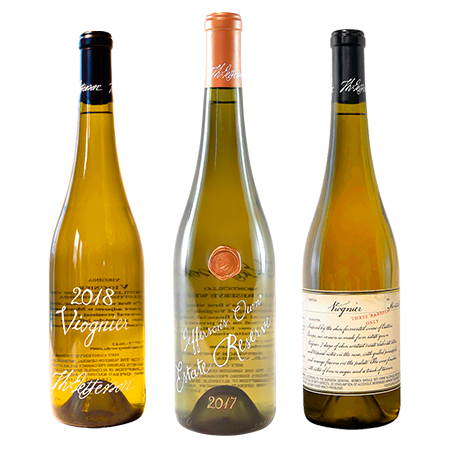 3 Ways to Viognier Bundle
Enjoy 3 different aging processes for the same varietal! With this bundle you will be able to taste a traditionally oaked Viognier, a heavy oaked Estate Reserve Viognier, and a skin fermented Viognier. Try all 3 and discover your favorite!
Viognier 2018: A bouquet of honeysuckle, lychee, and orange zest gives way to rich apricot and peach flavors, rounded out with brown sugar and a lengthy finish. DOUBLE GOLD (2020 San Francisco Chronicle Wine Competition); BEST IN CLASS & GOLD (2019 Atlantic Seaboard Wine Competition); 89 POINTS (2019 Wine Enthusiast).
Estate Reserve White 2017: A luscious bouquet of ripe peach, nectar, and citrus fruits. The palate showcases apricot and peach flavors with a long creamy finish. Varietal: 100% Viognier. GOLD (2019 San Francisco International Wine Competition); SILVER (2018 Atlantic Seaboard Wine Comeptition).
Skin Fermented Viognier 2017: This copper tinted wine opens with delicate aromas of citrus, guava, and apricot. The earthy palate delivers grilled pineapple, light mango, and brown sugar. The wine finishes with a tannic accent and layered acidity. 90 POINTS (2018 Wine Enthusiast); SILVER (2019 San Francisco International Wine Competition).
*Price includes 5% discount. Does not combine with 6 and 12 bottle discount.